15 April 2015
Synthetics gain ground
Advanced properties make Group V base stocks attractive in new applications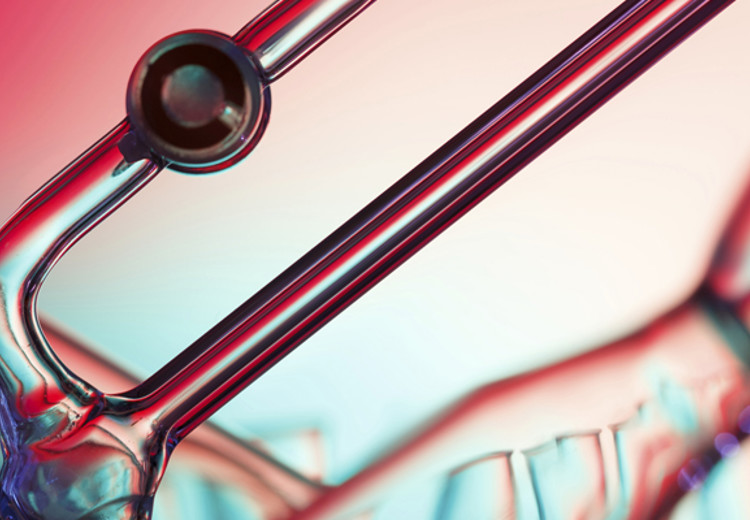 Insight continues its coverage of global base stock trends by talking to ExxonMobil Chemical and Dow Chemical Company about the advantages of Group V synthetic molecules.
The American Petroleum Institute (API) developed five broad performance categories for base stocks to ensure that the performance of engine oil products is not adversely affected when different base oils are used interchangeably by engine oil blenders. The first three groups are refined from petroleum crude oil. Group IV base oils are full synthetic polyalphaolefins (PAO), Group V oils are any that do not fall into the first four API groups.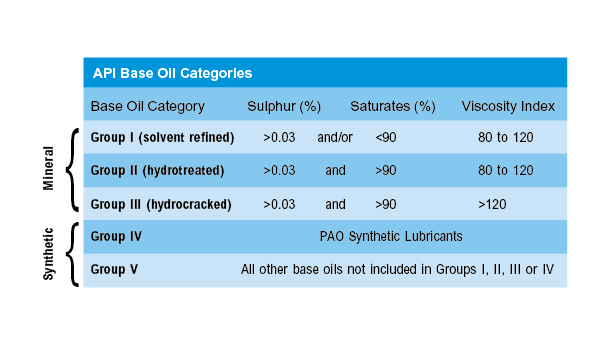 In previous Insight articles we have looked at Group I & II, Group III, PAO & GTL and most recently biobased oils.  In this article we continue our coverage of Group V base oils by talking to ExxonMobil Chemical about alkylated naphthalene (AN) and esters and to Dow Chemical Company about Polyalkylene Glycol (PAG).
Growing synthetics market
Currently mineral-based oils account for the majority of market demand. But analysts expect significant growth of synthetics in the next five years. An increasing penetration in automobile applications is expected to be one of the key driving forces for this growth – particularly as OEMs recognise the benefits of synthetic lubricants in terms of engine efficiency.
Market research and consulting company, Grand View Research, says the global synthetic lubricant demand was 678.1 kilo tons in 2013 and it expects this to reach 823.3 kilo tons by 2020, representing a CAGR of 2.90 % from 2014 to 2020.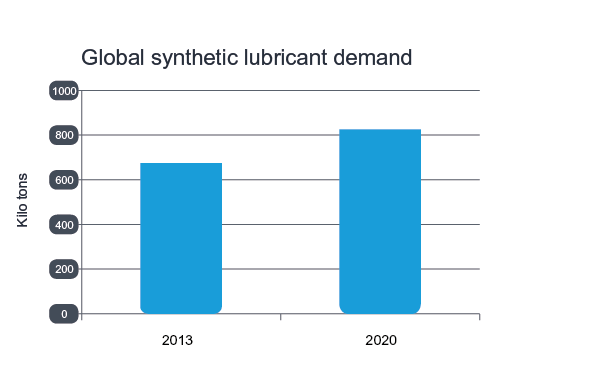 Currently Group IV (PAO) based lubricants are the largest product segment, accounting for 67% of demand in 2013. PAG and Ester based oils might be able to offer superior performance compared to PAOs, but Grand View Research suggests high production costs may account for their relatively low demand share.
Although synthetic lubricants currently make up only a small percentage of the market, their performance benefits have facilitated technology advances in some equipment and machinery.
Ever tightening performance standards for finished lubricants in the automotive and industrial markets mean formulators are looking for performance properties beyond those offered by conventional base stocks. The technical advantages offered by PAG and esters, including high thermal and oxidative stability, biodegradability and high viscosity index, are making them increasing attractive.
PAG developed in wartime
PAGs were one of the first synthetic lubricants to be developed and commercialised. They were created under mandate from the US Navy in response to hydraulic fluid fires on ships resulting from ordnance strikes during World War II. So initially PAG use was in water glycol hydraulic fluids that were fire-resistant and could operate over a wide temperature range.
Since that time, PAG use has expanded into a variety of industrial applications such as anhydrous fire resistant hydraulic fluids, compressor lubricants (including rotary screw air compressors), worm gear applications and, most recently, large frame gas turbines. 
The move into new applications has been partly facilitated by the commercialisation of new oil-soluble PAG variants, which bring the benefits of PAG to traditional hydrocarbon based lubricants.

Raymond Hudack 
Global Strategic Marketing Manager - Lubricants
, The Dow Chemical Company
"PAGs have a number of features that benefit these different applications," continues Raymond Hudack. "Fire resistance and inherent hydraulic stability mean they are valued for hydraulic applications. And, because PAG base stocks do not readily form varnish, they have a distinct advantage relative to hydrocarbons for compressor applications  - and this is why we have now seen their adoption for large frame gas turbines." 
PAG moves into automotive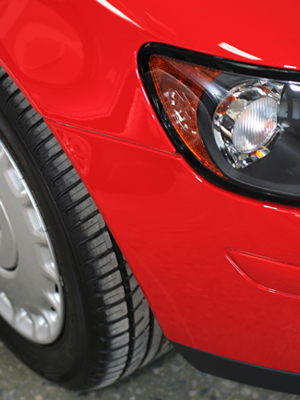 PAG base stocks are well known for their low friction co-efficient and excellent viscosity index, which translate to energy efficiency  - something that has contributed to their success in worm gear applications. These properties are exactly why automotive OEMs and lubricant formulators are now showing a real interest in PAG chemistry. 
"We are seeing keen interest from the auto industry for automotive lubricant applications due to the challenges of fill for life or longer drain intervals, higher power densities, and demands for increased fuel economy," confirms Raymond Hudack.
Legislative requirements mandating increased fuel economy or decreased CO2 emissions are creating an enormous opportunity for fuel economy enabling lubricants, and Raymond Hudack sees even more potential for the use of PAG. "The industry is clamoring for new solutions and is eager to learn more about the value PAG chemistry could provide. The challenge is getting all the right industry participants aligned. These include additive package suppliers, formulators, and automotive OEMs. Furthermore, the development and adoption timeline for automotive lubricants is long – which means it takes patience and a long term view to be successful."
Synthetics offer advanced properties
ExxonMobil Chemical has been a supplier of Group V molecules to the lubricants industry since the 1960s. The company now produces two categories of Group V base stocks: alkylated naphthalene (AN) and esters. "Our AN base stock includes unique molecules that offer very good hydrolytic stability, thermal-oxidative stability and good additive solubility and are used in food, automotive and industrial applications," says Skip Thomas, Global Market Segment Manager, Synthetics, ExxonMobil Chemical Company.
Synthetic ester base stocks, which can be used as stand-alone base stock or as a blend component, can offer targeted properties, such as oxidative stability, low volatility and some are biodegradable. "Good thermal and oxidative stability means esters can deliver extended drain intervals and, at the same time, their enhanced solvency prevents deposit formation and seal swell," says Skip Thomas.
Synthetics and sustainability
With sustainability and cost savings high on the automotive industry's agenda gaining a picture of the contribution that might be derived from different base stocks is of real interest. 
Because they help equipment to perform longer, while reducing energy consumption and waste, synthetic base stocks can be seen as real contributors to sustainability. In addition, because they are more biodegradable than mineral oils, they minimise the environmental impact during normal use or in the case of accidental lubricant loss.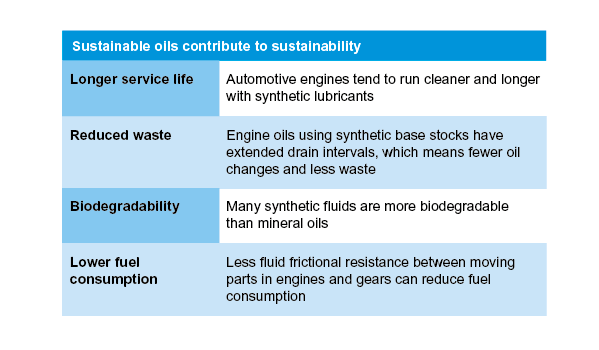 Actual cost savings from fuel economy improvements can be hard to quantify and might depend upon vehicle and engine type along with a range of other variables. However, savings from the use of synthetics can also come from extended uptime and reduced maintenance costs.
As we saw in the bio base stocks feature, environmental regulations are fueling the demand for synthetic and bio-based lubricants in the transportation market, and lubricants produced from renewable base stocks are becoming more common.
As Skip Thomas from ExxonMobil Chemical explains, the use of natural materials is not the sole preserve of bio manufacturers.  "Some of our esters contain components derived from natural materials like C8/C10 fatty acids. These synthetic base stocks offer formulators the flexibility to develop innovative finished lubricants to meet regulatory requirements."
However, it is essential that any bio-derived base stock delivers the required performance levels in lubricant formulations. "Customers are willing to pay for bio derived offerings only when they perform similar to, or better than, traditional lubricants," he confirms.
Investing to meet future growth
Commitment to the industry, both in terms of helping customers to overcome lubricant challenges and to meeting growing global demand, is high on the agenda for base stock suppliers.
To meet growing demand, ExxonMobil Chemical is investing in a project at our Baton Rouge, Louisiana chemical plant to increase total Group V capacity by 25%.

Skip Thomas, Global Market Segment Manager, Synthetics, ExxonMobil Chemical Company.
"Our Baton Rouge plant now becomes the world's largest producer of synthetic esters and alkylated naphthalene," continues Skip Thomas, "and the new facilities will be fully integrated with our existing Baton Rouge operations."
With China as a key growth market ExxonMobil Chemical has recently completed Tier III Registration for its Synesstic 12. The listing on China's Ministry of Environmental Protection website not only means ExxonMobil Chemical has the capability to import it into China, but also enables lubricant formulators to import finished lubricants that contain Synesstic 12.
Synthetics – a market to watch
Although mineral oil lubricants are, and will continue to be, widely used in many applications, the global market is experiencing little growth.
Demands for improved fuel economy, operating efficiency and extended engine life are resulting in advances in engine and equipment technology, which are driving the need for improved lubricant performance.
As the industry introduces increasingly demanding specifications we can expect synthetics to play a bigger role in future automotive lubricant formulations. All these drivers, combined with a positive automotive outlook – particularly in China, India, Brazil and South Korea - means we can expect healthy growth in the market for synthetic base stocks in the coming years.
---
View more articles in this category
---
---
Get technology news, opinions, specification updates and more, direct to your inbox.
Sign up to receive monthly updates via email