15 May 2023
Re-formulating with re-refined
Reducing the carbon footprint of finished lubricants through base stock selection
The green credentials, availability and increasingly high quality of re-refined base stocks make them a good choice for formulators looking to reduce the carbon footprint of their finished engine oil formulations. Insight assesses the benefits of making the switch to re-refined base stocks and talks to suppliers about their quality, sustainability and reliability advantages. 
The re-refining of used motor oil is a great example of a circular economy in action. Waste engine oils are collected at the end of their life and reprocessed into fuel oils, base stocks and used as raw materials for the petroleum industry. The base stock fraction is used in the formulation of new engine oils, which at the end of their life can be collected and re-refined again.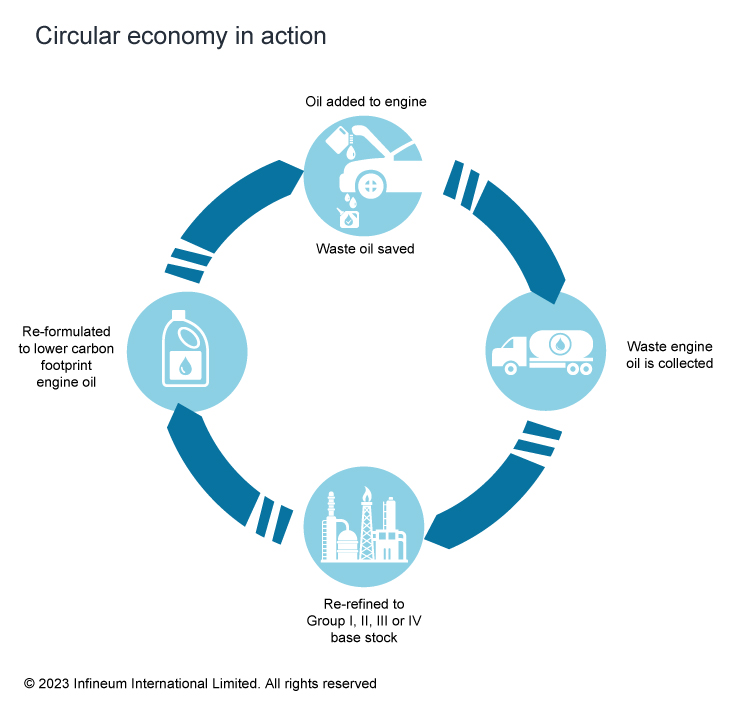 The characteristics and quality of the base stock produced depends on the feedstock and production process methods used.  Generally Group I and Group II products are being produced. However, the improvement in quality of automotive engine oils is impacting the quality of used oil, making re-refineries a potential new source of Group III and Group III+ base stocks. 
From a regulatory standpoint, re-refined base oils require strong rules regarding the collection of used lubricants and protection from contamination. Beyond that successful countries that re-refined 50% or more of used lubricants generally have high quality new lubricants. Coupled with hydro-treating and other methods of purification, these re-refined lubricants qualify as Group II or sometimes Group III and are of generally good quality and market forces will drive their adoption.
Clearly the re-refining approach has a number of sustainability benefits. Firstly it has higher yields than the initial refining of crude oil.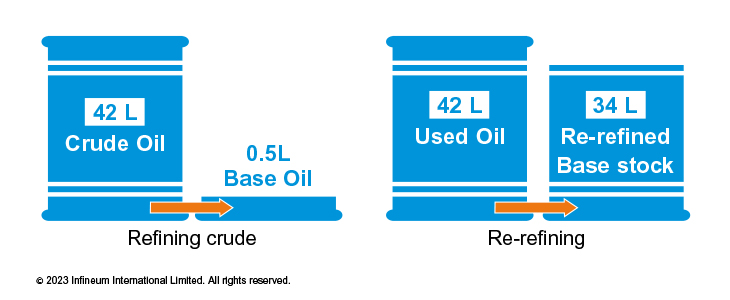 Secondly, according to the American Petroleum Institute, it uses 50-80% less energy than is required for refining crude oil to produce base oil and it also means less non-renewable virgin oil is consumed. In addition re-refining also helps to reduce the significant outlay and well head emissions created in extracting crude oil.
Given the various collection, transportation, and processing methods, the carbon footprint for every re-refined base oil will be different. However, overall re-refined base oils will have a significantly lower carbon footprint than crude derived base oil – anywhere from 50-90% being reported. Our experience of using re-refined base stocks in lubricant formulations has demonstrated significant CO2 savings in the finished lubricant vs lubricants formulated with conventional base stocks derived from virgin mineral oils.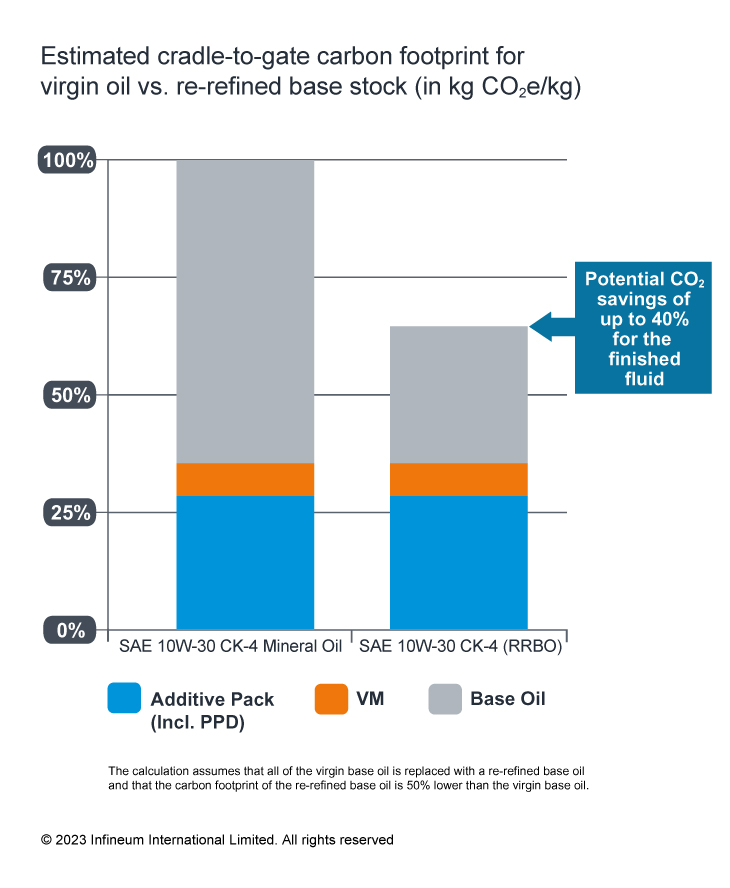 In our view re-refined base stocks should be of particular interest to lubricant formulators where base stocks contribute significantly to their overall carbon footprint. Something clearly endorsed by the re-refiners.
We all should focus on limiting the greenhouse gases emissions and lubricant carbon footprint is one of the brand new approaches to improve in that direction as it clearly marks the way to increase emission savings. Re-refined base oils, with that respect allow a 70% CO2 saving compared with conventional refining, as a recent life cycle assessment has confirmed.
But, the benefits of re-refined base stocks go beyond their ability to reduce the carbon footprint of finished lubricants.
Obviously, the re-refined base oil delivers many ecological advantages, with the biggest being carbon emission reduction. But also significant lower particulate matter and terrestrial eutrophication to name some. Together with competitive pricing and the security of circularity, re-refined base oils are an important part of the solution to reduce supply disruptions in the future on a high quality level.
Other benefits include the fact that they do not directly compete for feedstocks that could be used for food production. Also, the collection process resolves the disposal issues associated with used lubricants. And, as their quality improves, they could potentially be used as a substitute for PAO, which typically has a much higher cradle to gate carbon footprint than other base stocks. In addition, price volatility in the virgin base stocks market – particularly around Group III look set to continue. In terms of reliability of supply, re-refined products can offer some advantages, – making them increasingly attractive to formulators.
A growing market
Each year the world produces some 40 million tons of lubricating oil. Some is burnt in combustion, consumed during use or spilled, which theoretically leaves some 22 million tons/annum (t/a) available as a feedstock. Currently, around the world, about 68% of this oil is collected – with high regional variations, primarily driven by local legislation. Of this collected oil, 40% can be re-refined into new products, generating about 4 million tons of re-refined base stocks annually. These re-refined volumes are minor in comparison to conventional base stock production, although we have seen a number of announcements about capacity increases, which means that re-refined production is likely to increase, driven by:
The impact of sustainability drivers on the lubricants market
Improved used oil collection rates.
The introduction and enforcement of legislation
Supply and price issues regarding virgin base stocks
Forecasts suggest that re-refined base stock capacity will grow to 5 million t/a by 2025, with Asia Pacific and North America being the two largest suppliers. However, it should be noted that much of the supply from Asia Pacific is low quality Group I and not suitable for most crankcase applications.
However, the regulations driving used oil use and the prevention of waste oil combustion will be important to support the growth of the market.
Thinking about the regulatory environment, on one side we can consider green public procurement requirements and minimum environmental criteria for raw material purchasing, which results in a minimum content of re-refined base oil in lubricants. On the other side, it is fundamental, a ban to combustion of spent lubricants and a proper structured collection system for spent lubricants allowing them to be addressed to recycling for an endless life of these important molecules.
And the availability of used oil feedstock is vital to the future health of the industry.
The role of re-refined base oil in the lubricants market is already significant. Upcoming investments show that also Group III base oil production is possible with stable and reliable quality, which will further strengthen the re- refining role in the lubricants market. It is purely the availability of good quality used lubricating oil that is limiting the re-refined base oil adoption.
Reducing carbon emissions
Infineum has explored a wide range of re-refined products, which in combination with our robust additive packages can create lower carbon fluids that meet the performance requirements for applications including passenger cars, heavy-duty trucks, transmissions, two-wheelers and large marine and stationary gas engines. Their use not only reduces the cradle to gate carbon footprint of these finished lubricant products but also helps to contribute towards sustainability aspirations.
---
View more articles in this category
---
Get technology news, opinions, specification updates and more, direct to your inbox.
Sign up to receive monthly updates via email