Subscribe
Register to receive regular Insight updates direct to your inbox.
Why subscribe
to monthly alerts?
---
With technology developments, opinions, forecasts, specification updates and much more, Infineum Insight is a must read for people involved in the lubricants, fuels, transportation and additives industries.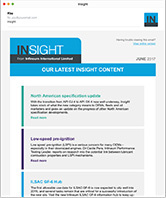 ---
Make sure you never miss an issue.
New content every month.
See what over 5,500 of your peers are reading.
Subscriptions to the monthly email alert are free.
Sign up here to receive highlights of our latest content, emailed straight to you each month.
Data protection notice
Infineum International Limited hold this data in a mailing list kept solely for the purposes of distributing Insight. It is shared with Infineum companies worldwide and the contractors Infineum International Limited uses to distribute Insight. It is not shared with anyone else or used for any other purpose. For further information on how we handle your personal data please refer to our privacy policy.
150+ articles on lubricants, fuels, transportation and additives
Choose a category and start exploring or view all articles
About Infineum Insight
Infineum Insight provides up-to-date and relevant insight into lubricant additives for the fuels and lubricants industry including technology news, opinions, specification updates and more.