Please note this article was published in September 2014 and the facts and opinions expressed may no longer be valid.
09 September 2014
Uncertainty ahead for base stocks
Supply and demand imbalance continues to impact the global base stocks market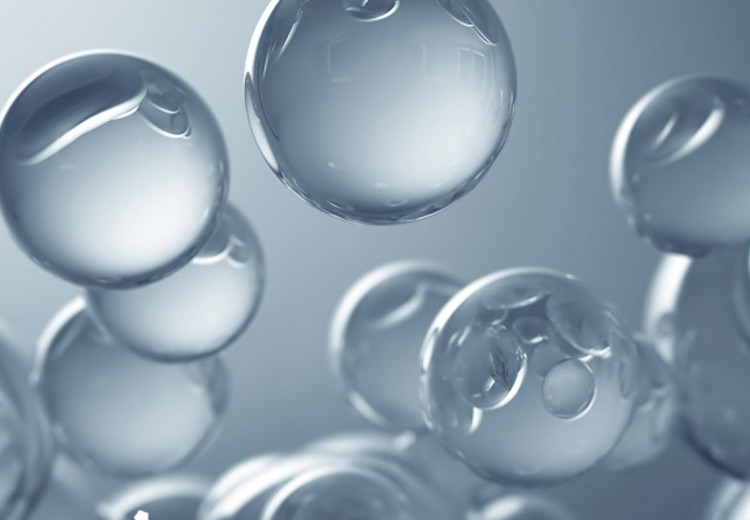 Insight talks to a number of industry contacts about some of the key trends and drivers shaping the rapidly changing global PAO and GTL base stock markets.
The first feature in this base stock series, published in June, focused on the challenging and changing Group I and II markets. In this article we showcase the views of a number of industry players from around the world on the impact of gas to liquids (GTL) and the uncertainties surrounding poly alpha olefin (PAO) base stocks.
Mixed progress on GTL projects
Shell's Pearl GTL plant achieved full production towards the end of 2012 and now produces some 30,000 barrels per day of high quality GTL base stock.
Shell's Goh Swee Chen talks about the commercialisation
Goh Swee Chen, Vice President, Commercial Fuels and Lubricants (Asia Pacific & Middle East), Shell Infineum International Limited
So the Pearl Qatar GTL plant has been on-stream since the year 2012.  We are extremely proud of the fact that Shell is the very first company to commercialize base oil out of GTL.  We have to date now in certain GTL base oils, in most of our product range we have three GTL hubs across the world and these products are actually being manufactured in many of our products right now, as we speak.
Although Shell's GTL base stocks will form the core of its own future Group III slate it is unclear how much product Shell intends to release to the wider market. This means there is still some uncertainty about the level of impact GTL from Shell will have on the wider base stock market
In addition we have seen some disruption to some of the previously announced GTL projects. Shell has decided not to move forward with its proposed GTL project in Louisiana, citing the likely development cost of such a project, uncertainties on long-term oil and gas prices, and its strict capital discipline as the key reasons behind this decision.
Jin Hur of SK Lubricants shares his thoughts on future plans for GTL plants
Jin Hur, Senior Vice President, Base Oil Business, SK Lubricants Infineum International Limited
Recently, Sasol announced that it is reviewing a plan to build a new GTL base oil plant. As we all know, big changes are occurring in the North American energy market influenced by low-priced shale gas. As we have seen in the last GTL projects in the Middle East, there are greater risks in the GTL investment than people might think. For example, if the price of crude oil and petroleum oil are impacted (reduced) by oversupply of the shale gas, the economics of GTL investment will be further threatened.
"We think it is probably still too early to talk about the proliferation of GTL base oils seriously, because their success is subject to the completion of more GTL projects."

Jin Hur, Senior Vice President, Base Oil Business, SK Lubricants
Sasol is one of the companies currently moving ahead in GTL. It is in the front-end engineering and design phase of a proposed US$11 – 14 billion GTL facility in Louisiana, which will convert domestic natural gas into diesel fuel and other value-add products, such as base oils.
"There are two key drivers behind our decision to invest in GTL base oils," explains Sasol's Rigard du Plessis. "The first is the availability of high quality natural gas derived paraffinic feedstock, which together with world class hydro-dewaxing technology, enables us to produce GTL base oils that can be used to formulate top tier lubricating oils. The second is the attractiveness of developed country markets for GTL base oils, where technical innovation and more stringent environmental demands drive the need for new and advanced lubricants."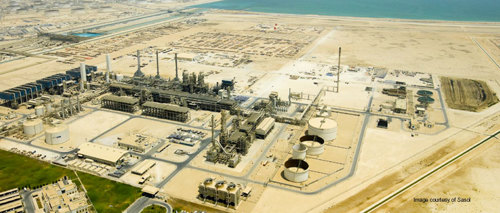 ORYX GTL in Ras Laffan Industrial City (RLIC) Doha, situated along the north east coast of Qatar. ORYX GTL is a joint venture between SASOL Ltd and Qatar Petroleum
Gas to liquids compete for top tier segment
GTL base stocks contain no sulphur, nitrogen or aromatics and have a range of properties that make them ideal for producing top tier oils, continues Sasol's Rigard du Plessis. "With OEMs increasingly looking for fuel economy improvements, lower emissions and longer drain intervals there is a growing demand for the formulation of thinner more stable oils that offer exceptional protection over the life of the oil, which is in turn driving the need for high quality base stocks."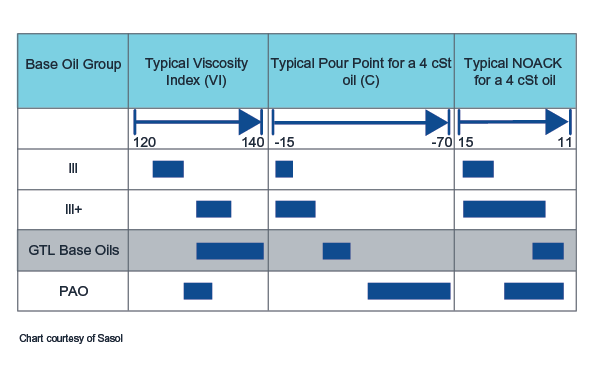 GTL base stocks are expected to find increasing use in more stringent lubricant formulations and in applications where Group III and higher quality base stocks, including PAOs, are currently used.
"Given the anticipated shortages of similar base stocks, due to feedstock limitations and technology constraints, GTL base oils will be well-positioned as differentiated products offering unique and flexible formulation opportunities in the top tier segments."

Rigard du Plessis, Senior Manager, Market Development, Base Oils and Lubricants, Sasol
"I am also excited about our unique higher viscosity base oil offering that will target a variety of niche industrial applications," says Sasol's Rigard du Plessis.
PAO – meeting the challenge of increased demand
One of the key challenges in the PAO industry is how to meet increased demand with limited decene feedstock availability.
"To maintain raw material availability, companies have had to look at alternate sources of material that provide additional flexibility in their manufacturing process."

Skip Thomas, Global Market Segment Manager, Synthetics, ExxonMobil Chemical Company
"Today, we use a mixed alpha olefin feed platform for production of the majority of our PAOs," Skip Thomas continues. "This allows the extension of PAO supply to our customers in a limited LAO feed supply environment, like today. With our proprietary technology and extensive product testing, we are able to produce mixed alpha-olefin PAOs that perform equivalently and interchangeably with decene-based PAOs."
Although there have been no new grass roots low viscosity PAO or Linear Alpha Olefin capacity announcements, these techniques, plus a slight easing in the availability of decene, means some PAO capacity has been added to the market, slightly improving the short term supply outlook. The focus here however has been on high viscosity PAO, mainly used in industrial applications.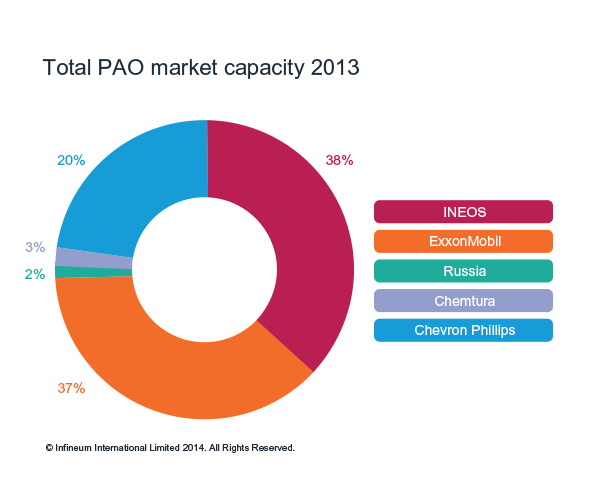 "There are several demand drivers for premium products and lubricant marketers are looking for high viscosity index and shear stable base stocks especially in industrial applications," confirms ExxonMobil Chemical's Skip Thomas. "Based on these trends, we believe the high viscosity market is growing at strong rates of 4% - 5% per year. Our recent Baytown Texas high viscosity PAO grassroots investment shows our commitment to this industry and support of these trends."
"Supply in the high viscosity PAO segment increased through several expansions, which were supported by either octene, decene or other mixed feedstock," explains Frank De Rudder of Chevron Phillips Chemical. "The high viscosity metallocene based PAOs that Chevron Phillips Chemical has introduced are octane based, which means decene feedstock has not been diverted away from low viscosity PAO production."
The lack of feedstock, which is clearly contributing to low viscosity PAO shortfall, is starting to be addressed. "For example, much work is being done to produce decene from bio matter," says Joe Rousmaniere, from Chemlube.
"I expect that within five years we'll see large scale production of 'Green' PAO, which will help fill the auto industry's growing need for sustainable products."

Joe Rousmaniere, Director Business Development, Chemlube
In addition, the shale gas boom in the United States means we can expect some feedstock expansions in the 2015-2018 timeframe.
"PAO will benefit from this shale gas expansion through increased precursor feedstock availability."

Frank De Rudder, PAO Product Manager EMEA, Chevron Phillips Chemical
"We have a $6 billion investment project," continues Frank De Rudder, "including a world-scale ethylene unit with start up planned in 2017, and further downstream derivatives units, including PE."
PAO in automotive formulations
Low viscosity PAO is mainly used to formulate thinner grades, aimed at improving fuel economy performance. As the use of these fuel economy grades ramps up, some supply tension may creep in. While low viscosity PAO is likely to remain in balance in North America, it is expected to tighten in Europe – although there is still a level of uncertainty around the impact GTL may have on this situation.
Frank De Rudder of Chevron Phillips Chemical talks about future demand growth
Frank De Rudder, PAO Product Manager EMEA, Chevron Phillips Chemical Infineum International Limited
PAO supply has generally been able to follow the growing demand over the last couple of years and all indications point towards a future positive outlook as well. Chevron Phillips Chemical sees PAO demand to increase in the automotive applications despite significant increase in Group III capacity including GTL.
ExxonMobil Chemical suggests that the market for low viscosity PAOs is growing at 3-4%. "We are assessing the impact of various changes in the industry, such as the additional Group III supply and increasing lubricant performance standards on future demand. We continue to evaluate investment options for all our product lines (including low viscosity) given the market dynamics."
PAO base stocks have outstanding high and low temperature performance that meets the specific technical needs of the market, which some say make it a 'must have' in future automotive formulations. The proven technology offers a number of benefits to the lubricant formulator and end-user including:
Higher VI for enhanced wear protection and greater fuel efficiency
Lower temperature fluidity for improved flow
Low volatility for lower oil consumption
Increased thermal and oxidative stability for extended drain intervals
"Given the demonstrated performance of PAO across a broad temperature range, we are confident that these molecules will continue to be needed to support energy efficiency, extended drain intervals and performance under extreme conditions."

Skip Thomas, Global Market Segment Manager, Synthetics, ExxonMobil Chemical Company
The main challenge is finding the right balance between PAO and Group III content, in order to deliver a cost effective, high performing, fuel economy lubricant. Currently questions remain about the possible use of high viscosity PAO capacity to manufacture low viscosity PAO, and the extent to which Group III+ and GTL could substitute PAO in the long run to meet the rising demand for top tier products.
Growing PAO demand
In the low viscosity automotive area PAO demand is expected to grow across all regions.
"We are excited about the prospect for growth in synthetic lubricant demand," says Skip Thomas of ExxonMobil Chemical. "We have recently expanded our global supply capabilities with completion of a new 50 KTA grassroots facility in Baytown, Texas. Additionally, synthetic lubricant demand growth in Europe is particularly notable due to high performance equipment manufacturer and market specifications. The strong demand outlook in Asia has also been well publicised."
Chevron Phillips Chemical also sees global opportunities for PAO growth in emerging markets. "Of course, the US and Europe will continue to provide the greatest opportunities for the foreseeable future," confirms Frank De Rudder. "However, Asia Pacific is showing interesting developments where, thanks to increased environmental awareness and pressure to improve fuel economy, there is an increase in PAO demand."
Just a quick look at ExxonMobil's 2014 Energy Outlook, reveals that China and India account for half of the projected growth in global energy demand from now until 2040, which will offer a huge growth opportunity to base oil suppliers.
Moving to lighter viscosity grades
In a base stock market, which has a very high availability of premium base stocks, OEM and marketers are able to introduce higher quality products that are essential in meeting the environmental regulations that drive our industry.
The major shift that we are seeing towards lighter viscosity grades fits well with the need to develop more fuel efficient lubricants.
It is probably too early to predict the timing of the next GTL or PAO plant but, as technical demand grows for low viscosity engine oils, higher quality base stock will be needed and GTL and PAO can meet the stringent requirements of these products. Like all investments, commercial drivers will dictate timing.
Introduction of ILSAC GF-6 has now been pushed back until at least December 2017, which will slow the introduction of SAE 0W-16 oils meeting API requirements. But these lighter oils are coming, and we have already seen the rapid introduction of a number of genuine SAE 0-W16 passenger car oils and even the commercialisation of an SAE 0-W8 in Japan.
In a very competitive base stocks market, and with the quality of available base stocks on an ever-upward trajectory, we have to wonder how soon it will be before we see even thinner grades on the market.
---
View more articles in this category
---
Get technology news, opinions, specification updates and more, direct to your inbox.
Sign up to receive monthly updates via email