15 April 2015
Shifting the Middle East base stock balance
Availability of higher quality base stocks drives lubricant quality upgrades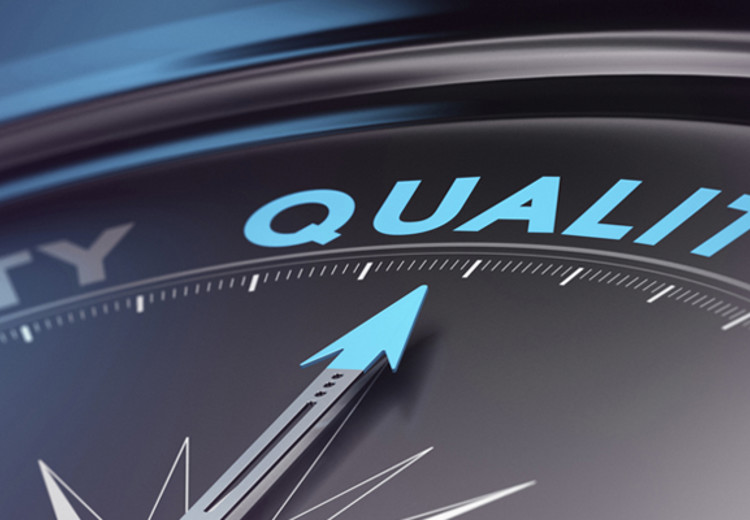 While many regions have already switched to high quality base stocks, the Middle East has remained a strong market for Group I. But, as Infineum's Nick Burton explains, high quality base stock capacity additions enable formulators to produce automotive lubricants that offer opportunities for improved fuel economy and engine protection.
Because the base stock is the main constituent of an automotive lubricant formulation it plays a critical role in ensuring finished oils meet the challenging and changing requirements of OEMs and end users.
With high volumes readily available from Europe, Middle East and Africa, Group I base stocks have been firm favourites for automotive formulations in the Middle East. But now, with plants like Bapco/Neste in Bahrain and Shell's Pearl facility in Qatar producing significant volumes of Group III, the opportunity for blenders to use higher quality base stocks is increasing. This change in market dynamics comes at a time when OEMs are looking for global lubricants that deliver fuel economy, better performance and protection.
Middle East automotive lubricant trends
The main focus in the passenger car finished lubricant market in the Middle East is the lubrication of vehicles manufactured by OEMs from the US and Japan, which form the majority of the vehicle fleet. Requirements for improved high temperature deposit protection for pistons, more stringent sludge control, and better seal compatibility mean there has been a steady movement in oil quality from API SL to API SN. However, high ambient temperatures mean the market is still dominated by thicker SAE 20W-50 viscosity grade fluids.
In the heavy-duty diesel market, which is again dominated by thicker viscosity grades, with a main focus on SAE 40 and SAE 15W-40, there has been a rapid move from obsolete oil qualities, such as API CF, to those defined by API CH-4 or newer categories. However, there is a much slower transition to the current mid-SAPS API CJ-4 oils, which are designed to meet North American 2007 on-highway exhaust emission standards.
This move to higher quality oils will be helped by the addition of significant capacity of Group II and III base stocks in the region by Luberef and Adnoc, and by the potential volumes that are readily available from the new SK/Repsol ILBOC facility in Spain. In the not too distant future we expect higher quality base stocks to account for 50% of all production in the region. The increased availability of these high quality base stocks means lubricant formulators can more readily take advantage of the properties that they offer.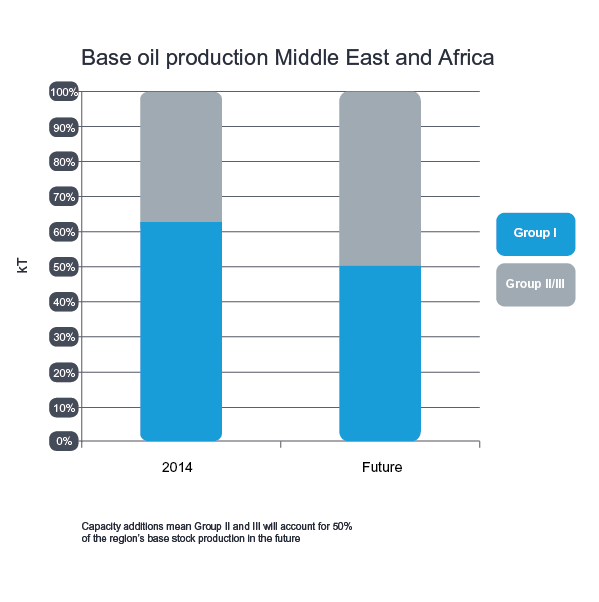 Automotive market drivers and legislation
Drivers for change in the automotive industry are pretty much the same the world over - improved fuel economy, reduced emissions and the desire to reduce total cost of vehicle ownership.
These requirements have resulted in the introduction of advanced engine technologies and the use of sophisticated aftertreatment systems. In turn, these hardware changes heavily influence the lubricant, with OEMs tightening chemical limits and expecting fuel economy contributions from the lubricant, all the while looking for vehicle protection over longer drain intervals.
In North America and Europe these trends are reflected in specification developments, which are now being introduced over lower and lower lubricant viscosity grades.
If we look at the viscosity trends in North America, although SAE 5W-30 still accounts for more than 50% of passenger car oil market we expect the volumes of SAE 5W-20 and 0W-xx to grow from about a 25% share to more than 40% in the next five years. In the heavy-duty market, which is currently dominated by SAE 15W-40 there is likely to be reasonable growth in SAE 10W-30 and some SAE 5W-30 volume as PC-11B comes into effect.
However, the picture is becoming even more complex. Not only are industry specifications calling for lower viscosities, but also an increasing number of OEMs, including Volkswagen, Ford, BMW and GM, are launching lower viscosity specifications with HTHSV as low as 2.9 to 2.6 mPa.s – a trend that is likely to be followed by others.
OEM requirements for full, mid and low sulphated ash phosphorus and sulphur (SAPS) levels across a broad range of viscosity grades mean we can expect lubricant testing and development costs to increase.
Challenges for future formulations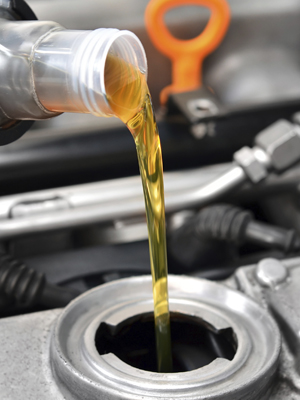 Although the movement to ultra-low viscosity is slower in the Middle East than in other regions, we are seeing a transition from thicker mono and multi grade mineral oils to thinner, part synthetic and synthetic multi grade formulations. And this move comes with its own set of challenges.
It is thought that consumers in the Middle East do not always follow their owner's manual when it comes to oil change interval, which makes durability a key requirement. And, because a significant proportion of the vehicle fleet is made up of older vehicles, there are uncertainties about how to ensure these vehicles are adequately protected. There are clearly real concerns about the potential misapplication of new lower viscosity oils.
The combination of a high quality base stock with appropriate additive technology would deliver fuel economy improvements while ensuring key performance characteristics are maintained. What is important here is that the benefits that the consumer values and understands are delivered along with sufficient guidance to ensure the most appropriate lubricant is selected.
In our view there are a number of opportunities that the use of high quality base stocks could create in the Middle East:
Improved fuel economy
Cleaner pistons
Enhanced sludge handling
Superior valve train wear
Increased oxidation performance
Longer oil drain intervals
Fewer emissions
As fuel economy becomes an increasingly important lubricant characteristic it is essential that engine protection remains a top priority for lubricant developers so they continue to offer OEMs and end users the durability they require.
To meet industry requirements, while avoiding unnecessary complexity and cost, it is becoming increasingly important for industry stakeholders to collaborate early on in the development process.
The decision of whether to use higher quality base stocks in the Middle Eastern market really comes down to the balance between the risks and rewards. The benefits of fuel economy and superior performance on one hand need to be carefully evaluated against the higher development costs and potential for misapplication. Infineum looks forward to being part of industry discussions regarding this important topic.
---
View more articles in this category
---
---
Get technology news, opinions, specification updates and more, direct to your inbox.
Sign up to receive monthly updates via email