02 August 2023
Progressing our sustainability ambitions
New Infineum Sustainability Report highlights achievements towards our sustainability ambitions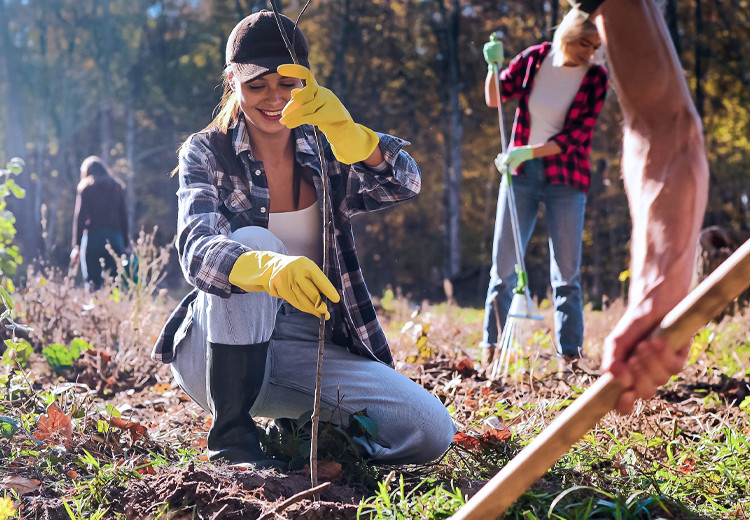 To be successful in today's transportation, energy and chemicals businesses stakeholders must work collaboratively towards improving the sustainability of their operations up and down their supply chain and beyond. Sustainability Manager, Kevin Poindexter, shares highlights from Infineum's third annual Sustainability Report on the progress being made, including the launch of its net zero ambition and safety achievements, and explains how the organisation is becoming more ambitious as it looks towards 2030 and 2050.
Improving sustainability is now the key driver for change in the industries in which we operate. Our aim is to be a leader on this exciting journey, taking a collaborative approach and engaging on sustainability not just with our customers, but also with our colleagues, suppliers, shareholders, and communities.
Sustainability has become central to our overall corporate strategy and key business decisions are made with a sustainability lens.
In our 2022 Sustainability Report we share some of the progress we have made in our efforts to use fewer non-renewable resources, produce less waste and reduce greenhouse gas (GHG) emissions. In addition we highlight our commitment to personal and process safety at our sites and show how we are working to create a diverse, equitable and inclusive working environment whilst also making many positive contributions to the communities in which we operate.
I'm really proud of the work we have put in and the progress we have made. 2022 highlights include:
Launch of our net zero ambition.
Reduction in scope 1 and 2 emission intensity from our 2018 baseline.
Our 2025 ambition to assess 100% of new Infineum products against sustainability criteria has already been met.
Made progress on assessing the sustainability of our suppliers.
Improved our logistics operations to help reduce our CO2.
Achieved a major safety milestone.
An increase in the proportion of colleagues participating in our global volunteering programme.
I'd like to look at some of these activities in more detail and explore some of our priority areas.
Reducing climate impacts
We are continuing our efforts to decarbonise our operations and are becoming more ambitious as we look beyond 2025, towards 2030 and 2050. A milestone in 2022 was the announcement of our ambition to reach net zero for scope 1 & 2 operated asset GHG emissions by 2050. Our plans include more ambitious scope 1 and 2 emission reductions, and, for the first time, an ambition to also reduce our scope 3 emissions. We have defined provisional roadmaps to 2030 for achieving a 50% reduction in emission intensity against a 2018 baseline for scope 1 and 2 and expect our efforts could also reduce scope 3 emissions by about 20%.
"Our focus moving forward will be on delivering our ambition. We have developed functional roadmaps to do so, supported by a capital investment plan all the way to 2030. We will continue to refine these roadmaps over the coming years in collaboration with our supplier and customer partners."


Maurizio Abbondanza – Sustainability Director
This increase in ambition is crucial as we work towards aligning with the objectives of the Paris Agreement on climate change and the United Nations Sustainable Development Goals, and we will have a lot more to do in the coming years to continue on this trajectory.
Personal and process safety
Our goal is to ensure zero harm to our people and the environment. A robust safety culture is embedded into our everyday processes and is maintained through strong safety leadership, simple messaging and clear metrics that focus on incident prevention.
In September 2022, we reached a major milestone of over a year without a recordable safety incident, the longest time without an incident in our history.
This is a real testament to our focus on nobody getting hurt while working for Infineum. Following this achievement, we implemented safety training sessions at all sites, with a focus on avoiding complacency and urging all colleagues to remain vigilant to potential hazards.
Colleague engagement
People are at the core of our success. We aim to reflect our markets, communities and relevant local talent pools, and to identify and remove potential bias in both external recruitment and internal development. In addition, Infineum is committed to delivering a positive impact in the communities in which we operate and encourages colleague volunteering through a policy where this can be done on company time.
Infineum colleagues participate in activities to support our local communities by volunteering for local charities or participating in activities to encourage Science, Technology, Engineering and Maths (STEM) skills in the next generation. 
In 2022 we have seen the proportion of colleagues choosing to participate in these community outreach activities grow.
Creating sustainable solutions
Our fuel and lubricant additives are critical to transportation and power generation. We have been investing in new additive technology for many years to help engines operate more efficiently, enabling improved fuel economy, emissions system protection and overall resource optimisation. In addition, we are also investing in developing new products to support e-mobility and to enable the adoption of more sustainable fuels and engine technologies. 
"We believe that our products can be enablers for a more sustainable transportation system and are developing meaningful value propositions around lower carbon or circular products that will help our customers to meet their sustainability targets." 


Maurizio Abbondanza – Sustainability Director
In my view, sharing the 2022 Infineum Sustainability Report is an important demonstration of our commitment to sustainability – providing open information on our sustainability performance and on our progress towards our ambitions. I hope that it will drive fruitful discussions, among Infineum colleagues and industry partners, on how we can work together to accelerate the implementation of our sustainability ambitions and to encourage others to invest in environmental and societal improvements of their own.
Click here to download the full Infineum 2022 Sustainability Report.
---
View more articles in this category
---
Get technology news, opinions, specification updates and more, direct to your inbox.
Sign up to receive monthly updates via email