13 July 2021
Motorcycle sales on the up
Growing popularity of two wheels for fun and commuting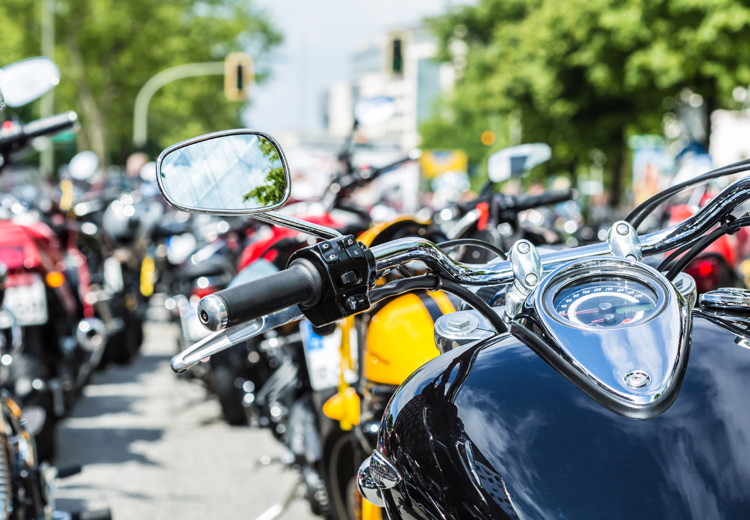 Sales reported by most vehicle producers were hit very hard by the COVID-19 pandemic. But in the world of two-wheelers, although sales fell slightly, they are expected to rebound quickly in the coming years. Insight explores the trends in this growth market and looks at the new hardware technology and e-mobility developments that are being introduced to attract new riders.
As the COVID-19 pandemic spread, consumers pulled in their spending, social distancing caused vehicle assembly lines to close and movement restrictions meant no one could drive anywhere. All these factors combined meant passenger car sales in 2020 plummeted, with global sales down by 14% at just under 78 million.
However, the picture was not quite the same in the motorcycle market. Yes, sales were down on the previous year, but only by some 5%. And, while there is still much uncertainty about the continued impact of the pandemic, forecasters are expecting strong growth in the coming years, with suggestions that additional global sales in the next five-year period could rise by some 13 million units.
This growth is likely to be driven by a number of factors. In the world's developing markets these are likely to include rising personal incomes, increased consumer confidence and better access to financing options for motorcycle purchases. In addition, we can expect growth in the global demand for electric two-wheelers - driven, not only by concerns about the environment and air pollution, but also by attractive new subsidies for electric model purchases. At the same time, the introduction of newly developed, high performance medium and large conventional internal combustion engine powered models will also help spur both new and replacement product sales globally and contribute to market gains in value terms.
Regional sales variations
In recent years India and China, the world's two largest two-wheeler markets, have been vying for the number one sales position. In 2016, India took the lead from China as more severe emissions and usage regulations for two-wheelers impacted sales. But, in 2020 China retook the title – with sales at just over 17 million – down only slightly on 2019 pre-COVID figures. Although sales in India were down by more than four million on 2019, the year ended on a strong note. In these two huge markets, the OEM landscape is very different. In India three OEMs, Honda, Hero and TVS, account for over three quarters of the market, whereas in China the market is highly fragmented with the top 10 brands together claiming under a 60% share.
Looking across all of the top ten global markets, sales were down in each – impacted in the main by restrictions introduced to curb the pandemic.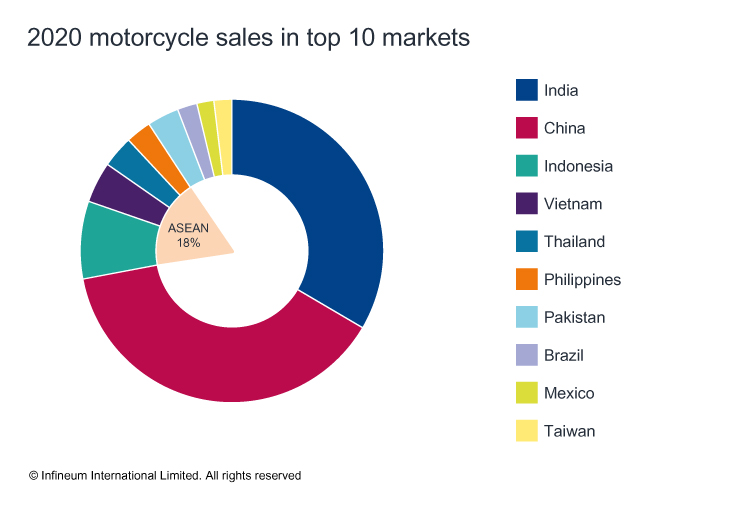 However, the US bucked this downward trend, with motorcycle and scooter sales up by more than 11% in 2020. The sales of Power Sports, off-highway motorcycles, which include dirt bikes, trail bikes, competition motorcycles, and other motorised two-wheelers that cannot be used on public roads and ATVs all jumped by double digits over 2019 figures. Here, Harley Davidson holds just over 30% market share and the top three, which also include Honda and Yamaha account for over 60% of the market.
In Europe sales were almost flat. This sustained performance is attributed to the convenience of powered two-wheelers for commuting, at a time when public transportation was viewed with caution, along with the stimulus generated by the expected changes in emission rules. Here the OEM landscape is fragmented with the top three OEMs, Honda, Piaggio and Yamaha, accounting together for only 30% of the market.
Looking on a global level at consumer preference, >50cc scooters and motorcycles together account for more than 80% of the global market, with the remainder being mopeds, trikes, quads or ATVs. However there is huge regional variation particularly between users who rely on their machines for daily transportation and those who enjoy them for recreation.
Electrification and powertrain trends
In a complex market, forecasts on the global uptake of electric two-wheelers vary wildly. On one hand, the perceived environmental benefits, combined with government initiatives and tax breaks, along with lower maintenance costs, could boost the global growth of electric sales. However, factors including limited power output and vehicle range, battery life, and a lack of charging infrastructure combined with rapidly changing incentives and restrictions and low consumer spending confidence may constrain the market.
What we can report on is the very mixed 2020 sales picture in the two main markets of China and India. In China, sales of electric motorcycles rose to 2.3 million, up by more than 20% from 2019. The growth is expected to continue as consumers demand energy saving and emissions reducing vehicles, and supported by preferential policies such as a purchase tax exemption. However, despite this sales growth, e-models accounted for only 13% of 2020 sales.
In India, the government intends to ban the sale of petrol-powered two-wheelers under 150cc from April 2025, and has set the Faster Adoption and Manufacturing of Hybrid and EV (FAME II) program target of one million electric two-wheelers by the end of FY22. However, despite these measures only 1% of sales in 2020 were electric. Sales of e-motorcycles and e-scooters are expected to continue to fall in 2021 in part because of economic uncertainty, consumer lack of awareness of financial incentives combined with higher upfront costs and concerns about durability and charging availability.
In Europe, figures released show sales of e-motorcycles were up by 51.8% over 2019 and sales of e-mopeds rose by 12.5%. But, despite these encouraging growth figures, electric still only represents about 6% of sales in the region. Over in the US, sales of electric models are expected to grow, particularly as the 10% tax credit on e-motorcycle sales has been extended into 2021.
There are strong differences in electric purchase rational in the mature and developing markets.
For the leisure consumer the purchase decision is all around power and acceleration – satisfied by models such as Zero's SR/F, Harley Davidson's Livewire and Damons' Hypersport. And these performance requirements are reflected in the high purchase prices. However, consumers in the commuter market are driven far more by lower purchase price, ease of use and recharging and also low maintenance costs. Here Yadea is now reported to be the largest e-scooter manufacturer in the world. In 2020, despite the impacts of COVID-19, they posted sales of 5.6 million e-scooters thanks to an increase in demand from China.
It is a very busy and fast changing market and one that is full of technology innovation.
This is mainly driven by the need to overcome consumer concerns around battery range and long charge times which, along with the lack of availability of recharging points, are still barriers to e-motorcycle growth.
Honda, Yamaha, Kawasaki and Suzuki for example, are reported to be working a standardised set of specifications for electric motorcycle batteries. A year-long trial that started in September 2020 is designed to show how battery-swappable electric bikes could revolutionise urban transport by eliminating the battery-related concerns. In the leisure market, Damon Motorcycles has launched a machine that has over 200 horsepower, a top speed of 320 km/h, and over 300 kilometers of on highway range per charge. Currently they report half their preorders are from the very elusive millennial market.
As for internal combustion engine (ICE) innovations, a number of new technologies that focus on improving fuel economy, drivability and safety are already being rolled out into commercially available conventionally powered models. Honda for example has introduced the first dual clutch transmission for use in a motorcycle, which it says offers better acceleration and shifting, and minimizes the power gaps that occur with a manual transmission.
Another really big enabler of change that we are seeing is the increased use of sensors and compute power in motorcycle systems to help improve fuel economy, monitor hardware performance and ensure a long service life for the emission system components.
Looking ahead
The uncertainties surrounding the longer impacts of the COVID-19 pandemic are continuing to influence motorcycle sales figures – although strong growth is likely in the coming years. We can expect to see a shift to e-mobility and larger premium ICE models, with the availability of better finance deals and a continued desire for personal mobility in order to avoid public transportation continuing to drive demand. However, these drivers will be counter balanced with limiting factors including government legislation, taxation and emissions requirements along with lower consumer spending.
Tightening emissions legislation in many regions provides an opportunity to drive up the quality of motorcycle lubricants.
As OEMs introduce hardware and engine operational changes to help them to comply, and on board diagnostic systems are introduced to ensure tailpipe emissions remain within the threshold limits, motorcycle lubricants must address three key requirements:
Catalyst compatibility - to enable optimised design and efficiency – beyond compliance
Fuel economy - to offset the fuel economy debit linked to NOx emissions control hardware
Durability – no compromise in gear pitting performance even at lower phosphorus levels and lower SAE 5W-30 viscosity grades
Developing lubricants to meet all three requirements presents a technical dilemma. But, formulating an oil specifically tailored for motorcycles, which is developed using advanced additive technology, will ensure sufficient protection is delivered in these critical areas throughout the oil's lifetime in the engine.
---
View more articles in this category
---
Get technology news, opinions, specification updates and more, direct to your inbox.
Sign up to receive monthly updates via email