24 August 2021
Motorcycle oil gives fuel economy gains
Next generation low viscosity motorcycle oils deliver protection and fuel economy in field trials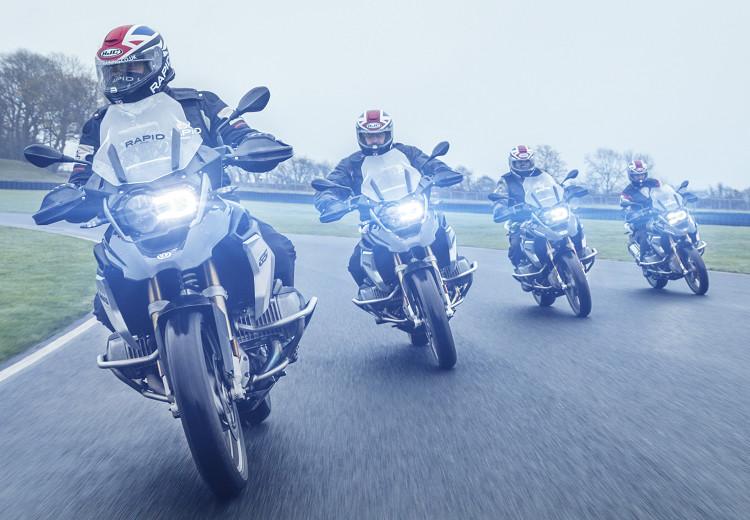 The need for organisations to set and meet sustainability targets is accelerating and, in the motorcycle world, OEMs are increasingly looking for lubricants that boost fuel economy without compromising hardware protection or engine performance. Watch the video and read on to find out more about the results of recent motorcycle field trials, which confirm the ability of carefully formulated low viscosity oils to deliver on all of these fronts.
At Infineum we understand how motorcycles work and what riders look for, this is why we know what makes the right motorcycle oil and understand how to test those oils in real world conditions.
We've recently concluded a field trial testing an ultra-low viscosity oil in four BMW GS motorbikes around the UK.
Partnering with a global lubricant manufacturer, we designed the trial to push the capabilities of the oil, aiming to boost performance attributes, while also maximising fuel economy benefits.
Using a combination of varied driving conditions and strict testing parameters, including a unique fuel economy test on a specialist motorbike race circuit.
We demonstrated that our oil can provide market leading fuel economy performance, with zero compromise to hardware protection.
After ten thousand miles, each bike was carefully inspected, and the oil was expertly analysed.
Using the OEM recommended 5W-40 oil as a benchmark comparison, our candidate test oil demonstrated a fuel economy advantage throughout the duration of the trial, with an impressive 1% FE benefit.
Not only did the lower viscosity grade help achieve excellent fuel economy performance, but the analysis also showcased impeccable wear performance and shear stability across the oil drain interval.
Inspecting the motorbike hardware, there was zero compromise to protection, with the lower viscosity lubricant providing strong wear durability, even during the running in period.
Infineum advanced detergency and dispersancy technologies safely neutralise harmful deposits and the antiwear additives maximise component wear resistance. Powerful TBN chemistries remove the risk of corrosion, with no loss of TBN performance throughout the service interval.
Testing products in real world conditions has never been more important.
Talk to us, if you'd like to take advantage of our impressive track record in managing and delivering field trials.
While global passenger car sales figures slumped in the wake of the COVID-19 pandemic, motorcycle sales were impacted to a much lesser extent. Yes, global sales were down by some 5%, but for example, some of the key markets in Europe experienced a slight sales growth. In terms of powertrain trends in Europe, while there was some uptake of electric models, over 90% of machines purchased in 2020 were powered conventionally. And these trends continue. In Q1 2021, the region's sales were up by just over 10% on the previous year and electric models accounted for some 8% of sales.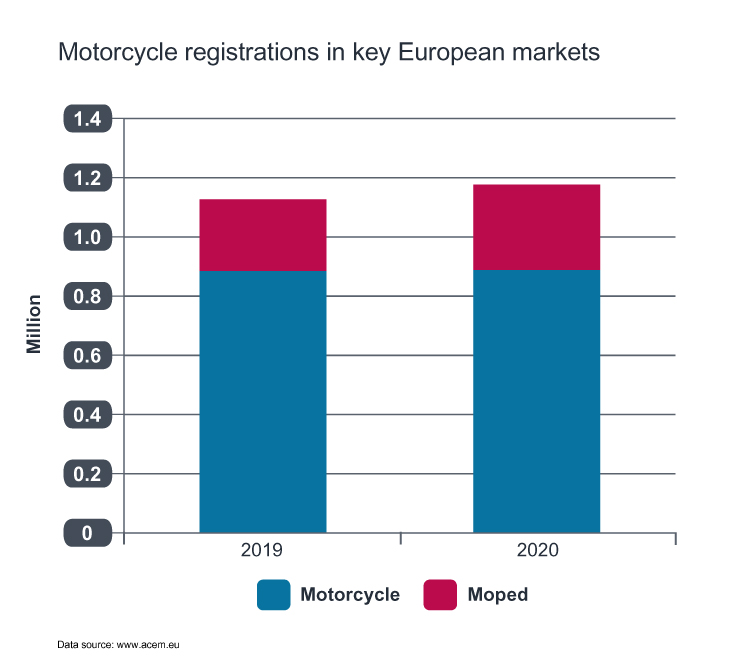 Emissions regulations drive change
As part of the drive for cleaner air, in Europe, India and Japan emissions regulations are now being applied to motorbikes.   These include limits for CO, HC, NOx, particulate matter and non-methane hydrocarbons. In response to these emissions requirements, OEMs have introduced new compliant models into the market. One of the best selling in Europe is the BMW R1250GS – a bike that is also proving popular with consumers in Asia and North America.
Currently, neither CO2 limits nor fuel economy targets are included in the list of requirements. But, despite their omission, in order to attract new customers and to meet sustainability targets, motorcycle OEMs are increasingly looking to offer excellent fuel economy performance - data that must now be reported in their product brochures.
Clearly, low viscosity lubricants are one lever that can be used to help reduce fuel consumption. However, motorcycle engines present a very challenging environment for engine oils since they deliver more power per cubic capacity than car engines, but have much less oil available to provide the required hardware protection.
Formulating lower viscosity oils that can not only ensure the catalyst protection, durability and friction performance that OEMs and riders demand but also that provide fuel economy benefits is a very complex task.
Low viscosity oil field trial
To meet these market demands, Infineum has developed a low viscosity motorcycle engine oil using advanced additive technology. To test its performance vs. the SAE 5W-40 oil recommended by BMW for these models, a 16,000 km field trial was initiated in the UK. And, as a bonus, an additional assessment of fuel economy improvement was carried out under controlled conditions at a UK race track.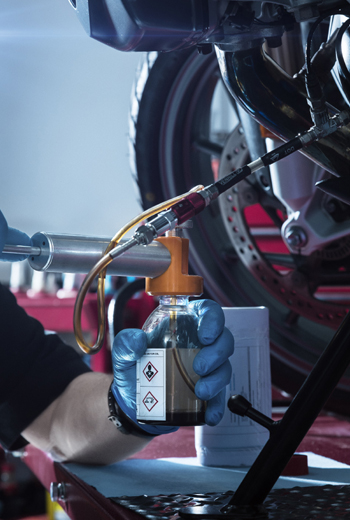 Used oil analysis showed the test oil stayed in grade for
longer than the reference oil
The growing popularity of the Euro V BMW GS model, combined with the tough lubrication environment introduced by its variable valve configuration, made it a great choice for use in these trials.
The aim of the main field trial was to assess the low viscosity test oil in terms of durability and friction performance.
Used oil analysis revealed the shear stability of the test oil was better than the reference oil, which meant it stayed in grade for longer, with no loss of TBN performance throughout the service interval - removing the risk of corrosion.
Both oils performed equally well in terms of wear protection across the oil drain interval and, on inspection of the motorbike hardware, zero compromise to protection was observed, with engine parts looking like new after 16,000 km.
"We were very pleased that in this challenging field trial we recorded no harms as a result of using a lower viscosity oil versus the SAE 5W-40 reference: no engine wear, limited metals in the used oil analysis and excellent shear stability."

Dani Fiddaman, Infineum Senior Technologist
On track testing confirms fuel economy
Following on from the main trial, the riders took the bikes to Mallory Park Racing Circuit, an iconic motorsport venue, for a mini fuel economy trial. Factors such as route, speed, weather, electronic engine mapping, fuel load and type, tyre pressures and condition and even weight on the bikes, could all be standardised to give the best comparison possible. We even added weight to the bike with the lightest rider! In these controlled conditions, after 100 km on the local roads and some high speed laps of the 2.2 km circuit, the fuel tanks were refilled and the fuel used was measured. Overall the bikes with the Infineum test oil showed better fuel consumption – giving 1% fuel economy improvement over the SAE 5W-40 reference oil.
"In a world where sustainability is the number one target, this is a great result for us! We already had test results from the main trial showing improved efficiency, but being able to effectively measure it in this way enabled us to confirm the 1% fuel economy benefit."

Aurelie Grange-Chivrac, Infineum Specialty Businesses Regional Market Manager
Field trial capabilities now essential
As industry requirements become increasingly complex and new diagnostic systems and testing cycles are introduced, lubricant testing in real world conditions is becoming more important than ever before.
Infineum motorcycle oil products have already been tested in a variety of applications and conditions and here you can click through to watch the videos of the results from our Vietnam and Brazil field trials. Undertaking this extensive work programme means we have developed strong partnerships with test laboratories and field test teams, which are now readily available to work with us on future product testing projects.
These latest field trial results reinforce our ability to formulate lower viscosity motorcycle oils that can achieve fuel economy gains, while still delivering the best in class protection over the entire drain interval that this market requires.
---
View more articles in this category
---
Get technology news, opinions, specification updates and more, direct to your inbox.
Sign up to receive monthly updates via email