04 August 2020
Field proven motorcycle oil
New optimised additive technologies deliver excellent performance in tough conditions over extended drain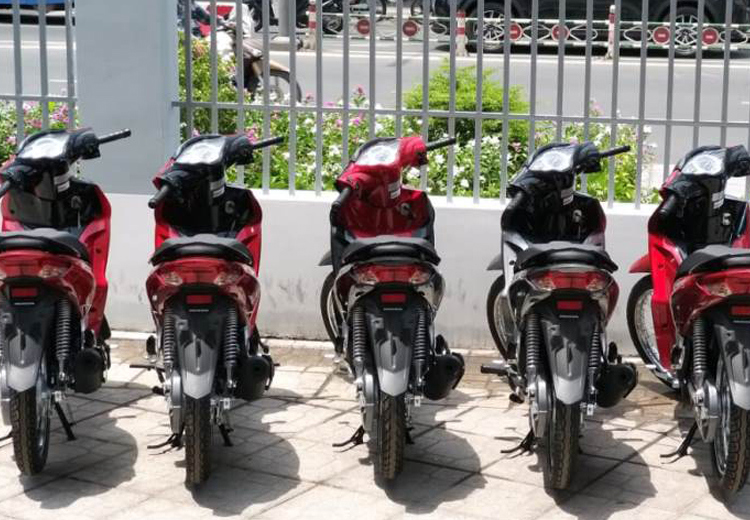 Seven of the world's top ten motorcycle markets are in Asia Pacific and motorcycle users in this region, who rely on their machines for day-to-day transportation, are increasingly looking for cost effective and reliable lubricants. Eugene Ong, Infineum Technologist, reveals the excellent results achieved in field trials conducted over 10,000 km in Vietnam using new Infineum technologies designed for the smaller bikes that dominate these growth markets.
Asia Pacific accounted for over 85% of global two-wheeler sales in 2019 and is an important and growing motorcycle engine oil market.  It is also a region where, as an Infineum survey revealed, motorcycle users have very specific requirements regarding their oils.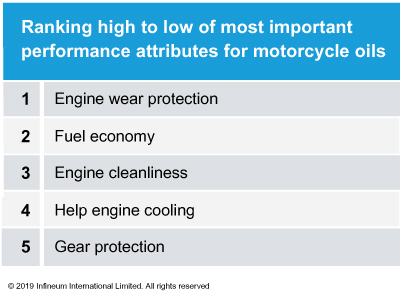 Results taken from an Infineum survey of 2,000 four-stroke motorcycle users in India, Indonesia, Vietnam and Thailand
Read more on the Infineum survey of motorcycle oil use in Asia Pacific here.
To meet the performance needs of the smaller bikes, dominant across these growth markets, while providing performance at competitive treat rates, Infineum has developed new motorcycle oil technologies. An API SL candidate oil was formulated to SAE 10W-30, to align with the trend in this market for fuel economy improvement, and an API SG candidate oil was formulated to SAE 20W-50. These two Infineum technologies were run against a commercially available motorcycle oil in a field trial in Vietnam.
The field trial ran twelve 125cc four-stroke motorcycles in varied riding patterns in Ho Chi Minh City. The bikes covered 10,000 km before the oil was changed, which is more than three times longer than the typical oil drain interval. Oil samples were taken every 2,500 km and at the end of the test the bikes were stripped down and rated.
Proof of field performance
Despite the extended drain interval, both of the Infineum technologies demonstrated good wear protection in the major engine parts including the liners, connecting rods and camshafts. In these motorcycles, oils must not only protect the engine components but also the transmission gears.
The Infineum technologies offered strong wear protection, with only trace or light pitting and wear observed on the input and output gears.
In addition, throughout the test, wear metals in the oils sampled showed a stable trend and the SAE 10W-30 candidate oil recorded low wear metals content, indicating wear protection even at the thinner viscosity grade.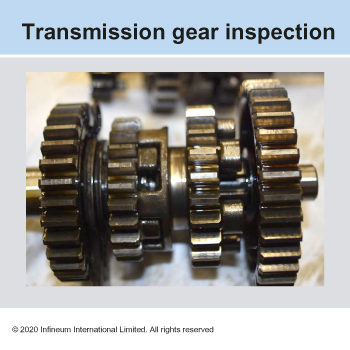 The SAE 10W-30 viscosity candidate oil delivered strong wear protection, with very little pitting or wear observed on the gears
Cleanliness
Even after 10,000 km, the oils demonstrated excellent engine cleanliness with an average sludge and varnish rating of more than 9.7, which means there was very little sludge and varnish build up.
In the rated components, the Infineum candidate

s

gave performance equal to or better than the reference oil.
In terms of piston cleanliness, the Infineum candidate technologies were cleaner than the reference oil. This means that even in the higher temperature exposure in the piston zone, the Infineum technologies deposited less carbon than the reference oil – particularly in the piston land and grooves.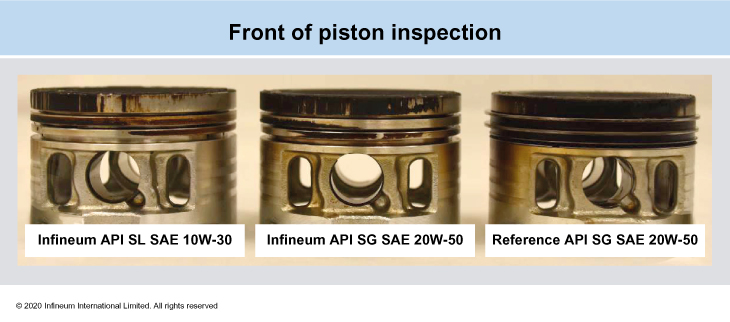 The Infineum candidate oils demonstrated excellent piston cleanliness compared to the reference oil during engine rating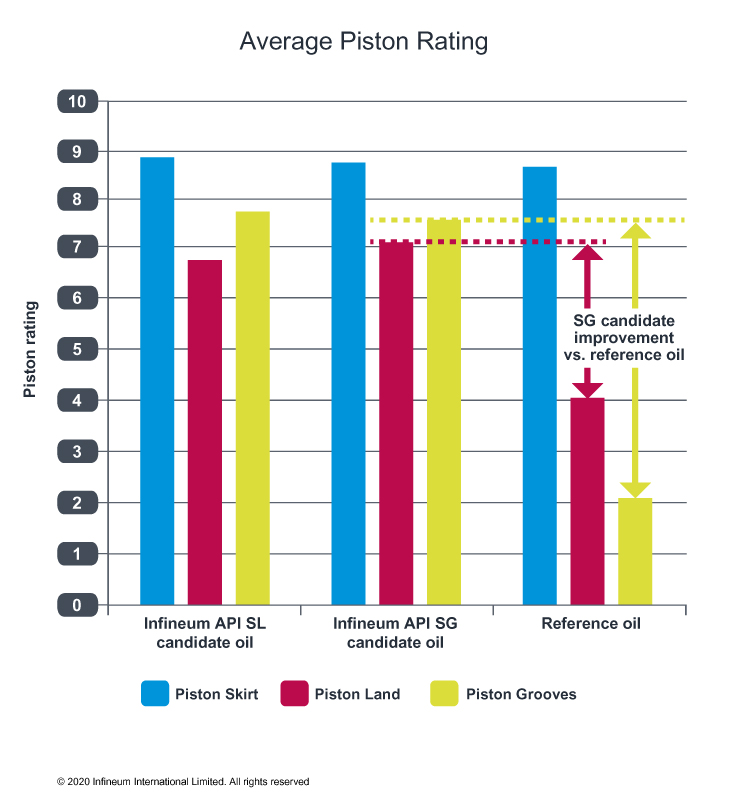 The Infineum candidates demonstrated excellent piston cleanliness compared to the reference oil during engine rating
Cooling efficiency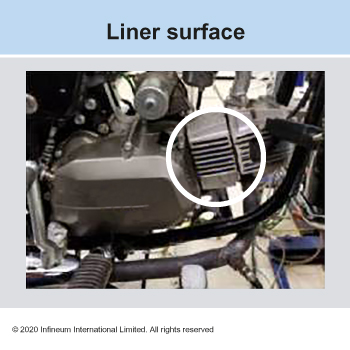 Riders measured the surface temperature after their commute
Given the importance of engine cooling, during the trial, riders were asked to measure the engine surface temperature on five consecutive days using a temperature gun after their commute.
The Infineum technolog

ies

on average gave lower engine surface temperatures and this improvement in cooling efficiency could translate to better rider comfort.
Possible explanations for these improvements could be better engine cleanliness, since the presence of deposits would hinder cooling efficiency, and improved oil flowability resulting from the use of a premium star viscosity modifier in the formulation.
In the growing four-stroke motorcycle markets in Asia Pacific, smaller engine two-wheelers that users rely on for daily transportation dominate the market, which means their efficient and reliable operation is essential. The latest API SL and API SG motorcycle lubricants developed by Infineum have demonstrated the ability to meet essential protection and performance needs at optimised treat rates, which makes them ideally suited for use in these high growth markets.
---
View more articles in this category
---
Get technology news, opinions, specification updates and more, direct to your inbox.
Sign up to receive monthly updates via email