29 October 2019
Motorcycle oil use in Asia
Survey reveals end users value extended oil life over cost and engine wear protection is a top priority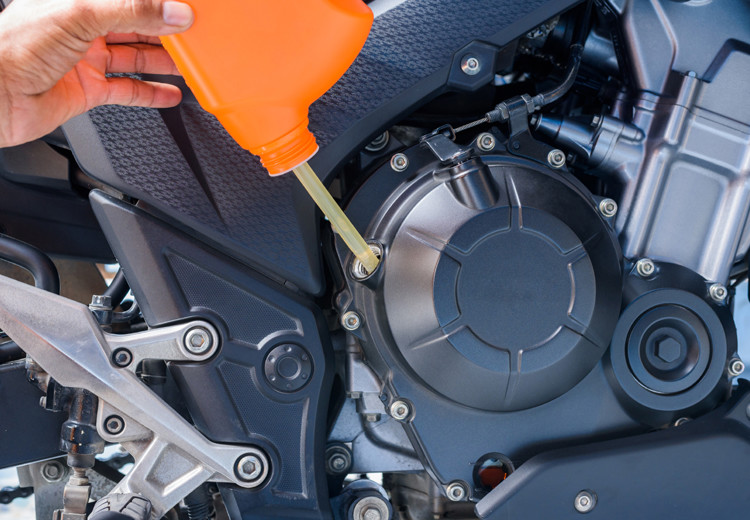 Asia is the world's largest motorcycle market and an important and fast-growing engine oil market. Insight explores the results of a recent Infineum survey of four-stroke motorcycle owners in India, Indonesia, Vietnam and Thailand to reveal what influences their oil buying decisions and which lubricant performance attributes are most valued.
Global two-wheeler sales were reportedly strong in 2018 reaching 62 million units, up 1.8% from the previous year. Despite some ups and downs, the four markets surveyed, India, Indonesia, Vietnam and Thailand, account for more than 50% of global sales and are all major motorcycle manufacturing hubs.
India is the world's largest motorcycle market, with two-wheelers making up 80% of the more than 26 million vehicles sold in 2018/19. In Indonesia, after a period of decline, 2018 saw sales rise to reach over six million, an 8.4% growth and a trend that seems to be holding in 2019. Vietnam, the world's 4th largest two-wheeler market saw 2018 sales hit an all time high of 3.38 million, although this performance is not being repeated in 2019, with first half sales down 5.3%. In Thailand, the smallest of the markets surveyed, 2018 demand was relatively flat with final sales at 1.78 million units, and the picture for 2019 does not look promising with first half sales down by more than 4%.
Most of the bikes rolling out onto the streets of the four markets surveyed are relied on for daily transportation, which means it is essential that they function efficiently and effectively.

Pei Yi Lim, Infineum Small Engine Market Advisor
An important aspect of this reliability is the engine oil, and the aim of the Infineum end user survey was to obtain a good understanding of owners' behaviours and usage and their preferences when it comes to selecting the oil they use in their bikes.
The survey
The online survey collected data from 2,000 motorcyclists, from major cities in the four countries. Respondents own at least one four-stroke bike, that they have ridden in the past year, and make decisions on their oil change.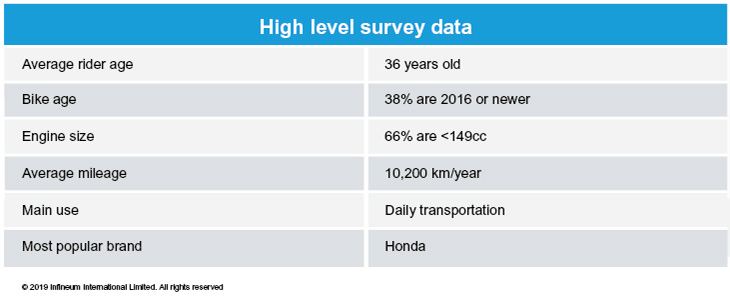 This is in sharp contrast to the data collected in our 2018 survey of US motorcyclists. The key difference is the much smaller bikes in these Asian countries cover more than four times the annual mileage of the much bigger bikes used in the US (33% of which are >1,000cc), which are generally used for leisure.
The bikes
In our survey sample, a higher proportion of riders in India own motorcycles rather than scooters. However, in Vietnam and Indonesia scooters are more popular, while in Thailand there is almost a 50/50 split between motorcycle and scooter use. Only a very small number of riders across the sample reported that they use mopeds and three-wheelers.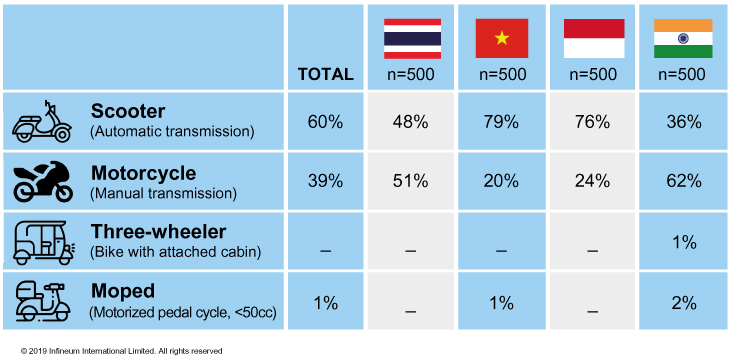 A high percentage of these motorcycles and scooters have engines smaller than 150cc and only a very few are 500cc or above (5% or less). In terms of OEM brand, at least 70% of motorcyclists ride a Honda, most often followed in popularity by Yamaha and Suzuki models.
Oil changes
Most of the riders use mileage to decide when to change their oil, with an average oil change interval of ~3,000 km. Although most riders go to professionals for their oil change at least 70% say they decide on the brand used. However, when asked about their motor oil, 30-40% of riders do not know its technical specifications. Of those who are aware, SAE 10W-X are the most common viscosity grades and SL is the most used API quality level.
A majority of riders reported a brand of choice based on their perception of three top considerations: overall engine performance, branding & efficiency, with price less of a concern.

Pei Yi Lim, Infineum Small Engine Market Advisor
Riders with no brand preference, the minority, think that all oil brands all the same, with 40% of them being unaware of which brand of motor oil is used for their bike.
However, riders did report being most sensitive to the performance of their bike after an oil change, with four in five noticing a difference in engine performance when the brand or type of motor oil is changed.
The oil
When selecting the type of motor oil to use, while factors vary across the countries, "Formulated for Motorcycles" is the top consideration factor, especially in Thailand, Vietnam and Indonesia. In India riders say they generally refer to past experiences.
Also high on the list of selection criteria are value for money, warranty coverage and quality level. The latter is relatively surprising given that almost 40% of respondents could not recall the API quality level or JASO friction level of their oil.
In one question the riders were asked if they had ever experienced any oil related problems. The most widely reported were high oil consumption and contamination. But, also on the list are clutch slip or poor clutch shift, slow pick up, oil leakage and heavy exhaust smoke.
Lubricant performance
When it comes to lubricant performance and protection, the riders surveyed said they consider engine wear protection to be the most important lubricant attribute, followed by fuel economy, engine cleanliness and engine cooling. The table below shows the top five performance attributes chosen by riders from the list of attributes provided to them.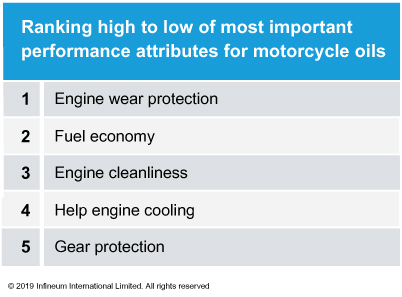 When presented with choices in performance aspects associated with tradeoffs in oil formulation, there were some differences of opinion, but the strongest view is that most riders would choose extended oil life over lower oil cost.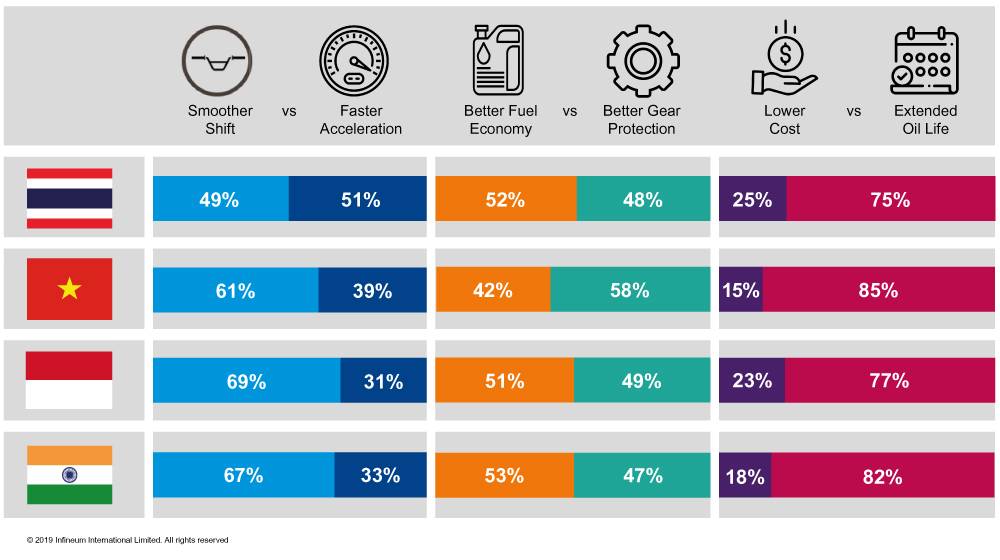 To meet these often conflicting needs it is essential to develop a balanced motorcycle specific formulation containing the optimal additive components that can, for example, reduce engine friction for fuel economy, while delivering durability performance for longer.
Understanding the attitudes and behaviours of customers is critical to maintaining and growing market share and profitability in these markets.

Pei Yi Lim, Infineum Small Engine Market Advisor
Reaching out to riders through the trusted professionals they use to carry out motorcycle maintenance is likely to be the most effective way to educate them on quality levels, brand attributes and best practices. There is also an opportunity to use these channels to gain a better understanding of their oil related issues to help deliver improved rider experience.
If you would like to review and discuss the results of this end user motorcycle study in more detail please contact insight@infineum.com.
---
View more articles in this category
---
---
Get technology news, opinions, specification updates and more, direct to your inbox.
Sign up to receive monthly updates via email