09 August 2022
High-performance multiuse grease specification
Advanced polymers help grease manufacturers meet the latest requirements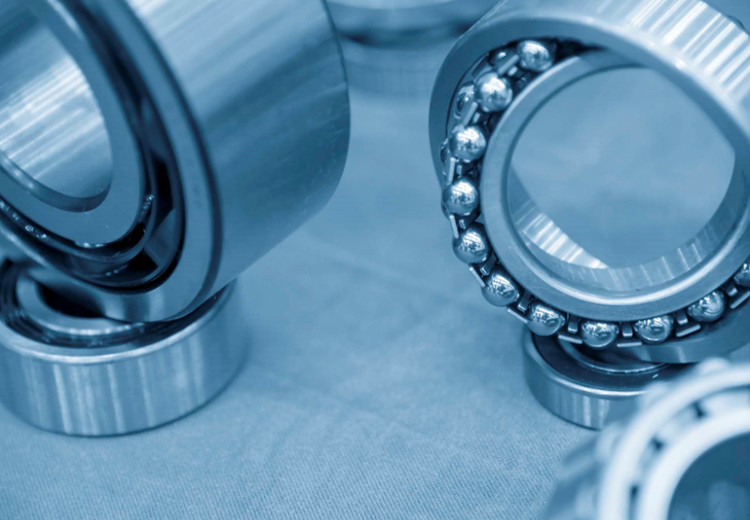 The High-Performance Multiuse (HPM) specification from NLGI, means most greases now need to meet more demanding performance requirements. Infineum Business Growth Manager, Pang Lin Ong, explains how the different structures of functional polymers can be used to help manufacturers and formulators produce greases with performance properties that go beyond the requirements of the latest specifications.
The National Lubricating Grease Institute (NLGI) licenses grease through their Certification Mark programme, which includes the established GC-LB Performance Classification, that for over 30 years has provided an internationally recognised specification for grease and bearing manufacturers. In December 2020, NLGI introduced a new High-Performance Multiuse (HPM) specification for greases, with the aim of raising the level of performance compared to GC-LB and making the specification more relevant to multiuse industrial applications. This was achieved by creating a core of seven tests common to GC-LB, which may have more restrictive limits, and adding two mechanical stability tests, two corrosion tests, two high temperature tests and a low temperature torque of ball bearing grease test. In addition to the core HPM specification, there are four optional add-on performance tags: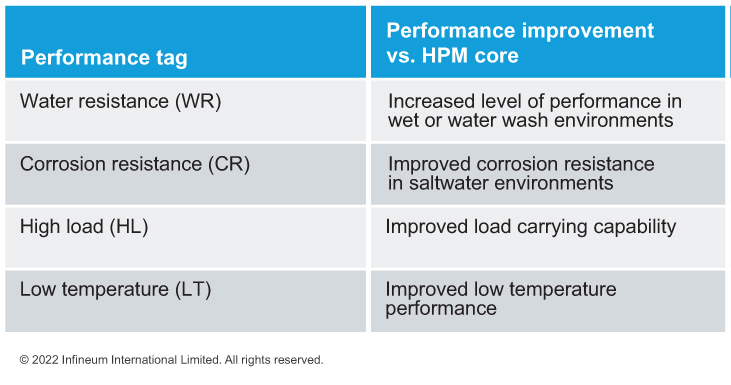 Greases must meet the core HPM specification to add a performance tag – although there is no limit on the number of performance tags for each certified grease. It should be noted that GC-LB is not being replaced, the new specifications will be in parallel to GC-LB and NLGI will continue to support GC-LB certification and the use of the mark on finished products.
In addition to the more demanding HPM requirements, there are a number of other trends affecting the market. For example, rising lithium prices are forcing manufacturers to look for alternative thickeners, the move to higher quality base stocks with lower solvency means bleed increase is a concern, and the growing markets for food grade and biodegradable products means manufacturers need compatible and certified polymers. From a sustainability viewpoint, as organisations look to meet internal and external sustainability targets, polymers that have the potential to reduce Scope 2 and 3 emissions are increasingly attractive.
In grease formulations, functional polymers can contribute in a number of these areas by improving water resistance properties while also maintaining grease pumpability. Other improvements provided by polymers include reduced oil bleed, boosted base oil viscosity, improved shear stability, increased dropping point, lower thickener content, and improved overall appearance of the grease. As the market looks for simplicity of formulation, as well as inventory security and reduced overall costs, careful polymer choice is essential.
Versatile, easy to use, and compatible polymers that can be used across thickener types and easily incorporated into grease offer simplification advantages and cost saving benefits
Impact of polymer structure
There are a variety of polymer chemistries and architectures for grease formulators to choose from when designing a new product. Further, as polymer technology capabilities advance, even more possibilities for new designs are emerging. Infineum has been working to provide insights into polymer performance to help guide further design optimisation by developing an updated understanding of the structure/property relationship in greases.
In our recent R&D programme we evaluated the benefits of using high molecular weight polymers vs. traditional chemistries. In this study, a new proprietary next-generation polymer was evaluated against olefin copolymers (OCP) and both hydrogenated styrene diene (HSD) star and diblock polymers.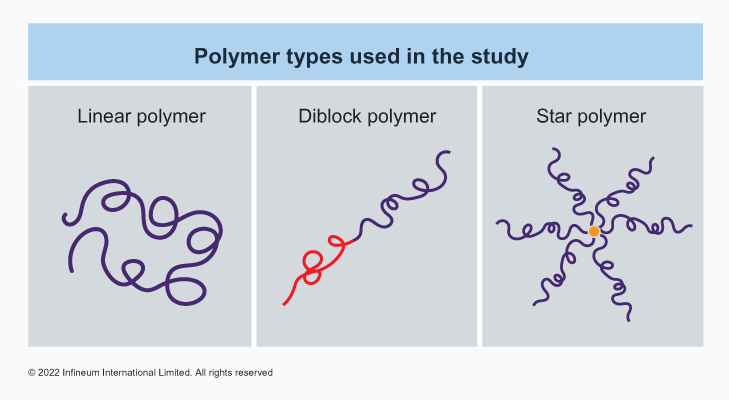 Polymethacrylates (PMA) and polyisobutylene (PIB) were excluded from the study, since at low treat rates they provide limited water resistance benefits in grease.
All the polymers were evaluated for water spray off, water washout, and pumpability against a baseline grease. The high molecular weight star and next-generation polymer architectures were the only polymers able to provide a balance of both sprayoff and washout results to meet the requirements of the HPM + WR specification. Additionally, the high molecular weight star polymer can be incorporated into greases at temperatures as low as 90°C, such that the lower maximum reaction temperatures for calcium sulphonate and polyurea greases (120-150 °C) are now easily accommodated.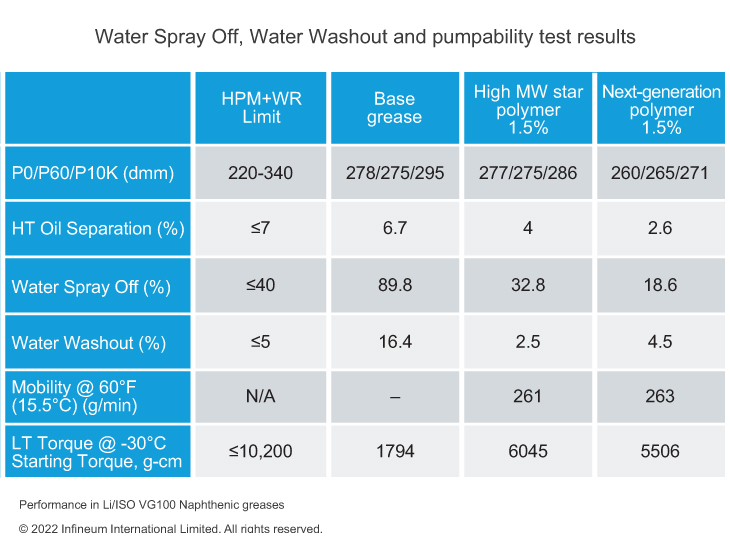 The high molecular weight star and next-generation polymer architectures meet the requirements of the HPM + WR specification
To evaluate the water resistance versus grease pumpability, we calculated the mobility ratio for each grease (where a higher ratio is better). This ratio compares the US Steel Mobility versus the water spray off results to demonstrate the balance of water resistance and ease of use. The next-generation polymer gave the best ratio; the star and diblock also improved this ratio when compared to OCP.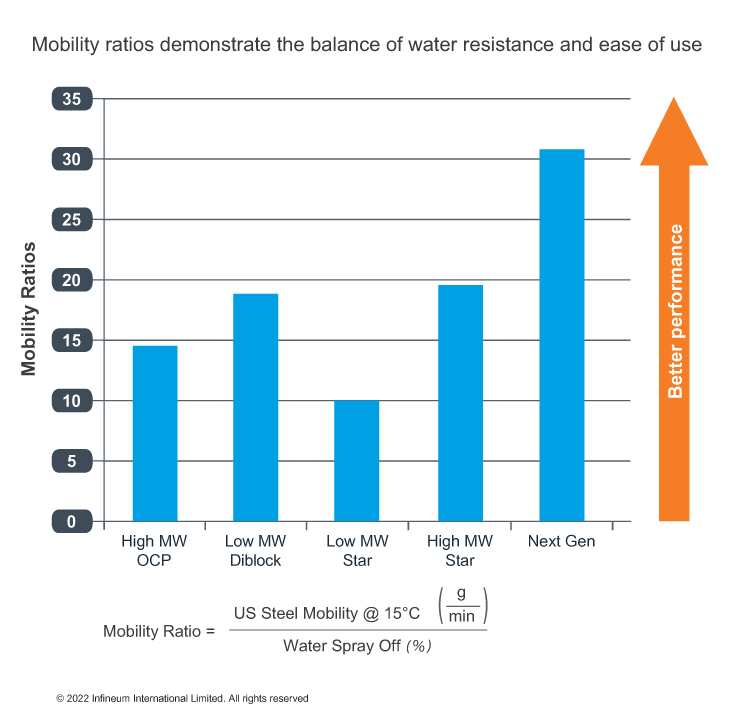 The next-generation polymer demonstrated the best performance in mobility ratio calculations
Handling and compatibility
Performance is not the only important selection criteria – ease of handling, incorporation into the manufacturing process, and base oil compatibility are all key considerations. In this regard, the high molecular weight star and next-generation polymers offer the best solutions, as they are free flowing crumbs with minimal agglomeration compared to the diblock that needs sifting or the high shear stability index (SSI) OCPs that require shredding.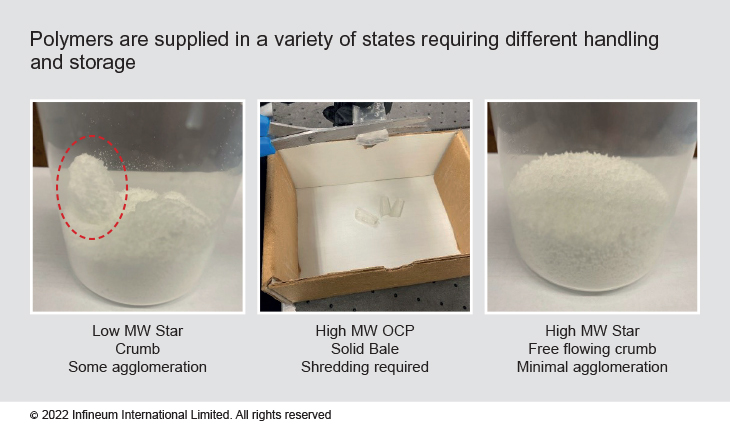 Free flowing crumb polymers with minimal agglomeration can easily be added throughout the process, even in the finishing kettle as it cools
In terms of base oil compatibility, the next-generation and HSD star polymers show a credit in ease of incorporation across different base oil types, including PAO. This versatility can potentially translate into benefits in process temperature/cycle time optimisation and logistic simplification. In addition, they both proved to be highly efficient boosters of base oil viscosity and viscosity index, which can bring added value in bridging the viscosity gap as Group I becomes less available and more expensive.
Conclusion
The next-generation and high molecular weight star polymers delivered the best performance of all the polymer chemistries tested. Both can be used to enable grease formulators and manufacturers to meet the requirements of the GC-LB and core HPM specifications. In addition, since they deliver excellent water resistance performance, while also maintaining maximum pumpability, the +WR performance tag can be added to the finished grease. The further performance benefits of these polymers include handling, ease-of-use, and compatibility vs. conventional OCP and diblock polymers, these advantages can help to decrease both cost and complexity.
Finally, as sustainability becomes a higher priority for most organisations, these easy-to-use polymers can help to reduce energy consumption, extend the grease lifetime, and enable the production of biodegradable products – all of which can contribute towards Scope 2 and 3 emissions reductions.
---
Get technology news, opinions, specification updates and more, direct to your inbox.
Sign up to receive monthly updates via email