Please note this article was published in September 2014 and the facts and opinions expressed may no longer be valid.
09 September 2014
New lubricity challenges
Changing global fuels market impacts lubricity requirements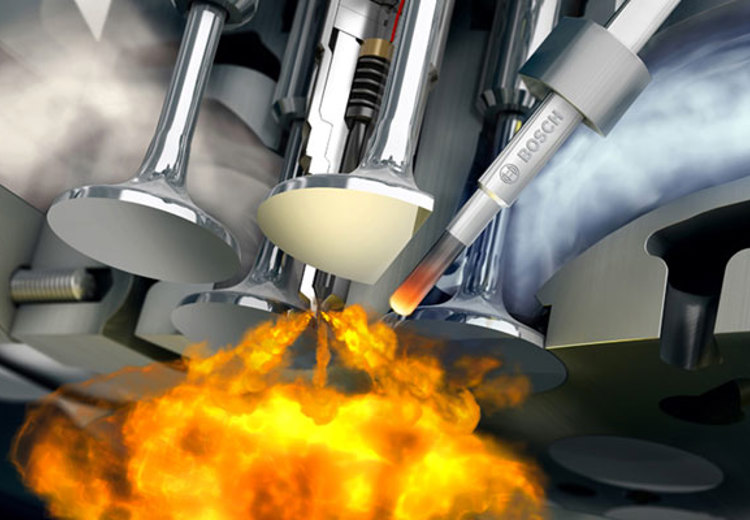 The need for lubricity additives is well understood but, in an increasingly complex fuels market, an understanding of the global requirements and drivers for change is ever more important to ensure fuels are fit for purpose.
Tightening emissions and fuel economy legislation, combined with the need to prevent vehicle operability issues have driven a significant number of changes to both hardware design and fuel quality.
Common rail fuel injection systems, for example, are now used in the majority of today's heavy and light-duty diesel vehicles. In these advanced, high-pressure systems, where both the pump and injector rely solely on the fuel for their lubrication, preventing wear is essential, which makes diesel fuel lubricity a critical fuel quality parameter.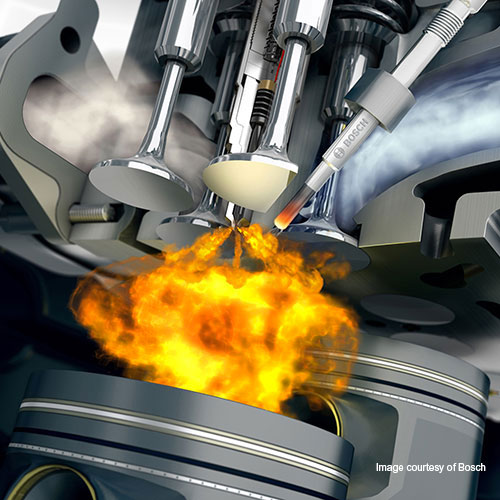 Lubricity issues have not arisen as a result of the introduction of this technology, common rail is simply the latest challenge in the ongoing lubricity story. Infineum* has been involved with the research and development of additives to address lubricity problems since issues with pump wear and failures were observed in vehicles when 10 ppm sulphur Swedish Class 1 fuels were introduced back in the early nineties.
Over the years, as fuel sulphur levels have continued to fall, Infineum has invested in the development and testing of lubricity additives to prevent field problems.
Fuel complexity is increasing
But now diesel fuels are becoming even more complex, and it is essential for additive producers to fully understand the refining practices that can impact lubricity performance including:
The use of hydrotreatment to produce ultra-low (<15 ppm) sulphur fuels
The use of kerosene as a blend component to improve cold flow properties.
The increased blending with non-conventional components, including biofuels and gas to liquid streams.
The use of other fuel additives, cetane improver for example.
Regional lubricity requirements for diesel fuels, defined by wear scar diameter limits, have been introduced to ensure that, despite this increasing complexity, fuels continue to deliver the required level of hardware protection.
Data from recent Infineum Winter Diesel Fuel Quality Surveys (WDFQS) has tracked the steadily improving global lubricity picture.
However, for the first time in eight years, the 2012 Infineum Survey reported a stalling of the downward lubricity trend, which was attributed to a backing off in the use of biofuels. Early analysis of the 2014 data indicates that this trend is continuing – although average levels are still below the World Fuels Charter recommended level of 400 microns.
There has been a stalling of the downward lubricity trend, which may be attributed to a backing off in the use of biofuels.
Current lubricity challenges
Clearly the fuels world does not stand still, and today refiners are facing more challenges than ever before.
The increased demand for middle distillates, especially in Asia, combined with refinery rationalisations is leading to an increase in the global movement of fuels, which means refineries need to work hard to meet the varied specifications of their global customers.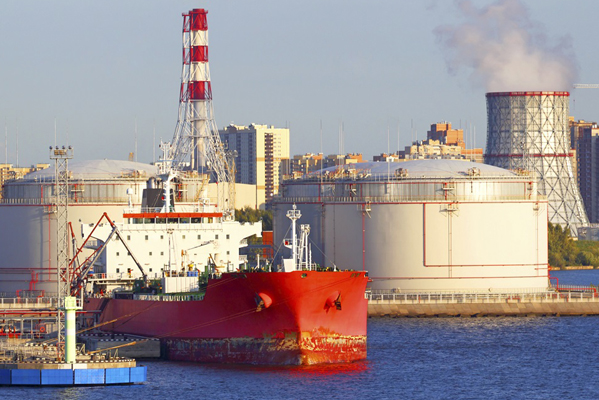 At the same time there is an increasing need for fuel producers to extract more on-specification diesel fuel out of every barrel. And, as countries work towards meeting renewable fuel regulatory mandates, the potential for an increase in the use of biofuels adds yet another level of uncertainty.
Emerging markets
Both in the short and longer term, diesel demand is expected to grow at a higher rate than other fuels, reaching one third of the 108.5 million barrel per day global product demand forecast by 2035. The biggest demand growth will come from the emerging markets. And, although uncertainties in the economic picture may impact these trends, current figures suggest Asia Pacific will account for more than 44% of the global demand for diesel by 2035.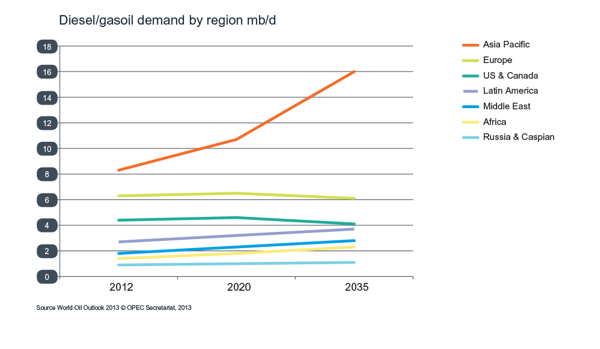 Diesel demand is expected to grow at a higher rate than other fuels Enlarge view
The need to reduce pollution and protect vehicle hardware means legislation in these growth economies continues to drive fuel sulphur levels down. Although the Infineum WDFQS shows that sulphur levels in some of the emerging markets, notably Indonesia, China, Malaysia and Argentina, remain high and variable, this picture is expected to change.
As vehicle quality continues to improve and fuel sulphur levels fall, proven lubricity additives will be required to prevent field performance issues.
Refiners wishing to export fuels to these emerging markets will need to meet increasingly stringent fuel quality standards and must ensure their products are fit for use.
More movement of fuels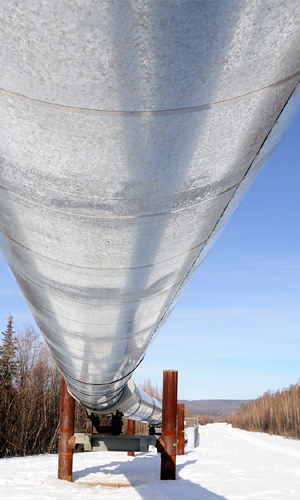 As the demand patterns for diesel change, producers must be aware of the legislation governing fuels in their markets of choice.
One area of particular concern for exporters is ensuring fuels are approved for use in all the pipelines they may enter on their journey to the final destination market.
In certain areas of Europe for example, multi-product pipeline operators have introduced protocols to establish which additives can safely be used in their pipelines and at what treat rates. These approvals are difficult to obtain, but anyone wanting to sell their products into this market must ensure the additives they use meet these requirements.
As well as ensuring all pipeline regulations are met, producers must also meet the specific requirements of the destination market, whether that is local quality specifications, extremes of temperature, storage concerns or handling requirements.
Biofuel use
The use of fatty acid methyl ester (FAME) is well known as an effective method of improving lubricity. However, unless the use of FAME is mandated, or there are significant local tax incentives, it is likely to be more expensive than using an additive to achieve the required lubricity target.
The need to improve refinery economics and the global economic downturn mean biofuels uptake has been slower than expected. This in turn means that the lubricity gains previously forecast from FAME have not been realised.
Robust, harms-free lubricity additives can be used as a cost effective alternative to FAME for producing fuels with the required level of lubricity performance.
Additive chemistry
Over the years operational issues have been associated with both the use of low sulphur fuels and the lubricity additives used to correct their lubrication properties.
Infineum has been involved in a variety of collaborative research projects, over a number of years, with OEMs and petroleum companies to examine different lubricity additive chemistries.
These projects have confirmed the trouble-free application of ester lubricity additives and highlighted a number of problems caused by acid chemistry, including fuel filter deposits, injector deposits and top piston ring corrosion.
Producing the right fuel for the right market
In this increasingly complex world it is important for refineries and fuel marketers to ensure the quality of the diesel fuels they supply meet all the requirements of their final destination markets.
Using proven ester-based lubricity additive technology from a reputable supplier ensures fuels will meet a wide range of market needs and pipeline protocols, and gives refiners a broad product slate.
This means the fuels are appropriate for use in a large number of markets, giving the refinery an opportunity to select the most lucrative destination for its products.
* Prior to 1999, work was undertaken by Paramins (the additives division of Exxon Chemical Company), which together with Shell Additives (a division of The Shell Petroleum Company Ltd and Shell Oil Company) formed the Infineum joint venture.
---
View more articles in this category
---
Get technology news, opinions, specification updates and more, direct to your inbox.
Sign up to receive monthly updates via email