04 December 2018
US motorcycle owner survey
Specifically formulated motorcycle oils can deliver highly valued performance attributes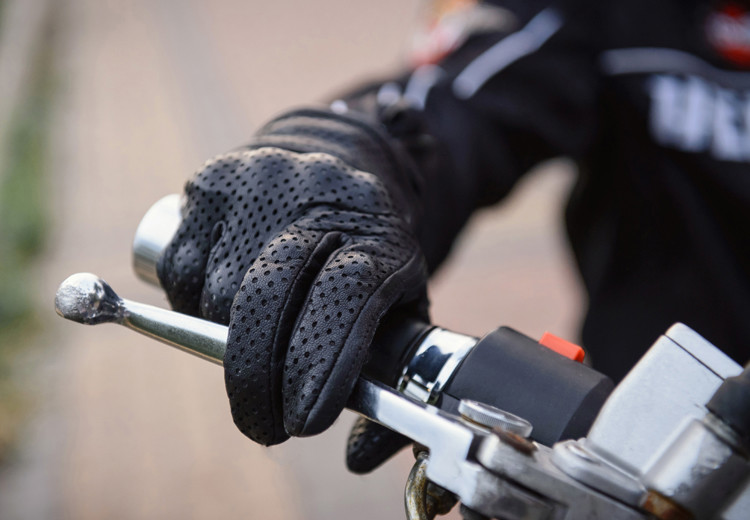 In our recent survey of US four-stroke motorcycle owners, Infineum confirmed that, when it comes to lubricant performance, users value the performance attributes that motorcycle oils are specifically formulated to deliver. Ed Post, Infineum North American Specialties Market Manager, talks about the US motorcycle owners' habits, preferences and needs revealed in the latest survey results.
From street bikes, sport bikes and off-road bikes to scooters, it is estimated that there are over 8.5 million registered motorcycles in the US today. However, sales of new motorcycles have been largely stagnant since the recession, with roughly half as many new motorcycle registrations annually as a decade ago.
As fewer new bikes roll out onto the road, the US motorcycle population is aging, making it increasingly important for users to ensure their rides are well-maintained to prolong their working life. An important aspect of this maintenance is the oil, and the aim of the Infineum end user survey was to obtain a good understanding of motorcycle owners' preferences when it comes to selecting the oil they use in their bikes. 
The survey sample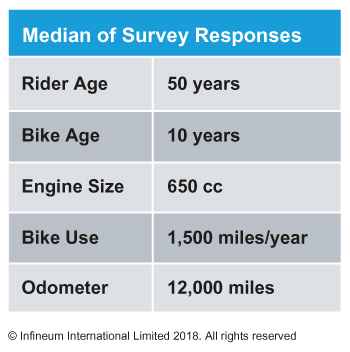 The online survey collected information from nearly 1,000 motorcycle owners throughout the US. The respondents all own at least one four-stroke bike that they have ridden in the past year and make decisions on their oil change regime. Of the randomly selected survey respondents:
The median rider age was found to be about 50, with less than 25% under 35 years old.
The median age of their bikes is 10 years old, with over one-third built during the last century.
The median bike engine size reported is 650cc, with one-third larger than 1,000 cc.
Greater than 75% ride for recreation, rather than for basic transportation.
Harley-Davidson and Honda bikes are the most popular brands.
Oil change habits
More than half of the owners surveyed change their motorcycle oil themselves and 70% said they refer to the owners' manual for guidance. The majority change their oil based on mileage, with 2,500 miles being the median oil drain interval. Two-thirds of owners select the oil brand used in their bikes, with two thirds of those expressing a brand preference. Our data shows that older riders are more likely to purchase oil at dealers, while younger riders are more likely to buy at retail stores or online.
Motorcycle oil selection
The survey reveals that owners are much more aware about the viscosity of their oil than they are about quality classifications.
In terms of quality, most were unaware of the API quality and JASO friction level of their oils.
However, those surveyed said that SAE viscosity grade is the most important factor when selecting the type of oil, with SAE 10W-40 and 10W-30 being cited as the most often used grades.
On the list of oil selection criteria, viscosity grade is closely followed by past experience with an oil, including that gained in their 4-wheeled vehicles, and then a desire to use motorcycle specific oil. However, on this last point, our data indicates that while more than three-quarters believe they use oil specially formulated for motorcycles, after correction for brands that do not offer motorcycle specific oils in the US, less than 60% actually are.
Interestingly, next on the list of priorities when selecting an oil comes 'quality level'. But, bearing in mind that more than 60% could not recall the API quality or JASO friction level of their own oil, it is unlikely that the owners could discern between different performance levels. At the bottom of the list of oil type selection criteria is low price.
Desired motorcycle oil performance
So, what kind of performance or protection do motorcyclists want most from the oil they use in their bikes? The surveyed owners reported that engine wear protection is the most important performance attribute.
This is followed by transmission and gear protection, shift performance and clutch protection, which are all attributes that can be delivered by oils specifically tailored to motorcycle applications, but not by passenger car engine oils.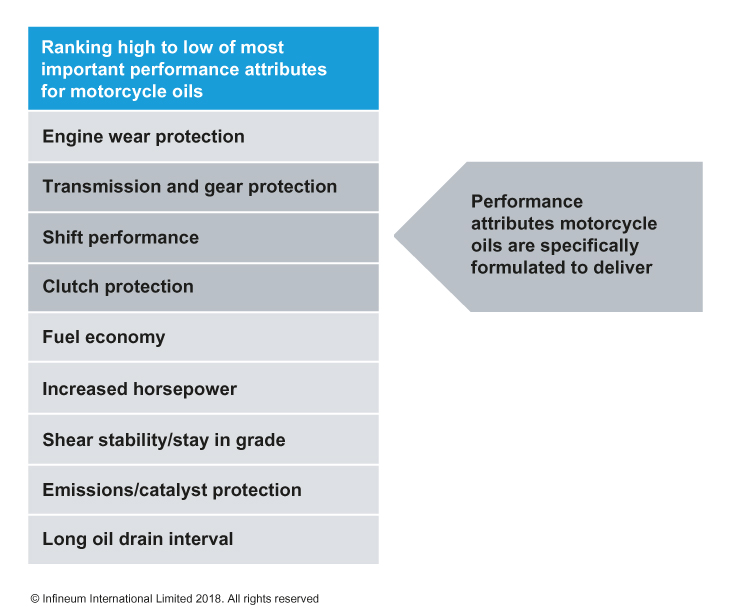 And finally, when presented with choices in performance aspects associated with tradeoffs in oil formulation, the bikers surveyed tended to prefer: smoothness over acceleration; gear protection over fuel economy and longer drains over lower price.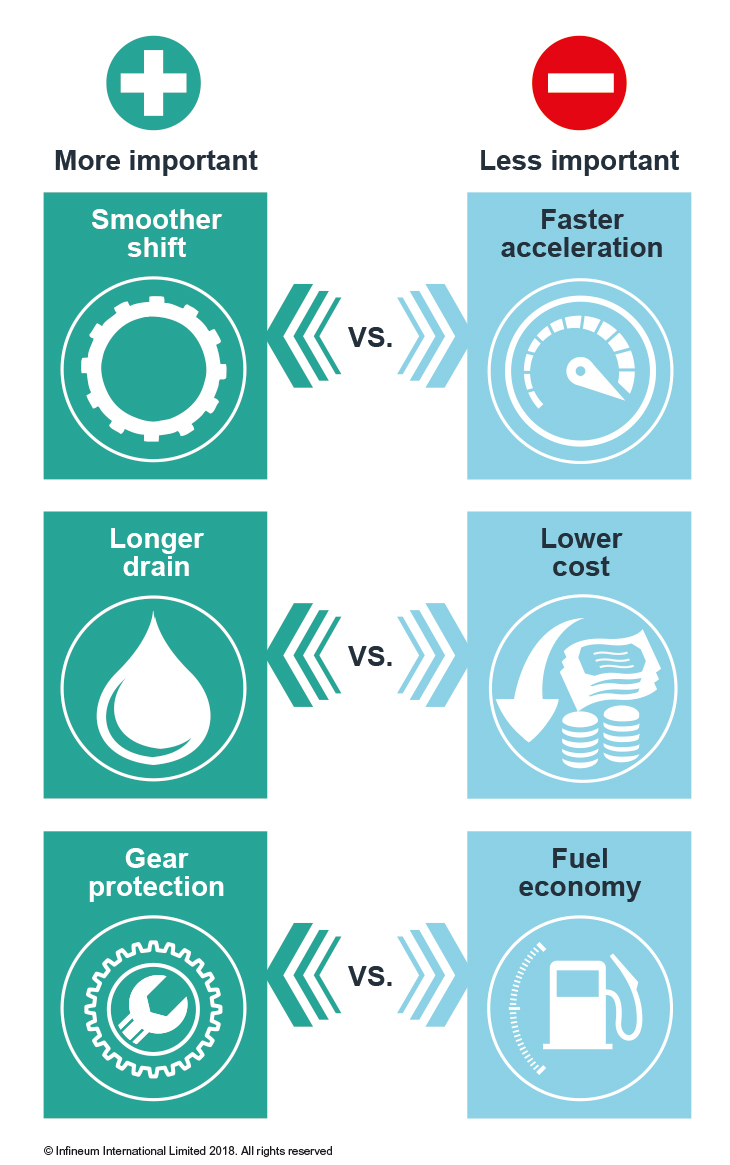 This implies that a heavier viscosity synthetic motorcycle oil with JASO MA friction may be effectively marketed to appeal to a large portion of the biker population.
Tailored motorcycle oils essential
As passenger car lubricants continue to be optimised for fuel economy, they are becoming increasingly sub-optimal for use in motorcycles. A tailored motorcycle lubricant must not only protect the engine from wear and deposits, but also protect the gears from pitting and wear while delivering the clutch performance bikers expect. This in turn means it is essential to use proven additive technology that meets these performance challenges and, ultimately, provides more value to the bikers.
Understanding the attitudes and behaviours of customers is critical to maintaining and growing market share and profitability in an increasingly competitive marketplace.
Our survey shows that motorcycle owners could use some help in identifying and selecting the appropriate viscosity grade, API quality and JASO friction level for their machines.
But, perhaps the first challenge to address is the fact that more than a quarter of the riders we spoke to are using oils formulated for passenger cars – although more than half of them think they are using a motorcycle oil. Since the lubricant attributes they rank highly, protection of the gears clutch and shift performance, are those that make motorcycle oils unique it is important that we take the opportunity to promote their value.
The key challenges for motorcycle oil marketers going forward are how to differentiate their oils and how to effectively communicate the ways in which tailored motorcycle oils can protect customers' investments far better than passenger car lubricants.
If you would like to review and discuss the results of our US end user motorcycle study in more detail please contact insight@infineum.com.
---
View more articles in this category
---
---
Get technology news, opinions, specification updates and more, direct to your inbox.
Sign up to receive monthly updates via email