08 November 2017
Russia automotive trends
Strong potential for automotive sales growth and lubricant quality upgrade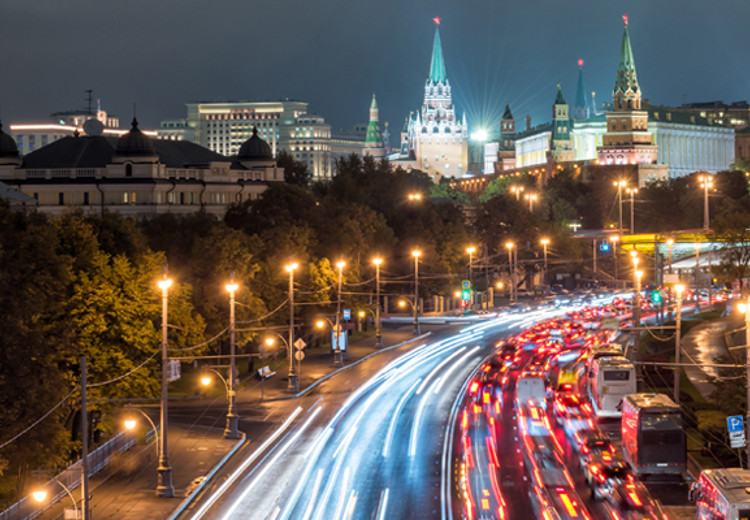 Insight explores the key factors driving the development of Russia's passenger car and heavy-duty vehicle markets and highlights the impact these trends have on lubricant and base stock demand and quality.
The fortunes of the Russian economy generally follow oil prices. In recent years, the drop in Brent Crude, combined with the impact of sanctions, has been reflected in a slowdown in the country's gross domestic product (GDP). However, as the oil market picks up, the GDP growth rate is likely to return to positive numbers in 2017.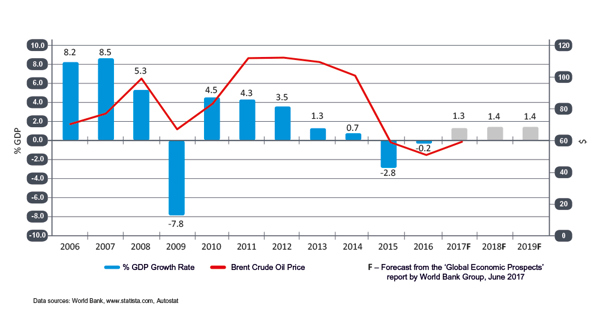 In September, The Ministry of Economic Development of the Russian Federation said growth could reach 2.1% this year, much higher than previously forecast. It also said that in the next three years it expects sustainable growth of the national economy of at least 2%, a stable inflation rate at 4% and household income recovery.
This news should help to improve consumer confidence although, in a weakening Rouble currency, the government has introduced a number of industry support programmes, with a total fund of 62.3 billion Roubles, to help improve auto sales. These initiatives will be well received by automotive OEMs keen to tap into Europe's fifth largest consumer market.
The number of vehicles on Russia's roads is also growing, albeit slowly, with the size of the passenger car, heavy-duty, light commercial and bus fleets all up. Most growth was seen in the passenger car segment, which grew 1.7% compared with 2015.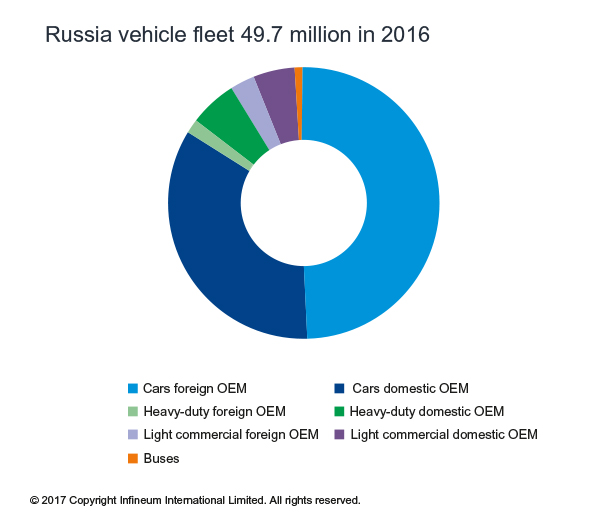 Passenger cars
In the passenger car market, half of the 41.6 million vehicles on Russia's roads are over 10 years old and 89% run on gasoline. Stable growth of the passenger car fleet in recent years means we can be fairly confident in forecasting further positive growth over the next five years. However, the erosion of domestic brand market share is also expected to continue, with foreign brands likely to account for 66% by 2021.
Although Lada accounts for one third of the current fleet, Japanese brands, particularly Toyota and Nissan, are also popular.
Something to watch here is the expected sales increase of Korean brands in the next five years.
New car registrations tend to mirror the economic situation and in the past four years there has been a decline in sales – with owners keeping their vehicles for longer. A number of factors including higher crude oil prices, improved customer confidence, a better economic situation and a stronger Rouble could change this picture in 2017.
Not surprisingly, given lower sales, Russia produced fewer cars. 2016 production was generally down for both domestic and foreign manufacturers on 2015, although some production growth was seen at VW, Ford, Toyota and LADA Izhevsk. AUTOVAZ remains the largest producer, manufacturing cars under its Lada and Renault-Nissan alliance brands. Today, foreign brands account for 77% of all Russian production. In the next few years, new assembly plants at Mercedes Benz, Lifan and Great Wall mean annual production capacities could increase to 3.3 million units – although only 50% utilisation rates are expected.
Exports of cars produced in Russia have been in decline for the past four years and 2016 was no exception, with figures of 68,000 down 30.2% on the previous year.
Heavy-duty diesel vehicles
In the heavy-duty diesel vehicle market, 65% of the 3.7 million trucks on Russia's roads are over 10 years old and 96% of them run on diesel fuel. This is still very much a local market, with 80% of the fleet being domestic OEM brands. Together, the top three Russian manufacturers, KAMAZ, GAZ and ZIL hold almost 60% of the market – the most popular foreign OEM, Volvo, accounts for just 2%. However, some Russian manufacturers are using foreign engines, for example Cummins, inside some of their vehicles, which means they require OEM lubricant approvals.
From 2013-2015, there has been a decline in the production of heavy-duty vehicles, but now government support has bucked this trend, with a 31% increase in production reported in 2016.
Looking ahead, heavy-duty diesel vehicle production in Russia is likely to continue to grow at a more modest, single figure rate to 2025.
Just as was observed in the passenger car market, exports of heavy-duty vehicles produced in Russia have declined in recent years – down 28.5% in 2016 compared to 2015.
Emissions in Russia
Russia has adopted European emissions standards for on-road vehicles. In January 2016, Euro 5/V requirements became mandatory for all vehicles, both locally manufactured and imported.
Today just 9% of cars and 2% of heavy trucks run on fuels that meet the latest requirements.
Clearly, there is quite a misalignment in vehicle emissions requirements and the availability of suitable fuels. For example, there is still a significant consumption of GOST (Euro-0) fuels, even by passenger cars, and it is estimated that <0.2% of gasoline and <1.2% of diesel passenger cars run on Euro-6 fuels.
One alternative to diesel and gasoline is compressed natural gas (CNG). There are already around 200 auto gas stations in Russia and 44 new filling points were added in 2016.
The natural gas vehicles fleet in Russia in 2015 is around 111,000 units. However, government support for alternative fuels, which includes subsidising CNG vehicle purchases (taxies, buses and machinery for housing and communal services) and the construction of CNG filling stations, means sales are likely to grow. This will be supported by the fact that 50% of public transport and municipal vehicles are expected to be powered by natural gas by 2020.
Lubricant markets
With the exception of 2015, the Russian passenger car motor oil (PCMO) market has grown steadily. Going forward we see 2.5-3% growth every year to 2021. Clear quality upgrade trends have been seen with a significant decrease of mineral oil and increase of synthetic oil use. This growth of synthetic lubricant consumption is aligned to the popularity of foreign brand passenger cars – with more than 88% of the foreign passenger car OEMs recommending synthetic lubricants in 2016 vs. 49% of domestic OEMs.
API claims are predominant in the Russian market, with API SL/SM/SN most popular for foreign brand cars and API SJ/SL for domestic vehicles. In terms of viscosity grade, SAE 10W-40 and SAE 5W-30 account for more than 60% of the market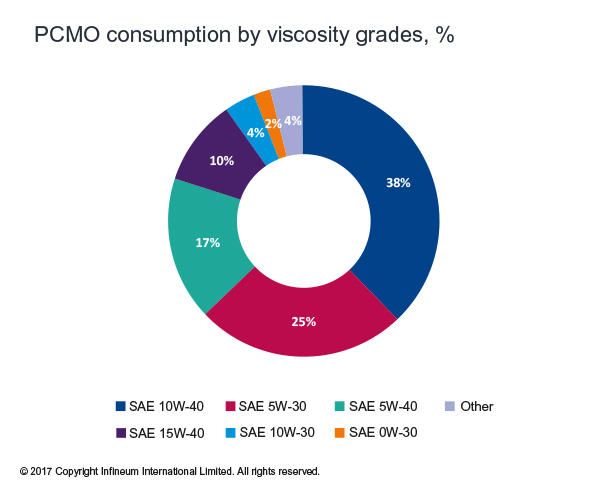 The Russian heavy-duty engine oil (HDEO) market depends on economic and political conditions. In 2014 and 2015 sanctions forced a number of logistics companies to re-register their business outside of Russia or to close entirely. This is reflected in a drop in consumption in those years, although a recovery is expected in the next five years. As observed in the PCMO market, there is a decrease of mineral oil and increase of synthetic oil use, with the share of synthetic engine oil expected to reach 50% by 2025.
The high volume of domestic vehicles means monograde GOST still accounts for more than 40% of the HDEO market – although we see SAE 15W-40 gaining popularity as a higher quality, affordable alternative.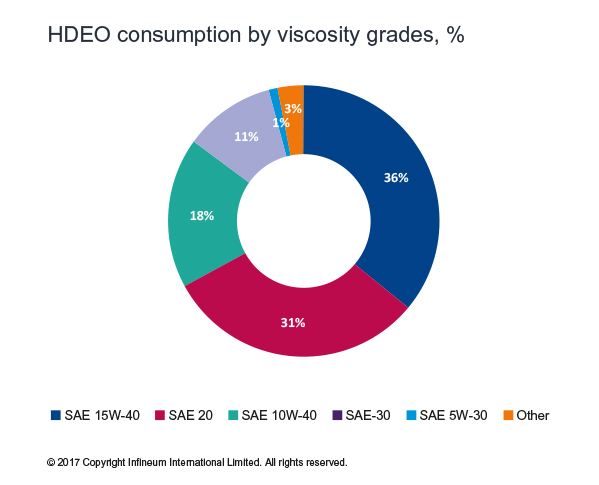 Improving lubricant quality in Russia means an increased demand for higher quality base stocks. This is reflected in a number of Russian Group I plant closures, which have taken 695 KT/y of Group I capacity out of the market. At the same time, there have already been Group II and III capacity increases – with more from Rosneft and Gazpromneft expected to add over 400 KT/y of Group II and 161 KT/y of Group III capacity in the coming years. However, despite increased production capacity, in the near term Russia will still need to meet its Group II and III supply-demand gap via imports.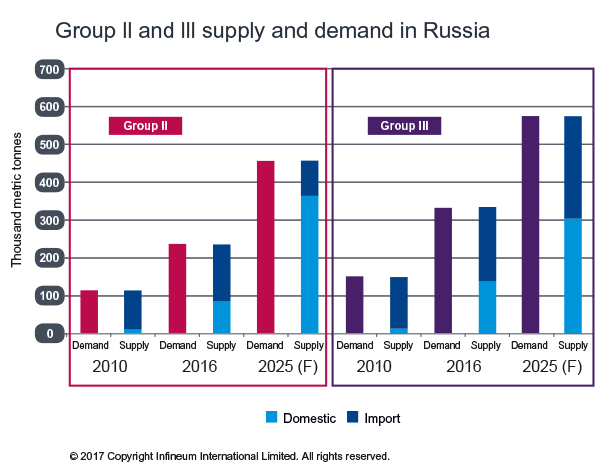 Market opportunities
Clearly the Russian market presents a number of opportunities and challenges.
The rise of foreign brands in the passenger car market, the continued popularity of local brands in the heavy-duty market and tighter emissions legislation are shaping the future for fuels and lubricants suppliers.
The evolution of the market will continue to drive up lubricant quality, which will impact oil marketers, OEMs and base stock suppliers. Infineum will continue to work with all these stakeholders to provide the most appropriate solutions for the Russian market.
---
View more articles in this category
---
Get technology news, opinions, specification updates and more, direct to your inbox.
Sign up to receive monthly updates via email