07 December 2021
Proving marine additive performance
Infineum combustion improver additive delivers fuel economy & emissions reduction benefits in high and low sulphur marine fuels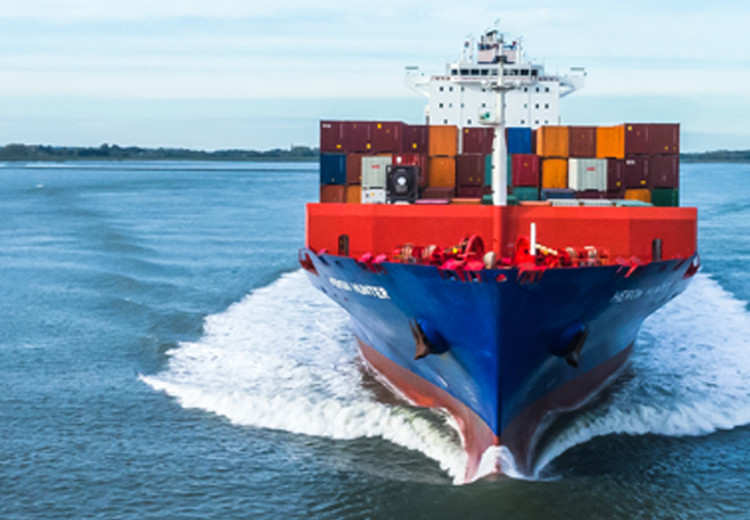 In the past, some commercial marine fuel additives have under delivered against their claims. Now, with the International Maritime Organization setting tough new greenhouse gas emissions regulations, ship operators must look for proven ways to burn less fuel and emit less pollution. Infineum fuels technologist, Amy Challinor and Global Market Manager Rob Ashton, explain how in recent tests the latest combustion improver technology from Infineum has outperformed conventional ferrocene-based additive technology across the board in high and low sulphur marine fuels.
To facilitate the drive towards greenhouse gas emissions reduction and improved air quality, the International Maritime Organization (IMO) has targeted a 40% reduction in carbon intensity for the shipping fleet by 2030, with further improvement to 50% by 2050 relative to 2008 levels. With so much action required in such a relatively short timescale, the IMO has developed a timeline and introduced a number of measures to quantify performance improvements to help drive the necessary change.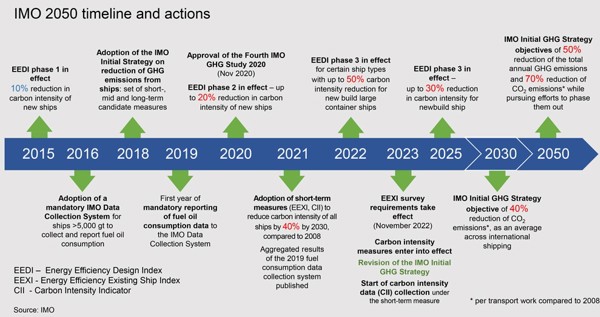 Definitions:
Energy Efficiency Design Index (EEDI) is an energy efficiency calculation for each individual ship, expressed in grams of carbon dioxide (CO2) per ship's capacity-mile. A lower EEDI points towards a more energy efficient ship design. A continuous improvement energy efficiency drive is incorporated into the program to encourage the adoption of the latest energy saving technologies.
Ship Energy Efficiency Management Plan (SEEMP) introduced for all ships is a measure aimed at improving operational energy efficiency through enhanced vessel operation, be that by route planning or hardware upgrades/maintenance.
Efficiency Existing Ship Index (EEXI) is similar in scope to EEDI but targets all existing vessels over 400 gross tonnage and references the CO2 emissions per cargo ton and mile in relation to the engine output, load and speed.
Carbon Intensity Indicator (CII), for ships of 5,000 gross tonnage and above, measures the actual fuel consumption and distance travelled for each ship.
Action is required now
To meet these targets ship operators must look for new ways to improve fuel economy and cut emissions, while also reducing running costs and down time. Improving combustion efficiency to ensure more energy is transferred into forward propulsion is one factor for ship operators to consider.
However, some conventional fuel-borne combustion improvers have had a somewhat tarnished reputation owing to exaggerated claims of fuel economy and emissions reduction benefits.
The fuel standard for marine distillate fuels (ISO 8217) currently addresses fuel combustion quality through the Calculated Carbon Aromaticity Index (CCAI), which, as the name suggests, is a calculation using the density and the kinematic viscosity of the fuel. It is recognised, with the introduction of very low sulphur fuel oils, that CCAI may not give an accurate reflection of a fuel's combustion quality due to increased utilisation of cracked cutter stock into the fuel blending pool.
Infineum has invested in the development of robust new testing methodologies to satisfy end users by providing significant data and in order to comply with the rigors encouraged by the CII.
The evaluation of the new combustion improver additive technology has been carried out using this new testing regime. This has enabled us to accurately determine the potential for statistically significant fuel economy and emissions reduction benefits and to demonstrate whether the additive can make a positive contribution towards CII.
Testing programme
The engine test program (using a four-stroke, six cylinder, 1202 kW stationary engine) was conducted at critical marine engine operating points to explore and understand the impact of current combustion improver technology (based on ferrocene), as well as to assess a new Infineum additive formulation.
Owing to the variety of fuels available in the market, it was important to explore the performance of these additive technologies across the heavy fuel oil spectrum. To this end, data were generated in:
Traditional high sulphur fuel oil (HSFO), which is used in ships fitted with exhaust gas abatement technology (e.g. scrubbers). A high CCAI RMG380 fuel was used in this study.
Very low sulphur fuel oil (VLSFO), which is the most commonly used marine heavy fuel oil.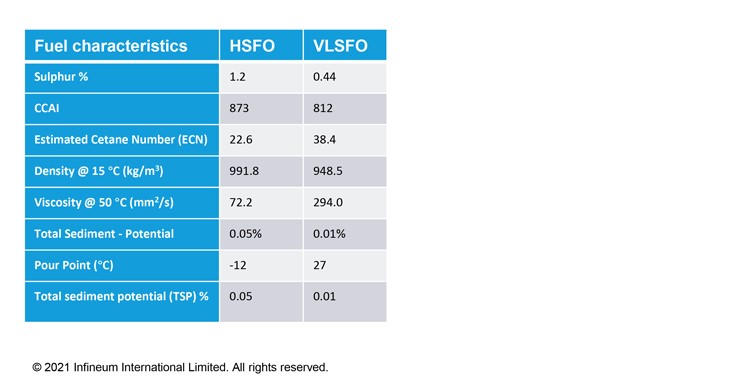 The engine test sequence using HSFO with the new Infineum additive revealed improvements across all parameters relative to the base fuel. Minor improvements (coupled with some debits) were observed with the conventional ferrocene-based combustion improver additive.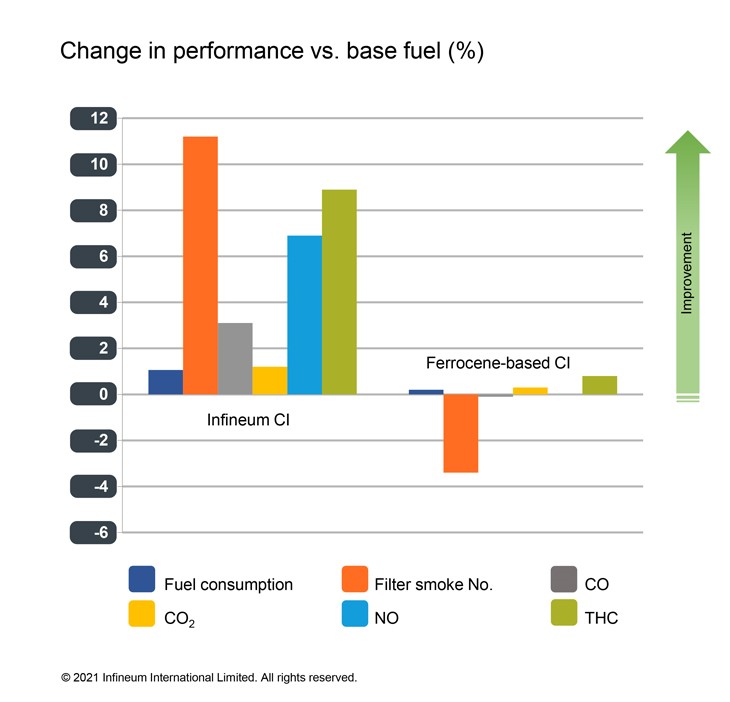 Similarly, the engine test sequence using VLSFO with the new Infineum additive yielded robust results and once again performed significantly better than the ferrocene-based combustion improver. Unfortunately, it was not possible to establish a statistical baseline for nitrogen monoxide (NO) and total hydrocarbons emissions during these sequences.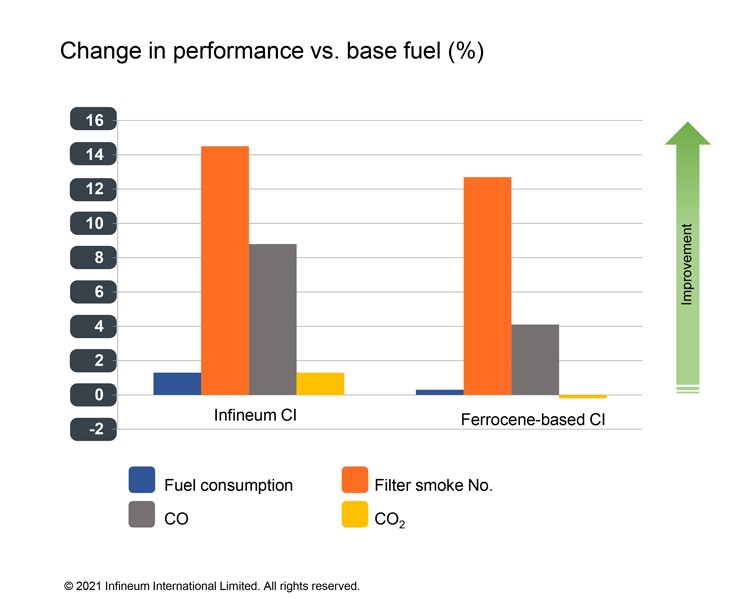 The engine testing programme demonstrated that the Infineum combustion improver additive was able to deliver significantly better fuel economy and emissions benefits relative to a ferrocene-based combustion improver in both HSFO and VLSFO fuels. The reduction in filter smoke number achieved not only results in less visible smoke but also facilitates cleaner post combustion hardware (e.g. turbocharger blades).
Further testing of the new additive demonstrated its ability to upgrade lower quality fuels whilst maintaining trouble-free operation across the marine fuel oil spectrum (HSFO and VLSFO), which will give tangible, cost effective sustainability benefits to ship operators.
In addition to the combustion performance, the additive is able to confer fuel stability benefits. The additive can also significantly reduce fuel waste (in the form of sludge output from the purifier), resulting in further fuel economy credits coupled with reduced waste reprocessing costs.
Conclusion
As the IMO targets to reduce emissions from ships edge ever closer, ship operators must work harder and faster to find new ways to burn less fuel. Proven combustion improver technology not only delivers ~1% improved fuel economy performance and can make a positive contribution to CII, but also comes with a number of additional benefits: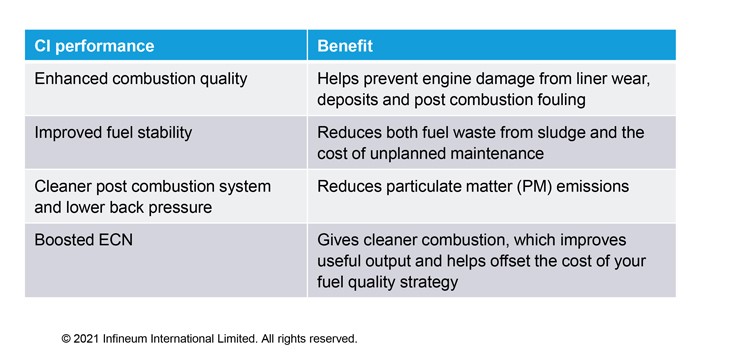 There is no doubt that improving the fuel economy performance of ship operations is becoming increasingly important. By improving combustion efficiency more energy is transferred into forward propulsion, less fuel is wasted and hardware stays cleaner for longer, which translates into reduced emissions, lower running costs and less downtime.
---
View more articles in this category
---
Get technology news, opinions, specification updates and more, direct to your inbox.
Sign up to receive monthly updates via email