01 November 2022
Protecting marine engines in a lower carbon world
Advanced lubricants required to ensure marine engines deliver optimum performance with conventional and future fuels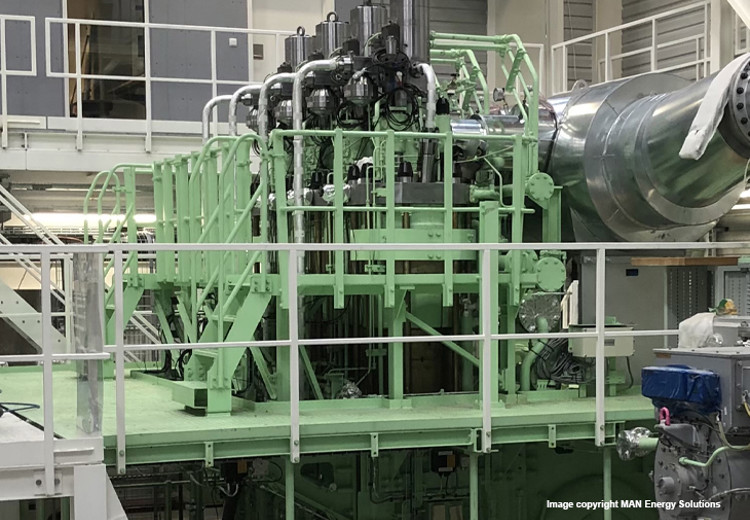 With International Maritime Organization (IMO) greenhouse gas emissions targets starting to impact the marine industry, shippers are already looking for ways to reduce their carbon emissions. Dr Julia Svensson, Senior Research Engineer from MAN Energy Solutions, Marine Two-stroke Engines, talks to James Dodd, Infineum Global Marine and Large Engine Industry Liaison Advisor, about the challenges of introducing lower carbon footprint fuels and the latest lubricant requirements they have introduced to ensure their engines are fully protected both now and in the future.
The portfolio of MAN Energy Solutions (MAN ES) includes two- and four-stroke engines designed for marine applications as well as turbochargers and propellers. And, with approximately 50% of global trade transported by MAN ES engines, the organisation is committed to the provision of a range of technologies to help reduce fuel consumption and meet emission regulations. Part of this vision, as Dr Julia Svensson from MAN ES explains, is supported by their strategy to raise the performance level of marine cylinder oils. "In 2020 we introduced two performance levels for cylinder oils Category I and Category II (Cat. I and Cat. II), with Cat. II being overall the higher performing category. We worked hard on this together with industry because we wanted them to move to developing and using cylinder oils that are fit for our new engines and for the future."
Dr Julia Svensson from MAN ES
The cylinder oils that were on the market, we did see that there were some performance issues, especially with cleaning ability for our newer engines and then we wanted to have matching lubricants with our high performing fuel efficient engines. So that's why we introduced the Category II.
Engine cleanliness is key
These Cat. II oils have specific requirements that match the needs of the latest designs of highly fuel efficient MAN B&W engines, which have higher temperatures and pressures than their predecessors. Cat. II has introduced higher performance for piston cleanliness and the need to maintain wear protection and provide sufficient corrosion protection to ensure an acceptable time between overhaul of the cylinder unit is achieved. "MAN Cat. II cylinder oils have excellent performance overall, but have a special focus on cleaning ability. The way we define Cat. II is that a lube oil should have the same or better cleaning ability as a 100 BN oil. So we started with 100 and 140 BN as the first oils to go through the Cat. II process, with the aim that other grades, such as 40 BN, would follow. This proved to be a challenge, but the industry was up for it, and now Cat. II 40 BN oils have the same cleaning ability as that offered by 100 BN oils."
However, as Julia continues, the oils are applicable to different MAN engine types. "Cat. II cylinder oils are for all engines, but we recommend them especially for MAN B&W two-stroke Mark 9 and higher and for our dual fuel engines. The 100 and 140 BN Cat. II oils are of course best suited to high sulphur fuels applications, those vessels with a scrubber, whereas the 40 BN oils are for low sulphur fuels such as very low and ultra-low sulphur fuel oils (VLSFO and ULSFO), liquified natural and petroleum gases (LNG and LPG) and methanol. Cylinder oils with a current No Objection Letter (NOL) are considered to be in Cat. I and are applicable for Mark 8 and lower engines."
MAN ES sees engine cleanliness as a really important factor in the quest to protect the engine and to obtain reliable and efficient engine operation. "You need the piston, the top land, the ring lands, the back of the rings and the ring grooves all to be free from deposits. This means we can have the right flow of gases and ensures we can get the right efficiency for our engines. We have now withdrawn the NOLs from the older low BN oils because we saw that they did not have the performance needed for the engines of today."
Dr Julia Svensson from MAN ES
These low BN products were perfectly good for the previous engines, which they were developed for. But we all know that we have development of both lubricants and engines. And sometimes it does not match. So we had to take that decision. So, well, of course, everyone wants better and more efficient engines. The fuel consumption should be lower, everything should be easy.
Efficiency gains for existing ships are increasingly important as International Maritime Organization (IMO) measures to reduce the greenhouse gas (GHG) emissions include a Carbon Intensity Indicator (CII), which enters into force on 1 November 2022. By 2024, ships will receive an A to E energy efficiency rating and those rated for three consecutive years as D or one year as E will have an obligation to adopt a plan of corrective actions to improve their energy efficiency performance and bring them back to a C rating.
Route to net-zero
However, it is not just existing ships that need to focus on GHG emissions. As the pressure to reach net-zero by 2050 intensifies, the IMO is working to strengthen its level of ambition on the reduction of emissions from shipping. With a theme of 'New technologies for greener shipping' the organisation is looking for ways to introduce a new generation of ships that are energy efficient, have a low environmental impact, have a very good safety record and use the most recent digital innovations.
As Julia goes on to explain, MAN ES is already very active in ship decarbonisation. "We have new fuels coming in and we need to make sure everything fits together and that the fuel system is designed based on the fuel being used. A lot of work goes into fuel systems and into increasing the efficiency and reliability of our engines. In addition, the use of digital innovations in the marine industry is coming in, which means we can increase the efficiency, safety and availability of MAN products while also providing a more interactive cooperation with our customers."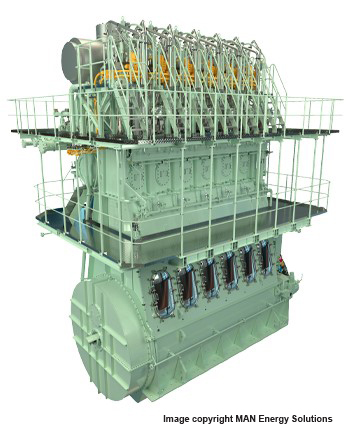 Illustration of MAN ES ammonia engine
The new fuels being introduced as part of the decarbonisation efforts are likely to have a big impact on future hardware technology. "With these new fuels, for example ammonia, we must check that the materials in our hardware are compatible and we will need to design new types of fuel systems so we can get the fuel into the combustion chamber. In addition, we already have two different technologies for NOx reduction - exhaust gas recirculation (EGR) and selective catalytic reduction (SCR), and I would say we have to make sure everything fits together if we are going to have an efficient system."
"First of all, we are working on lowering fuel consumption, then increasing efficiency of the normal engines and ensuring the engines can run on biofuel. And now the use of green methanol is really picking up, plus we already have LNG, ethane, and LPG engines. However, the next step is green ammonia."
Dr Julia Svensson from MAN ES
We are working on this big project where we are going to develop an ammonia engine and running on operating on green ammonia, that would then support the, the quest for decarbonising the industry. But, it's a major undertaking and we are working very hard and putting a lot of resources into this. And then of course we need the lubricants for all these engines also.
As Julia explains, the introduction of biofuels and even more complex fuel mixes have presented new challenges. "What we have seen with engines running on LNG, methanol, ethane, LPG and VLSFO is that it didn't really matter which engine it was or what fuel the engines were running on - they all had the same problem: cleanliness. But the Cat. II 40 BN oil aims to get the cleanliness in place for the low sulphur fuels and we haven't really seen any challenges for these other fuels. Of course ammonia is another, completely different beast that we are taking on. We are working with the industry to see what is needed. Hopefully there will be a solution, but we have to take it one step at a time, starting with what we have and then building on that. I think it's important to go back to what the cylinder oil should be designed to do. In my view it needs to lubricate the liner and the piston, provide wear protection, keep the piston rings, ring lands and ring grooves nice and clean it should protect from seizures and provide neutralisation ability because there is still sulphur out there and we need to have the right amount of neutralisation ability in the lubricating oils."
Dr Julia Svensson from MAN ES
So with the category II we have talked a lot about cleaning ability and keeping everything nice and very clean. But it's important to remember that Category II oils as well as other oils need to have all these other important properties, also. The oils need to lubricate and they need to protect and they need to keep clean.
With the huge drive to net zero it is uncertain how fast alternative fuels such as ammonia and methanol will penetrate the market and be used more widely by the marine industry. Julia suggests there will be different timelines for different fuels. "Methanol will have a faster penetration because we already have the engine technology in place and orders are coming in. For ammonia, we are already working on the engine technology because this is of course a completely different kind of fuel and we need to have all the safety systems in place. In my view it may not be the engine technology that is the main barrier – it is the availability of renewable methanol and ammonia fuels."
Dr Julia Svensson from MAN ES
It is something new and it is complex. So a lot of education and information will be needed and that is of course not all up to us as the engine builders, but to the whole industry. We have to work together to remove these obstacles and with, as I touched on before, I mean there with ammonia we need to look at the materials to ensure that everything is, is compatible with each other and that's also a learning curve of course. And it also applies to the whole chain and not only the engine, but the whole vessel and the bunker facilities and production chain and so forth.
In Julia's opinion the advantage of methanol and ammonia is that they are not completely new. "There is a huge industry that knows a lot about these different fuels, different systems and different ways of bunkering. The complexity will be a challenge, and the marine industry has to work to overcome it. We live in a complex world, and it will not become less complex."
Julia's view of success is clear "I think the key is to have a clear goal and then for the whole marine industry to work together so that we get there. We know that it's extremely difficult, but we are working hard on developing energy solutions for two-stroke engines and we want to succeed. So we hope you want to be part of the journey."
---
View more articles in this category
---
Get technology news, opinions, specification updates and more, direct to your inbox.
Sign up to receive monthly updates via email