12 October 2016
India jumps straight to
Bharat VI
Future emissions regulations will impact hardware and lubricant choice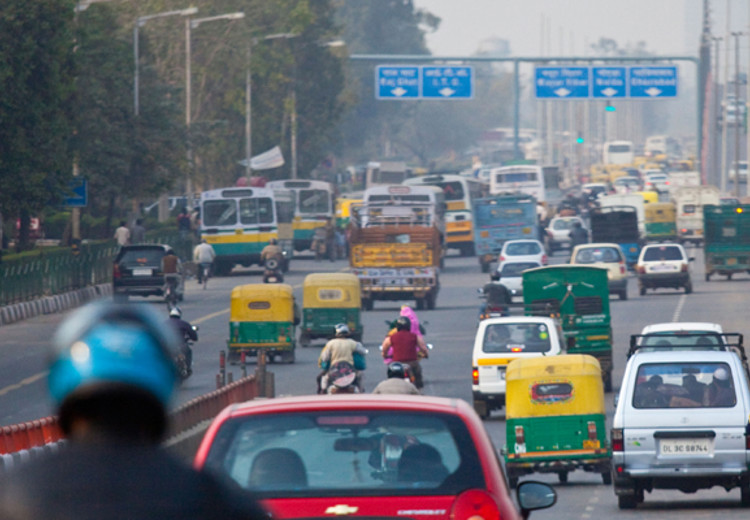 India's burgeoning vehicle population makes emissions reduction a growing priority. With Bharat VI, equivalent to Euro VI, scheduled for nationwide introduction in 2020, Infineum's Boon Ping Chia examines the impact of this new legislation on vehicle aftertreatment solutions and lubricant formulations. 
The number of registered vehicles in India has grown from almost 50 million in 2000 to over 184 million in 2014. This growth has spurred the government to introduce emission standards to curb air pollution in the country. And, over the past sixteen years, more demanding norms, based on European regulations, have been progressively rolled out.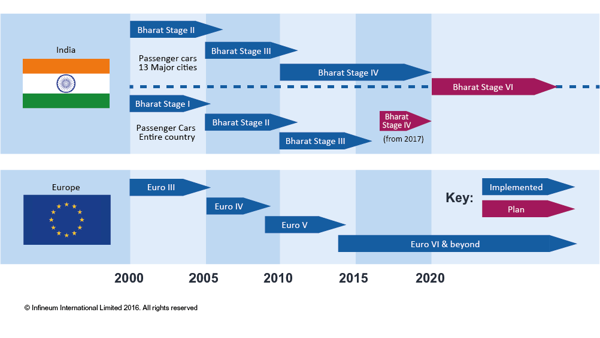 Emissions legislation has been progressively rolled out in India
Bharat Stage (BS) IV limits, equivalent to Euro 4, which are already required in India's 13 largest cities, are scheduled for nationwide introduction in 2017. However, following severe pollution episodes that occurred towards the end of 2015 requests were made for BS VI emission standards to be advanced.
The government responded by withdrawing its November 2015 BS V/VI proposal and announcing April 1 2020 as the implementation date for BS VI for all new vehicles nationwide – totally skipping over BS V standards. This new standard tightens limits for many of the regulated pollutants, which include hydrocarbons (HC), carbon monoxide (CO), oxides of nitrogen (NOx), and particulate matter (PM). In addition, particulate number (PN) is introduced as a new parameter for both compression and positive ignition engines.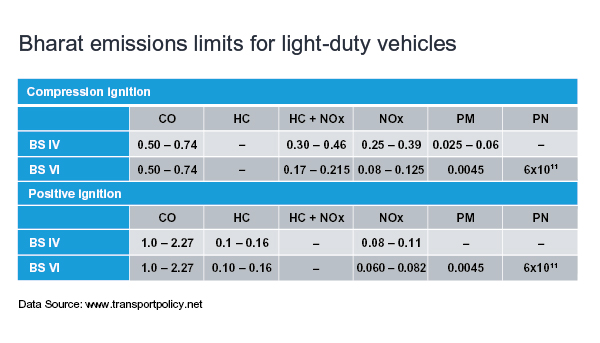 In addition to the Bharat emissions limits, OEMs must also meet a fuel economy target, which for 2017 has been set at 130 gCO2/km, and there are plans to further reduce this figure to 113 gCO2/km in 2022.
Hardware trends
While two wheelers account for more than 80% of the market, the population of  four wheeled vehicles is also increasing – a trend that looks set to continue.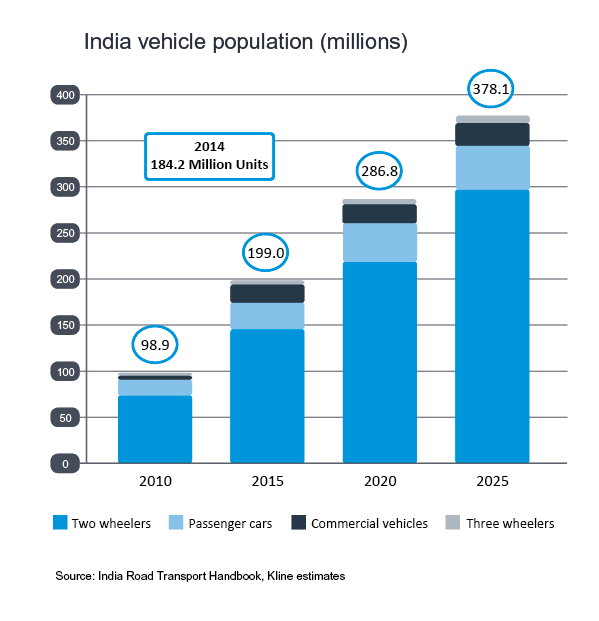 Although Indian OEMs can benefit from the experience gained by global OEMs in meeting these tough emissions targets, the transition to BS VI in India will present a number of new challenges. Not least of these is the speed at which the OEMs will need to introduce a complete range of new BS VI engines, given that a large proportion of today's engines are only at BS III level.
The BS III standard requires little or no aftertreatment, which means local OEMs producing passenger cars and commercial vehicles must rethink their aftertreatment technology strategies to ensure they comply. In addition, the potential for variable fuel quality, harsh operating conditions and the lack of infrastructure to control emissions compliance in service all add complexity.
Cost is clearly an important factor, but at the same time maintaining engine performance and ensuring sufficient hardware longevity and reliability are also key considerations.
For passenger cars, OEMs need to employ oxidation catalysts to meet the HC and CO limits and, to reach the tighter NOx limits, some vehicles may require increased exhaust gas recirculation (EGR) or selective catalytic reduction (SCR). Gasoline particulate filters (GPF) may also be needed to help gasoline vehicles meet the new PM and PN targets. At the same time, OEMs are looking at a number of ways to meet fuel economy targets, including downsizing and lightweighting their vehicles.
For commercial vehicles aftertreatment systems are becoming increasingly complex and expensive. Systems to meet the latest limits comprise oxidation catalyst, diesel particulate filter (DPF), NOx and temperature sensors, urea and hydrocarbon injectors, SCR and ammonia slip catalyst. The systems need to be effective over a wide operating range and need to maintain performance for >700,000 km.
However, their effective use depends on the availability of diesel fuel with 10 ppm sulphur. The Infineum Winter Diesel Fuel Survey tracks the quality of diesel fuels across the world. Samples collected in India in the 2014 survey were found to contain from 16-41 ppm sulphur and in the 2016 survey sulphur ranged from 22-261 ppm.
Care must be taken in assuming that these data are representative of the country's entire diesel pool because city diesel tends to be lower in sulphur than rural diesel, and sampling may have a significant influence.  But, India still has work to do to reach the 'ultra low sulphur diesel' benchmark.
Lubricant impacts
The Indian lubricant market is the third largest in the world, after China and USA, and steady growth is forecast in next 10 years.
The new emission standards combined with fuel economy regulations are the leading indicators of lubricant quality upgrade potential. Going forward, it will be increasingly important to strike the right balance of additive components to ensure not only sufficient engine protection, but also to maintain the performance of the latest aftertreatment systems and deliver fuel economy improvements. OEMs will also want to maintain or increase the oil drain interval.
Taking all these drivers into account means that we can expect to see a significant move to high quality, reduced SAPS lubricants. For passenger cars, an upgrade to ACEA C category oils is likely, while in the heavy-duty area a move from API CI-4 oils to CJ-4 and perhaps CK-4 is expected. We also anticipate a move to lower viscosity oils in the private vehicle and commercial sectors.
Future formulations
The current trends in all lubricant specifications – OEM, industry, passenger car and heavy-duty diesel – are for lower SAPS and lower viscosity. Future lubricant formulations for the Indian market must be carefully designed to meet these requirements without compromising wear protection or impeding the performance of increasingly complex aftertreatment systems.
Infineum has a broad range of components, which means formulators have all the flexibility they need when building complex lubricant systems.
The portfolio includes optimum detergent systems for best performance in acid neutralisation and detergency; friction modifier and viscosity modifier technologies to enhance fuel economy to meet CO2 requirements and advanced dispersant chemistries for improved soot handling in EGR systems and sludge control in hotter downsized engines. By carefully balancing these individual chemistries, Infineum provides lubricant formulators with a superior range of advanced materials.
Infineum also has extensive experience of providing the right lubricants for the highest quality oil specifications required by engines meeting the latest North American and European emissions legislation. This helps lubricant attributes to be tailored to meet increasingly challenging performance requirements – now and in the future.
---
View more articles in this category
---
---
Get technology news, opinions, specification updates and more, direct to your inbox.
Sign up to receive monthly updates via email