28 September 2021
Euro 7 edges closer
Mixed industry feedback as Europe proposes tough vehicle emissions reduction standards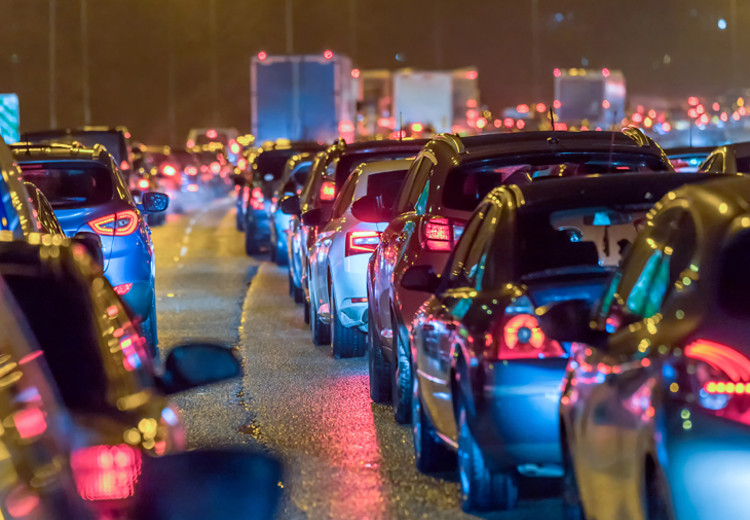 As part of its objective of achieving climate neutrality by 2050, the European Union has proposed more stringent air pollutant emissions standards for combustion engine vehicles. With feedback on the roadmap and impact assessment now closed, Toby Stein, Infineum European Industry Liaison Manager, reports on the progress of the proposed Euro 7 emissions regulations, the future direction they may take and assesses how industry stakeholders view the proposals.
While powertrain electrification is one clear route to lower vehicle emissions, the continued popularity of conventional internal combustion engines (ICE) and their extensive use in hybrid models means the European Union (EU) is looking for further emission reductions from these sources. The Euro 7 initiative, which is part of the European Green Deal, will develop stricter emissions standards for all petrol and diesel cars, vans, lorries and buses. It comes as part of the EU's commitment to accelerate the shift to sustainable and smart mobility and also supports their objective of achieving climate neutrality by 2050.
Initiated in 1993, the 'Euro' emissions standards have been tightened progressively over time. Euro 6 emissions regulations for light-duty vehicles and Euro VI for heavy-duty vehicles have been in place since 2014 and 2013 respectively. They set limits on the tailpipe emissions for pollutants such as oxides of nitrogen (NOx), particulates, hydrocarbons and carbon monoxide. However, the EU says the current standards do not sufficiently contribute to the decrease in air pollutant emissions emerging from road transport, required for the move towards zero-pollution in Europe or to the protection of human health from air pollutant emissions, with particular emphasis to urban settings. The EU has identified three key 'stumbling blocks' that prevent Euro 6/VI from effectively limiting all harmful air pollutant emissions from new vehicles.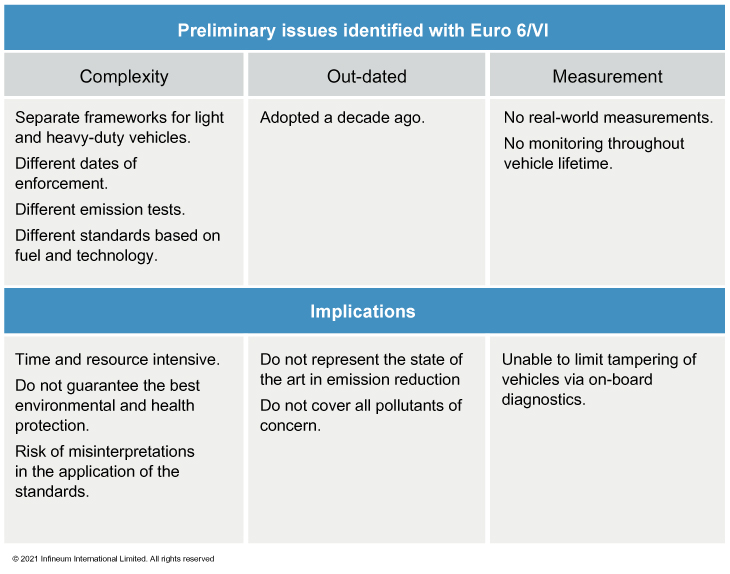 Euro 7 objectives
The specific stated objectives of Euro 7 are to improve air quality, with a particular emphasis on urban areas, by reducing air pollutant emissions from road transport and setting harmonised rules for vehicles. In addition, the revisions aim to reduce complexity and compliance costs, provide appropriate and up-to-date limits for all air pollutant emissions and ensure that new vehicles keep their air pollutant emissions under control throughout their entire lifetime and in all conditions of use.
Currently the EU is assessing three policy options to meet these objectives: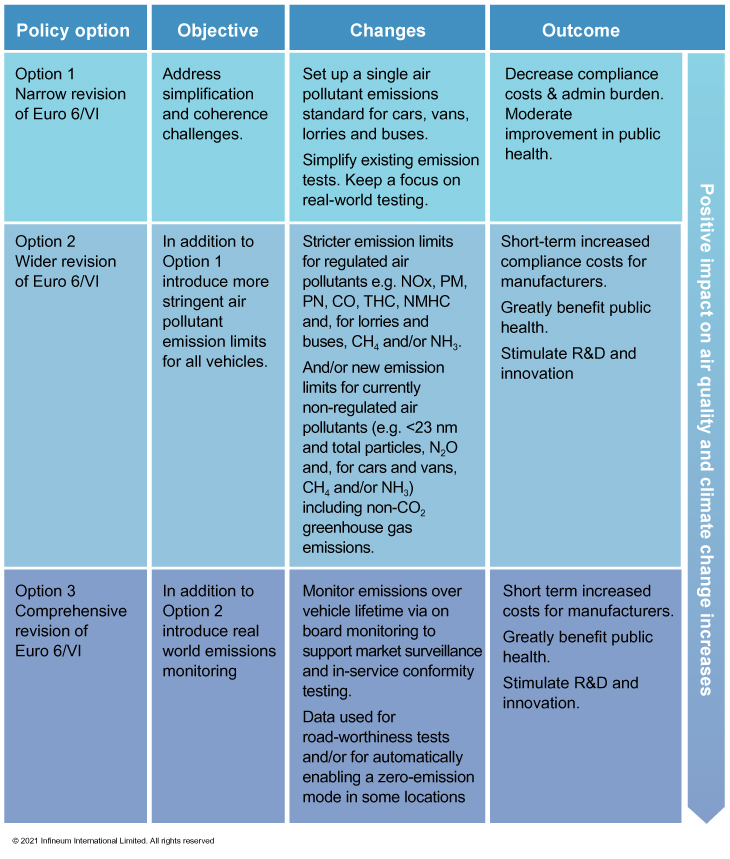 The EU says that to ensure vehicles on Europe's roads are clean over their lifetime, the proposed rules will consider new vehicle technologies and ensure emissions are measured in real-time.
Feedback on the EU's impact assessment has now closed and 68 inputs were received, with almost 60% coming from business associations and individual companies. This feedback was very mixed, which is hardly surprising given the different objectives of the various organisations.
Feedback supports emissions reduction
Some from the NGOs and non-profit organisations were positive in terms of emissions reduction potential and in supporting the maximum reductions possible. Clean transport campaign group, Transport & Environment noted, "The post- Euro 6/VI standard should not only be an incremental improvement in the emissions performance of ICE vehicles but define a clear roadmap to zero-pollution." The European Public Health Alliance stressed the importance of more stringent Euro 7/VII standards that should be "As strict as possible and as soon as possible and, more crucially, give alternatives to combustion engines and EPHA urges the European Union to end the sale of new diesel and petrol cars by 2028."
The International Council on Clean Transportation (ICCT), which is an academic research institution, is also positive about Euro 7. "Future Euro standards provide an opportunity for the European Union to set its first technology-neutral standards, and to tighten the emission limits to levels close to the other two largest passenger vehicle markets, China and the United States." The organisation is keen for limits to be tighter and more wide reaching: "Emission limits should be fuel-, technology- and application-neutral." It also suggests existing limits should be tightened further and new limits for unregulated pollutants including ammonia, aldehydes, VOCs and non-CO2 greenhouse gas emissions should be added.
While the feedback was pro-emissions reduction, there was also a desire to make sure Euro 7 is the best approach. For example, considering the availability of alternative options to address remaining air quality problems (such as scrappage schemes), assessing the impact of E7 on EU industry, and its potential to expose EU customers to limited choice and increased costs.
Some areas of concern
One key voice here is The European Automobile Manufacturers' Association (ACEA), which represents the 16 major Europe-based car, van, truck and bus makers. While ACEA says it supports the direction of the Green Deal and is committed to make mobility climate neutral by 2050,it is concerned that the EU's inception impact assessment paper seems to suggest it has pre-decided that an EU regulation is needed. In feedback the Association noted: "The need for a new EU regulation must be first assessed against what the existing EU measures will deliver for improved air quality to determine if a new EU regulation is needed to close any gap, or other measures might be more proportional."
ACEA, along with other organisations, is also concerned about the one size fits all regulation since it says the commercial and the business needs of the heavy and light-duty industries are very different. This view was shared by Freight Transport Association Ireland, which is the trade association for the Irish freight and logistics industries. "A one-size-fits-all approach across all types of vehicles should not be an objective in itself. A decision to harmonise standards for all vehicle categories – if at all necessary – should only be made after a thorough assessment of the impact on each market segment on the basis of robust evidence." Unified reductions were also questioned by The German Automotive Industry Association, VDA, "The top priority in drafting Euro 7/VII is no longer to achieve unified across-the-board reductions in emission levels, but to make the legislation clearer and more streamlined and to align it with new technological developments."
These concerns and uncertainties are understandable. Feedback suggested Euro 7 would force immense investment in products that may only have a few years of product life. Their development would potentially hijack investment that would otherwise have been directed towards powertrain electrification. In ACEA's view the regulations would significantly impact customer choice and vehicle fleet turnover. "Customers would be forced to choose between pure electric or plug-in hybrid vehicles, which they can't afford, or a more limited choice of conventional Euro 7 vehicles, which they also can't afford, or keeping their old vehicle on the road for longer. The latter is certainly not the best approach to emissions reduction, as pointed out in feedback to the EU from Neste Corp. "The best way to improve air quality by means of road transport is to increase the vehicle fleet turnover rate. Current Euro 6d-temp vehicles already have a very good emission performance. The issue is more about the older fleet of vehicles still on the road. Instead of trying to cut the cost of the Euro 7 type approval or introducing more stringent pollutant limits, the emphasis should be on making the end product affordable to consumers and professional users so the penetration of new vehicles to the market would be as fast as possible."
ACEA has stated that in its view Euro 7 should not be a completely new ICE-powertrain and vehicle platform development. "The new regulations should be an improvement and optimisation of existing technical approaches for ICE with elements of electrification where needed and the use of low carbon renewable fuels. Currently the proposals contain elements beyond the boundaries of what will be technically feasible in the expected timeframe."
Looking ahead
Regarding the timings for change, it appears that the initial proposal would likely be put forward to member states by the end of this year. However, a period of debate will follow, which could take one to two years. This would imply a formal proposal not coming into force much before 2025 unless pressure mounts to move faster. According to ACEA, recent legislative acts on exhaust emissions have given industry little or no lead time and, its clear from the feedback statements delivered to the EU that OEMs are nervous. If there is to be a Euro 7, OEMs will want to start preparing for it as soon as practical.
Infineum is actively working to gain a better understanding of how individual OEM hardware strategies will evolve to meet post Euro 6/VII emissions regulations.
As part of our commitment to creating a sustainable, lower carbon future we will strive to develop technology strategies through innovative chemistry to meet the evolving needs of both OEMs and lubricant suppliers.
In our view, Euro 7 highlights the importance of adopting a holistic and collaborative approach to enable the development of innovative, effective and timely solutions that ensure the ultimate objective of the EU can be met.
Perhaps the final questions in people's minds is whether Euro 7 will be the last EU emissions regulation on the path towards a zero-emissions future and if it signals the end of sales of new internal combustion engine cars in the European Union? We will be sure to keep you posted.
---
View more articles in this category
---
---
Get technology news, opinions, specification updates and more, direct to your inbox.
Sign up to receive monthly updates via email