01 April 2020
Arctic acid lubricity improvers
New chemistry enables robust low temperature performance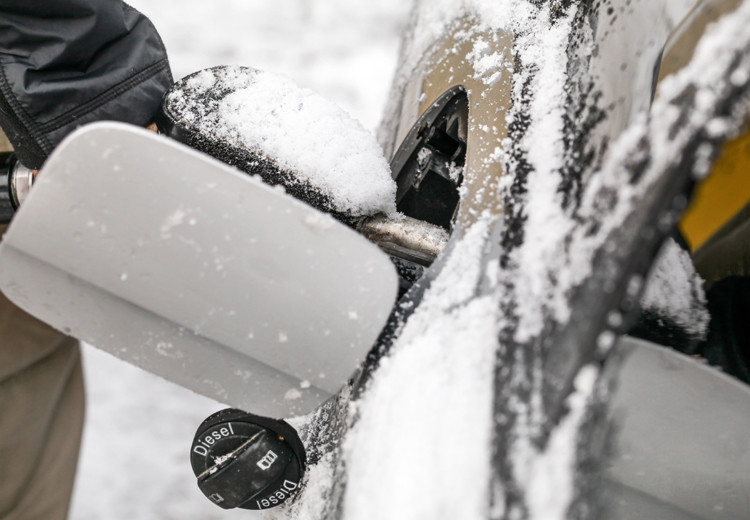 To meet ASTM D975 and EN 590 specifications for diesel fuel it is necessary to treat most ultra-low sulphur fuels with lubricity improver additives. In North America, the market has been looking for cost-effective, robust products for fuel treatment at terminals, where ambient temperatures can get to minus 30°C. Kevin Poindexter, Fuels Executive Manager in the Americas, explains how Infineum has developed a new arctic acid lubricity chemistry to meet these very low temperature requirements.
Lubricity improver additives have been used extensively in the US since 2006, when the Environmental Protection Agency (EPA) introduced regulations to lower the amount of sulphur in diesel fuel for use in on-road diesel vehicle applications to 15 wppm. Since these ultra-low sulphur diesel (ULSD) fuels have poor natural lubricity, additives are used to minimise wear of the high pressure components in the fuel injection systems of diesel vehicles that rely on the fuel to provide lubrication. Infineum*, a leader in the diesel fuel additive business, has been involved with the research and development of lubricity additives since issues with pump wear and failures were observed in vehicles when ULSD fuels were introduced in the early nineties. In addition, its fuels technologists were involved in developing the High Frequency Reciprocating Rig (HFRR) laboratory test, which is now used as the basis for global fuel specifications.
Esters have typically been the preferred technology since they can be easily diluted with solvent to meet local storage and handling requirements in cold winter temperatures and have an excellent no-harms performance profile. While esters tend to have a deeper response in the key industry lubricity HFRR test, mono-acids can often be used at lower treat rates when performance requirements are less stringent. However, these mono-acid lubricity additives cannot be diluted with solvent at cost-effective levels, which means they do not deliver effective low-temperature handling.
In the US, fuel is often transported by pipeline and, owing to concerns about the impacts of potential 'trailback' of lubricity improvers from treated diesel into jet fuel following-on in multi-product pipelines, dosing additive at refineries was severely restricted. This effectively moved lubricity improver additisation of ULSD fuels from the refinery to bulk fuel terminals. Since a number of these US distribution terminals are located in geographies with very cold winter ambient temperatures, and many have unheated storage tanks, it became more important for lubricity additives to be designed with good low temperature handling properties. In Europe, the use of lubricity additives in multi-product pipelines is restricted and products must meet specific 'approval' requirements, which can be difficult to attain.
The ester lubricity improvers produced by Infineum today are used around the world - both pipeline approved versions for European applications and formulations designed for low temperature US terminal application. Infineum has also developed a growing product line of mono-acids for use in heated storage facilities or in areas with moderate average temperatures. Here too, products are available for use at the terminal or approved for pipeline use.
However, there is a growing market demand for more cost-effective, robust lubricity improvers that can be used reliably at US terminals in very cold conditions.
Developing new arctic acids
In response to this demand, Infineum embarked on an R&D programme to develop a new generation of lubricity improvers. To develop these products, technologists have drawn on the organisation's long history in the lubricity additive business. The result of this development work was a series of new, so called, 'arctic acid' products.
The chemistry of these new 'arctic acids' involves the neutralisation reaction of a special fatty acid. The resulting reaction-product is then re-combined with the fatty acid at ratios that provide both excellent HFRR performance and low-temperature handling characteristics. As seen below the arctic acid chemistry offers potential savings by both its higher active ingredient level and lubricity performance advantage at low treat rate – compared to ester lubricity improver.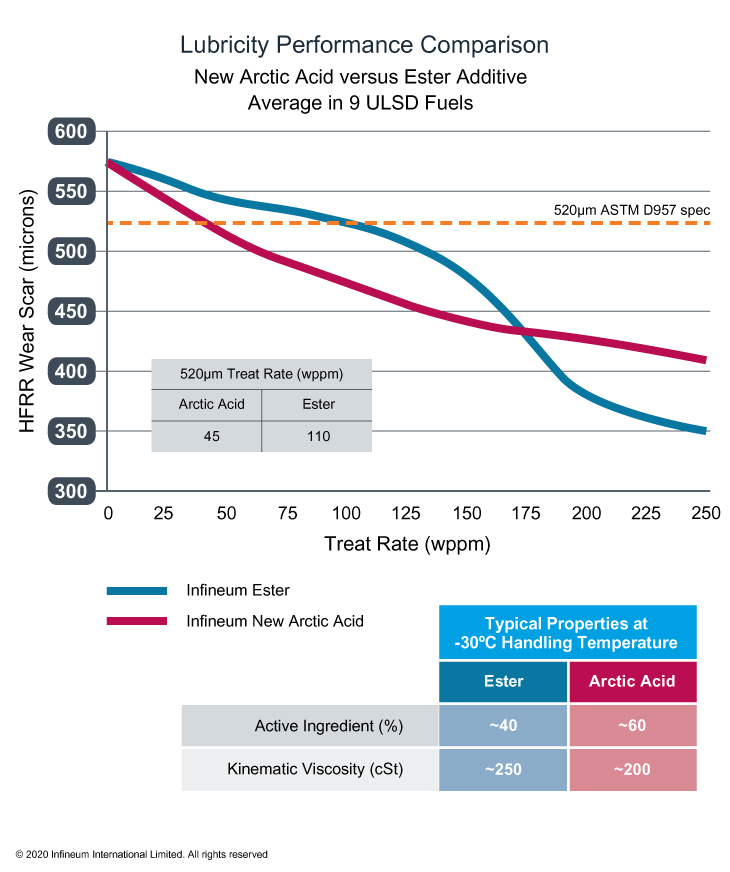 As a new chemistry, the reaction-product was put through very thorough registration and toxicology testing before it was made commercially available to the market. The arctic acids are also paired with a unique Infineum anti-static additive to combine lubricity and conductivity performance – an excellent option for customers looking for a simplified approach to additive treatment.
Smooth market introduction
This new line of arctic acid lubricity improvers, with low-temperature handling from -10oC all the way down to -30oC, have now been in the market for three years. A number of customers, who previously relied on ester lubricity products, have now been successfully converted to this new technology through a carefully organised testing and transition program. Oversight testing at diesel terminals has shown robust lubricity performance and field performance, and confirmed harms-free operation during rollout and commercial use. Infineum is continuing to introduce these new products to current and new customers as a strong complement to the existing ester and mono-acid product line.
With several years of proven field performance, combined with excellent customer feedback, these new arctic acid lubricity products are helping Infineum to sustain and build its leadership position in the US lubricity market. Combined with our current range of ester and mono-acids, Infineum lubricity products continue to meet the most demanding performance and cost requirements throughout the world.
* Prior to 1999, work was undertaken by Paramins (the additives division of Exxon Chemical Company), which together with Shell Additives (a division of The Shell Petroleum Company Ltd and Shell Oil Company) formed the Infineum joint venture.
---
View more articles in this category
---
Get technology news, opinions, specification updates and more, direct to your inbox.
Sign up to receive monthly updates via email