ILSAC GF- and API service categories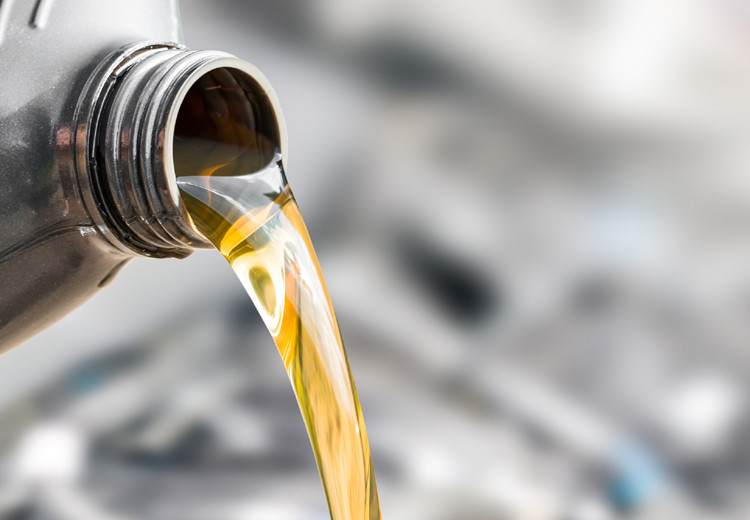 While ILSAC categories remain valid over just a one year transition period, API service categories become obsolete only when they are no longer required or when the tests become unavailable.  It is important, as ILSAC GF-6 and  API SP are introduced, to keep on top of what is still current and what is obsolete.
During the update of ILSAC GF- categories, the prior category is only valid over a one year transition period. This means that ILSAC GF-1 to GF-4 are obsolete and, from May 1 2021, oils meeting ILSAC GF-5 will no longer be eligible to display the API Certification Mark 'Starburst' and will not appear on the online EOLCS Directory. This is the case because the ILSAC specification is specifically designed to meet the emissions and fuel economy regulations for North American vehicles. OEMs would prefer that all vehicles are upgraded to the latest lubricant, and therefore recommend the current oil, which is back serviceable to the older engines. Here is the current status of the ILSAC GF- categories.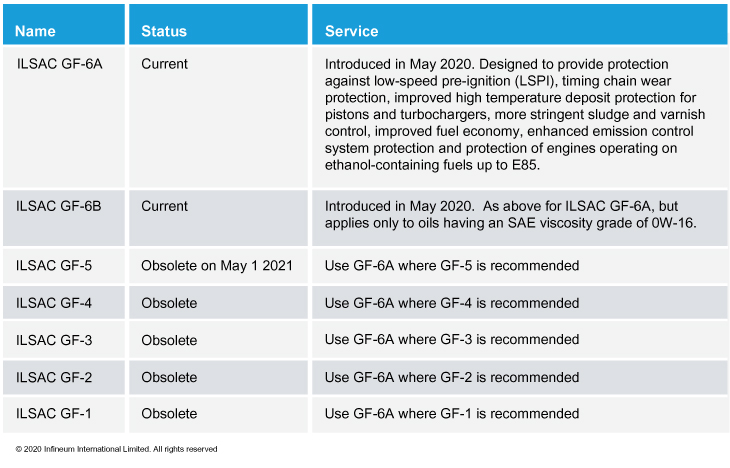 In contrast to ILSAC GF-, the API specification only becomes obsolete when it is no longer required or when the tests become unavailable. This is because the API S service categories are used globally and some of the older specifications are still used in developing countries and where engines do not require the current level of fuel economy or durability.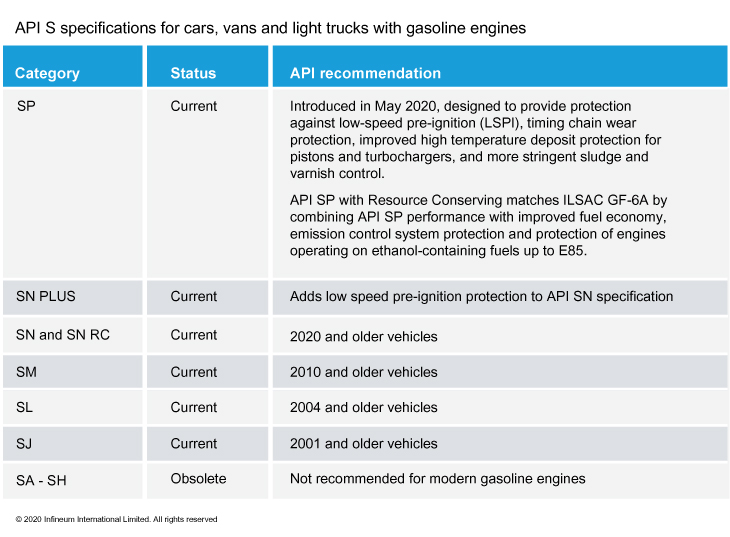 It is important for end users to follow vehicle manufacturer's oil change recommendations – including the use of recommended SAE oil viscosity grade and ILSAC or API performance standard.
---
View more articles in this category
---
Get technology news, opinions, specification updates and more, direct to your inbox.
Sign up to receive monthly updates via email