12 July 2017
Voith approved for aftermarket
New market general heavy-duty automatic transmission fluid meets extended long oil drain requirements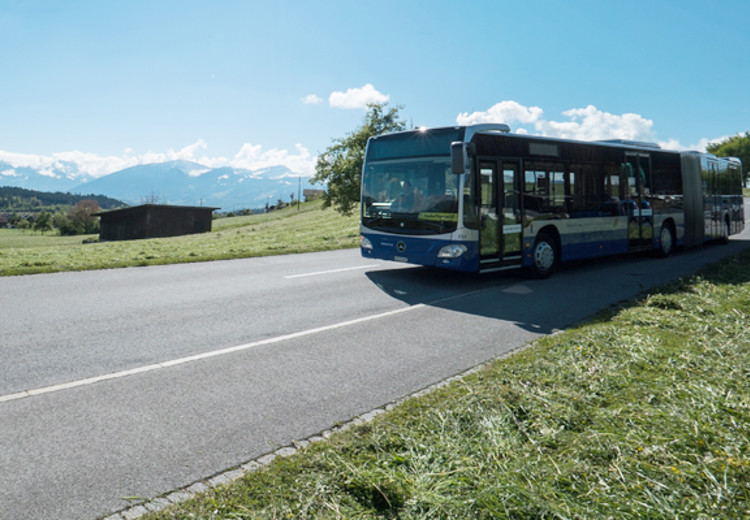 As heavy-duty and bus fleet operators look for longer drain intervals and service shops work to reduce product inventory, automatic transmission fluid requirements are changing. Watch the outcome of our extensive field trial on video and read the views of Infineum Deployment Technologist, Giulia Sette, on what the latest Voith approved, technology means for future formulations.
Heavy-duty ATF field trial video
Infineum field trial Infineum International Limited / 润英联国际有限公司
The challenges and requirements for automatic transmission fluids are changing.
Heavy-duty vehicle and bus fleet operators are increasingly looking to reduce service costs and to keep their vehicles reliably on the road for longer.
Once satisfied with 30,000 or 60,000 km drains, end-users are now looking for fluids that can last up to three times longer.
Transmission manufacturers have responded by introducing longer oil drain specifications, resulting in improved sustainability.
Leading manufacturer, Voith, has recently introduced its new Extended Long Drain specification, with a recommended drain interval of 180,000 km. And, with Voith DIWA automatic transmissions already in more than 300,000 city buses around the world, gaining their approvals is vital.
After a three year field trial, Infineum T4579, a dedicated Heavy-Duty Long Drain transmission additive package, formulated using a cost optimised group III/IV base stock mix, has been granted this latest Voith approval.
This is a significant performance improvement compared to packages that meet the standard 60,000 and 120,000 km long drain Voith specifications.
To gain the new approval, Infineum worked in close cooperation with Voith, a regional bus company, and a specialist servicing centre to set up a field trial in high powered articulated buses. During the trial the transmission fluid was subjected to severe conditions – in terms of the vehicle acceleration and braking profile, load and driving terrain.
After 240,000 km the buses were jointly inspected with Voith engineers.
Dipl.-Ing Tobias Katzer, Voith Test Engineer
The final inspection demonstrated excellent wear protection, faultless friction properties and gear shifting behaviour. This was the reason we were able to run the field trial continuously without needing to replace the transmission fluid.
Specifically developed ATF long drain products offer end users two key benefits. First, they are able to lower service costs and second, they can significantly reduce the downtime of the vehicle.
Infineum T4579 is the only market general additive package to meet this new specification. The hard work put in by all the parties involved in this field trial has really paid off and Infineum is delighted with the successful outcome of this collaboration.
In addition to its existing 60,000 km and 120,000 km specifications, leading transmission manufacturer, Voith, has introduced an extended long drain specification, Voith 150.014524.xx, which allows 180,000 km drain interval. This is in response to user requirements for lower maintenance costs and more vehicle up time.
To gain automatic transmission fluid (ATF) approvals it is necessary to carry out laboratory tests, bench testing and field trials. The field trials are an excellent way to assess new fluids in severe conditions since the data correlates to real-world performance. This means end users can be confident that even in tough situations their hardware will be protected.
For the new 180,000 km Voith extended long drain approval, it is necessary to run field trials of 240,000 km without an oil change in severe operation. This ensures the manufacturer can be absolutely confident that the resulting fluids will continue to deliver sufficient hardware protection right to the end of the recommended drain.
Dedicated and specifically developed extended long drain ATFs offer end users the benefits of lower service costs and reduced vehicle downtime.
Successful field trial
To gain the extended long drain approval Infineum set up a field trial, working in close cooperation with Voith Turbo GmbH, a bus fleet and a dedicated Voith servicing centre. After agreeing the test conditions and parameters with Voith, the trial commenced in early 2014.
During the trial the ATF was subjected to severe conditions in terms of the vehicle acceleration profile, load and driving terrain.
To complete the required oil drain length, the buses ran for more than three years, with no ATF change. During this time ATF samples were taken at regular intervals and assessed for key fluid properties and wear metals content.
The use of Euro V and Euro VI highly powered articulated buses, combined with the hilly driving profile and high level of breaking and acceleration throughout the trial, resulted in high oil temperatures, which put significant stress on the ATF. Despite this, the fluid continued to deliver excellent protection, excellent friction properties, and faultless gear shifting, which meant the fluid was not replaced over the entire field trial.
By working with an active bus fleet, the fluid could be tested in both Euro V vehicles, with prior generation transmissions, and in Euro VI vehicles, equipped with Voith DIWA.5 and the latest DIWA.6 transmissions. The new DIWA.6 has been introduced in response to the increased demand for better fuel economy, fewer emissions and less noise.
The test buses used in the trial were compared to a bus running in parallel on the factory fill formulation.
In elemental analysis for wear metals, conducted throughout the trial, the results for the test buses were within an acceptable range at a given mileage.
Final inspections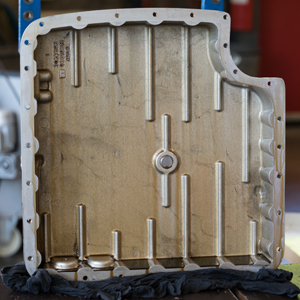 At the end of the test the oil pan was very clean and
free from debris
After 240,000 km the buses returned to Voith for final inspections. Here the transmissions were completely stripped down and the parts inspected for wear and sludge.
Particular attention was given to assessing the condition of the friction and steel plates in the various clutches and brakes.
At the end of the test inspection, excellent wear protection and retained frictional properties were noted.
This excellent performance means that the ATF based on the Infineum additive package has now been granted a Voith 150.014524.xx approval.
We are delighted that, after such a strong team effort, the new ATF technology has been awarded the Voith extended long drain approval.
However, as you might expect in today's very demanding market, more is expected of the product than longer drains and excellent hardware protection. The Infineum product delivers on both of these counts, but also provides optimised formulations to help reduce costs and multiple approvals to simplify product inventory.
Cost optimised
Currently, other long drain oils available in the market are formulated with 100% polyalphaolefin (PAO) base stocks. However, global PAO supply is very complex and it can be expensive relative to other base stocks. Despite announcements of capacity additions, the market is likely to remain short in the near term as these come on stream.
With this in mind, the Infineum extended long drain ATF has been formulated with a mix of Group III base stocks and optimised PAO content, making it more cost effective than current formulations.
Simplified product inventory
Infineum's extended long drain ATF has also been approved for use in a range of other applications. This broad approvals capability helps service shops to simplify product inventory since one fluid can be used to maintain a very wide variety of heavy-duty vehicles.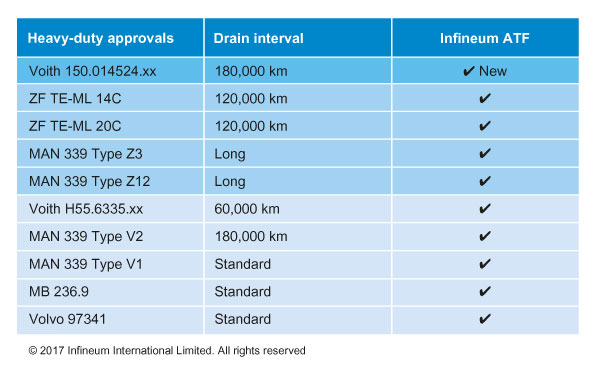 The hard work put in by all the parties involved in this field trial has really paid off and we are delighted with the successful outcome of this collaboration.
If you have any questions on our ATFs please click here to get in touch with the Infineum Sales Team.
---
View more articles in this category
---
Get technology news, opinions, specification updates and more, direct to your inbox.
Sign up to receive monthly updates via email