07 December 2020
The inside on haulier decisions
Survey of European haulage companies reveals vehicle and lubricant priorities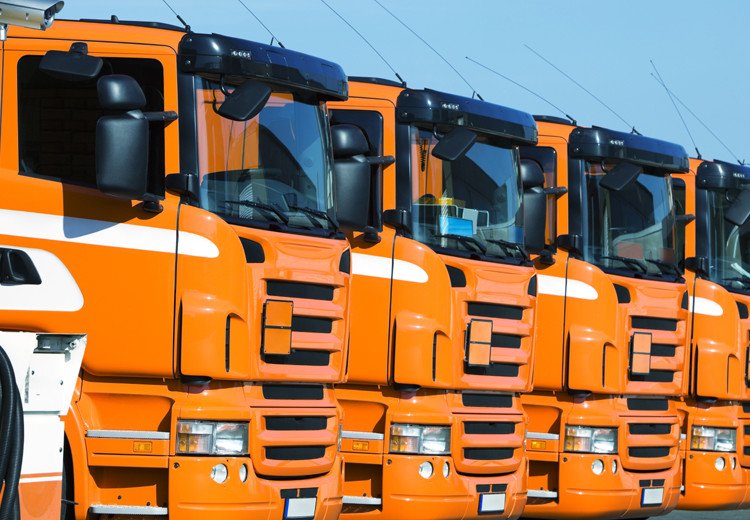 As lubricant manufacturers look for opportunities in the tough market conditions created by the COVID-19 pandemic, a clear understanding of end-user requirements is more important than ever before. Insight shares the results of an Infineum survey of European logistics service providers that explores aspects of their buying decisions and lubrication requirements.
Across Europe (EU + EFTA + UK) in the first nine months of 2019, data published by the European Automobile Manufacturers Association (ACEA) shows that sales of trucks >16 tons expanded by more than 5% reaching over 250,000 units. Unfortunately, the same cannot be said for 2020. Instead what we have seen is that the confinement measures introduced to curb the COVID-19 pandemic have hit heavy-duty truck sales hard, with volumes in the first nine months down 35.7% compared to the same period last year and the same picture being repeated across the entire sector. 
Total commercial vehicle sales in in the first nine months of 2020 are down 25% year on year.
Clearly these sales trends also have an impact on the lubricants market. Industry analysts Kline has been monitoring the impacts of the COVID-19 pandemic on the five largest European markets: Germany, Italy, France, UK and Spain, who together account for almost 70% of 2020 commercial vehicle sales. Kline notes that commercial vehicle lubricant demand in these countries could be down in 2020 by 10-25% vs. 2019, depending on the length of the lockdown. However, not all segments will be impacted to the same degree. While public transportation demand will plummet, the extended closure of retail outlets means e-commerce and essential supply deliveries are thriving, which means demand from heavy-duty and light and medium duty commercial fleets is expected to remain relatively strong.
To be successful in such a fast changing and highly competitive market, it is vital for suppliers to fully understand the challenges end users face and their purchasing decision drivers.
To find out the answers to some of the key questions about lubricant purchasing, Infineum conducted a survey of logistics service providers who, when combined, run more than 7,300 trucks across Europe. The high level findings are presented in the following infographic.
Infographic of key Infineum survey findings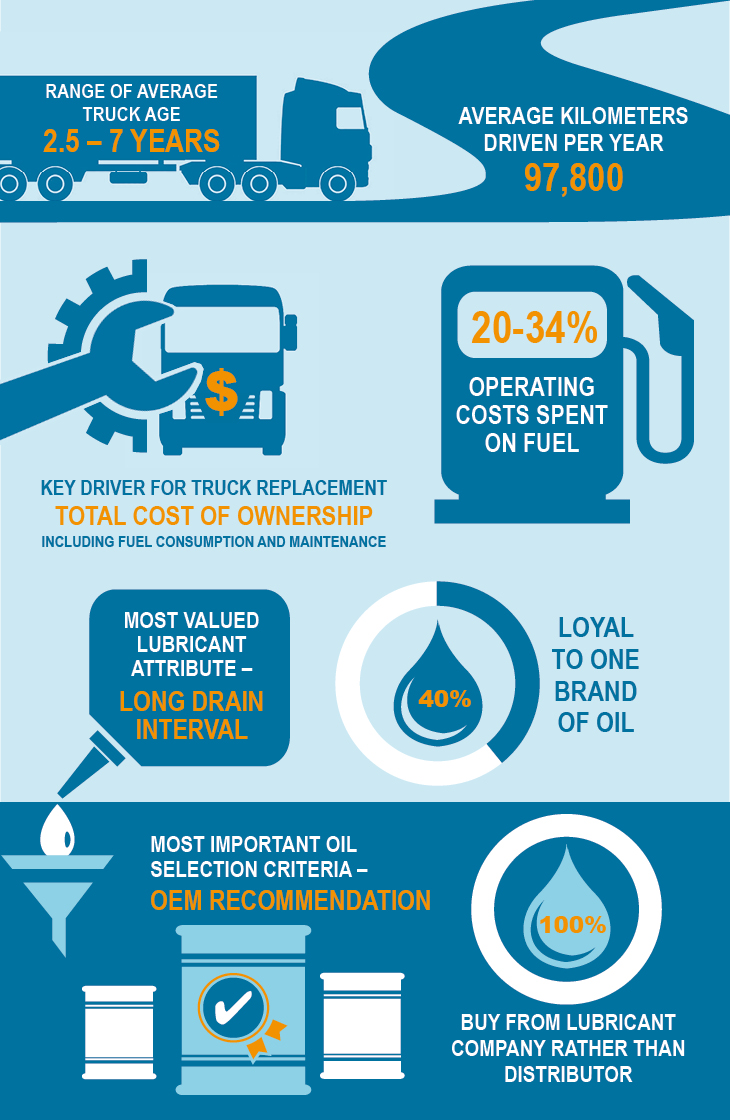 According to ACEA, 6.6 million trucks are in circulation throughout the EU – most running on diesel fuel since it is currently the most convenient and cost-efficient energy carrier available to transport operators.
In 2019, 97.9% of medium and heavy-duty trucks sold in the EU ran on diesel.
The European operators we questioned, who were generally running >16t trucks, said they drive on average more than 97,000 km/year and spend between 20-34% of their operating costs on fuel. In addition, they indicated that total running costs - including fuel and maintenance - are the key drivers for truck replacement. The reported average age of trucks in the fleets surveyed ranged from 2.5 to 7 years, which represents the top 30 percentile of the European fleet age (with the average being >12years). This indicates that the priorities of our survey respondents reflect those of fleet operators that maintain a relatively new fleet and thus place high importance on maintaining their assets.
What fleet owners value is the ability to keep their trucks reliably in service for longer periods while also cutting maintenance and running costs.
It is therefore not surprising to learn that long drain interval is one of the most valued lubricant attributes - aligned both to the desire to reduce running costs and to maximise up-time. However, as heavy-duty vehicle lubricants trend to lower viscosities to help improve fuel economy performance, achieving longer drain intervals becomes increasingly challenging. In our view, it is essential that the introduction of lower viscosity grades does not compromise engine durability or emissions system compatibility. OEM recommendation is cited as the most important oil selection criteria and fleets we spoke to all purchased their oil from the lubricant company rather than a distributor.
Sinead Adamski, Infineum EMEA Regional Executive Marketing Manager, explains that while the survey indicates 40% of end users are loyal to one brand of oil that does not imply they are loyal to one value. In our view, it is absolutely vital for lubricant companies to offer differentiated products that deliver real value in order to build customer loyalty. Advanced additive technologies can really help here – first by delivering an excellent balance of engine durability and fuel economy. In addition, they offer the ability to tailor the wear, durability and oil life to the needs of specific operators, which helps to ensure that OEM requirements can be addressed while also supporting the needs of individual fleets.
Looking ahead beyond COVID-19

ACEA's Director General, Eric-Mark Huitema, has said they are disappointed that several of the national plans to stimulate fleet renewal seem to focus exclusively on passenger cars. He also said that, with sales of commercial vehicles plummeting to an all-time low, ACEA is urging governments and the EU to include dedicated fleet renewal schemes for heavy-duty vehicles in their recovery plans. And, he is probably right to feel frustrated – with forecasters indicating that vehicle sales recovery is likely to be slow.
Zita Zigan, Director of Global Commercial Vehicle Forecasting at LMC Automotive, suggests that as lockdown restrictions ease, truck selling rates in many countries should pick up. But, as she points out, with the region in the grips of a second COVID wave, the question has become whether the 'V'-shaped recovery will assume more of a 'W'-shape. The indirect impact on the industry via the shock to the economy could be profound, with the effects being felt into next year, which is why LMC has made moderate downgrades to forecasts for Europe. And, with other events, including the impact of Brexit and the US elections, adding to the uncertainty in this market, Zita says it is unlikely for pre-crisis levels of demand in the region to be reached again before 2022/2023.
There is considerable uncertainty ahead regarding the turnover of the vehicle park to newer, cleaner and more efficient models.
This makes it even more important for suppliers to better understand the requirements and challenges commercial fleet operators are facing. The results of this survey lead us to conclude that companies with the ability to design differentiated products, closely matching end user requirements for extended component life and improved fuel economy over longer oil drain intervals, have the highest chance of success in this market.
Get technology news, opinions, specification updates and more, direct to your inbox.
Sign up to receive monthly updates via email