27 February 2018
Shifting technology
Growing market interest in dual clutch transmissions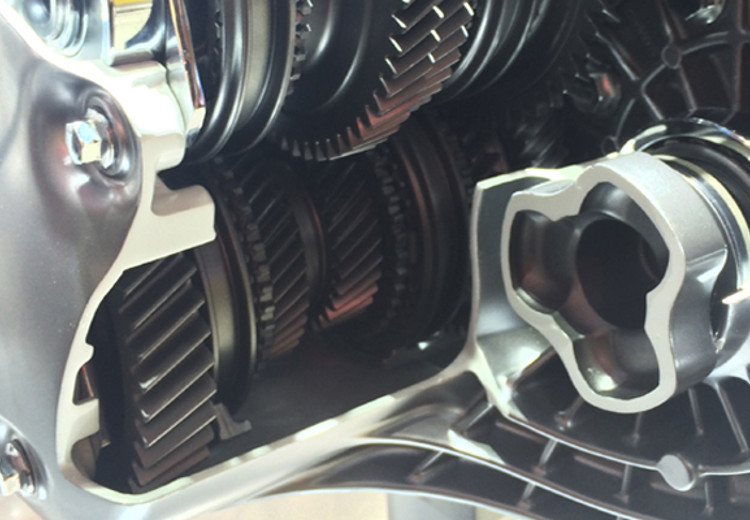 With transmissions consuming approximately four percent of the energy input into the vehicle, improving fuel economy is a key driver for hardware change. As OEMs increasingly offer vehicles with dual clutch transmissions, Insight looks at some of the technology's lubrication challenges.
The global automatic transmission (AT) market is experiencing continued growth and is forecast to reach 65 million units per year by 2024. While conventional planetary ATs are expected to remain the dominant technology, their share is likely to decline. Over the same period, dual clutch transmissions (DCTs) are forecast to grow at a higher rate than any other AT system, potentially gaining more than 20% of the market.
Initially, DCTs were popular in Europe and China, where the existing manual transmission (MT) manufacturing infrastructure was a good fit for DCT production. Growth in these regions is expected to continue, with China likely to account for more than 55% of the market by 2024. However, DCTs are also gaining ground in many other regions since they provide advantages over other automatic transmission systems.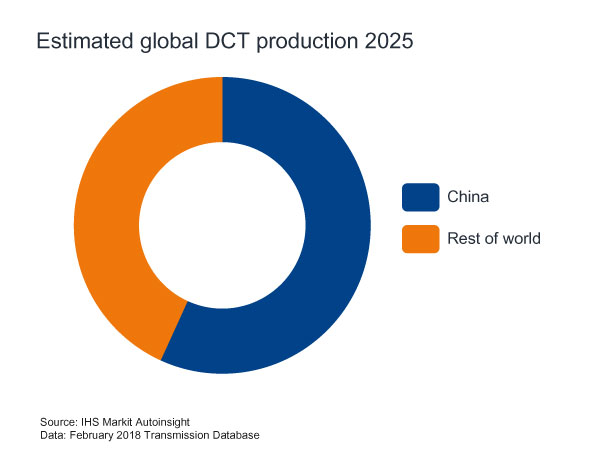 DCT advantages
DCTs offer the convenience of an AT along with the durability and feel of a MT. DCTs are very efficient, with a relatively low number of mechanical components, fewer slipping elements than an AT and lower power consumption than a typical CVT. At the same time, they have a very high degree of freedom in terms of gear ratios, which allows the engine to operate near peak efficiency. And, with control modules, solenoids and hydraulics doing the work, DCTs can shift gears in a fraction of a second and several times per minute. This can help to achieve substantial efficiency improvements over conventional ATs, but just how much DCTs can enhance fuel economy is up for debate.
When compared to conventional automatic transmissions with torque converters, some suggest that DCTs are about 5% more economical.
However, these figures are highly dependent on driving cycle and vehicle type, which means they could be significantly higher.
Wet and dry clutch DCTs
There are basically two key technologies in the market today – dry clutch DCTs and wet clutch DCTs. While dry clutch systems are typically used in lower torque applications with smaller engines, wet clutch DCTs are more likely to be used in higher torque applications. Since the wet clutch DCT components are lubricated to reduce friction and dissipate heat, they are used where thermal robustness and/or high-end shift quality is required. Wet clutch DCTs come in two designs; the most common type has a single sump to lubricate both the gears and clutch, whereas other designs have separate sumps for each.
Currently, on a global scale, of the some seven million DCTs produced, there is an almost 50/50 split between the two. However, by 2024, not only is DCT production forecast to more than double but also all the growth is expected to be in wet, rather than dry, clutch systems.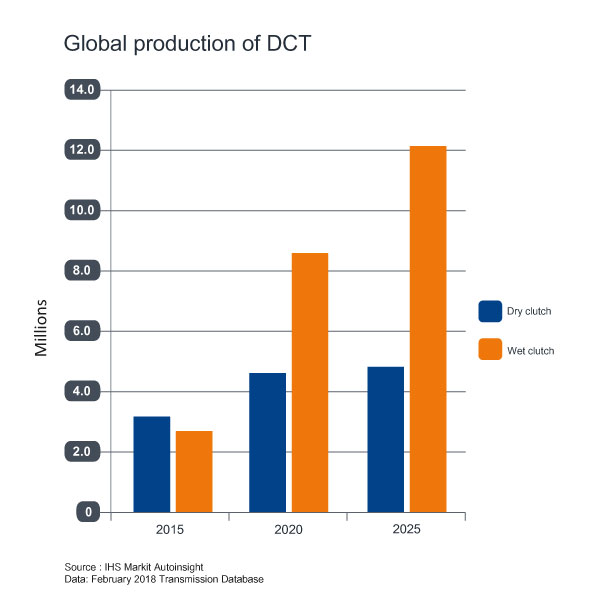 Fluid requirements
While dry clutch DCTs typically require a manual transmission fluid (MTF), wet DCTs need an enhanced DCT fluid (DCTF) that combines the gear protection of a MTF with the clutch friction control performance of an ATF. The use of wet clutch DCTs with a single sump is increasing and, as these systems are the most challenging to lubricate, fluids specifically formulated for this transmission design are required. Even DCTs that have separate sumps use a DCTF in the clutch sump and a MTF for the gear box.
DCTFs are uniquely formulated to combine the frictional performance attributes of an ATF with the gear protection offered by a MTF, plus a number of other demanding performance benefits: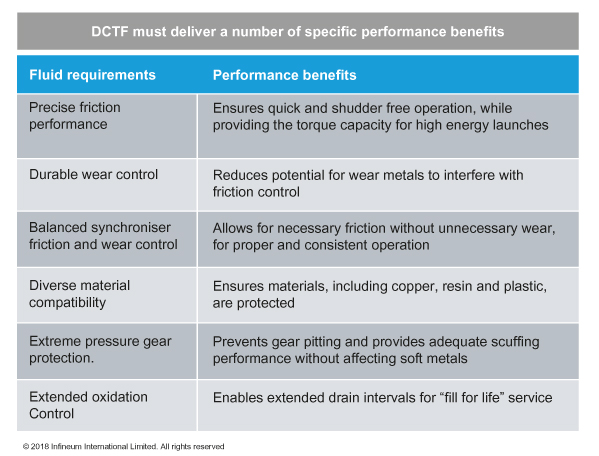 A high priority for drivers of vehicles equipped with DCTs is that they do not feel shudder while shifting gears. This means a very fine chemical balancing act is needed to formulate a DCTF that provides the friction performance for both shudder-free operation and high torque capacity, while also providing gear protection and preventing corrosion. The balance between shudder durability and torque capacity is met by developing a fluid that can achieve high static friction while maintaining a positive delta torque.
A growing market
Wet clutch DCTs, with a single sump for clutch and gear lubrication, are increasingly being used globally in a wider range of vehicle applications.
As OEMs look for further fuel economy improvements, DCT designs are becoming even more sophisticated and are placing more stress on the fluid.
Since these transmission systems are already some of the most challenging to lubricate, there is expected to be a substantial increase in the market for new and specialised DCT fluids.
---
View more articles in this category
---
---
Get technology news, opinions, specification updates and more, direct to your inbox.
Sign up to receive monthly updates via email