29 October 2019
Winning in the E race
How powertrain electrification is accelerating engineering innovation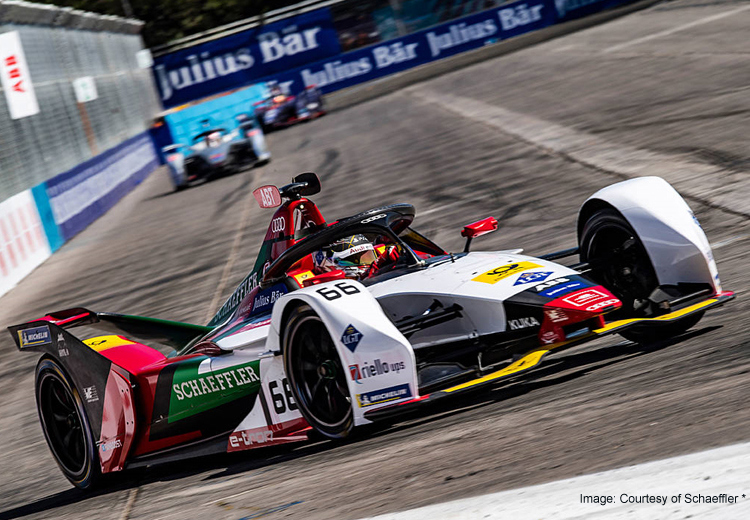 Vehicle electrification brings both challenges and opportunities to the automotive and associated industries. Jeff Hemphill, Chief Technical Officer for Schaeffler in the Americas, talks to Insight about how their experience in Formula E motorsport racing is helping to shape future products for hybrid and electric on-road vehicles.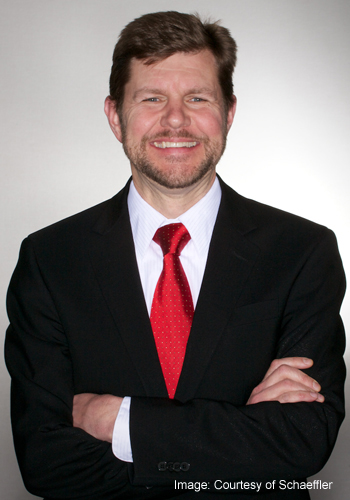 Jeff Hemphill, Schaeffler Chief Technical Officer, Americas
expects 70% of new cars sold in ten years time to have
some form of electric drive
Companies across the automotive value chain are assessing the impact of vehicle electrification on their businesses. Schaeffler is a global supplier of high-precision components and systems in engine, transmission, and chassis applications. Uniquely, the organisation is using Formula E as a platform to demonstrate its expertise in pioneering technologies and to showcase ideas for future sustainable mobility.
As CTO, Jeff Hemphill is responsible for research and new product development for automotive transmission, engine and chassis components and systems as well as facilitating the integration of digital capability into new products and business models. While he still expects 70% of new cars sold in ten years time to have an internal combustion engine (ICE), he also sees a strong future for electric power. "The Schaeffler electrification scenario calls for 30% of new passenger vehicles to be purely battery-driven in ten years. Of the remainder, which will still be powered by some type of ICE, 40% will be hybrid-electrics. This means that by 2029 we anticipate 70% of all new cars sold (hybrids plus battery-electric vehicles) will have some form of an electric drive. So we can still expect plenty of tribology challenges in 'classic' as well as in new fields of application."
"Electrification should not be seen as a threat; rather, it is an incredible opportunity. The new challenges it presents will keep us engineers busy inventing for a long, enjoyable time!"

Jeff Hemphill, Schaeffler
Formula E technology transfer
Recognising that electrification requires new products using advanced technologies, Schaeffler has been developing specialised transmissions and motors to meet growing demand. Here, the organisation has encouraged technology transfer between its E-Motorsports and Series Production departments. "We draw upon the resources and engineering talent from both of these departments to achieve our motorsports goals. While the components developed for racing applications can hardly be taken over directly for series production, the experience gained from our motorsports endeavors is very much incorporated into Schaeffler products."
Jeff is clearly proud of their success in the relatively new sport of Formula E racing. "We have been active in Formula E since the racing series' inaugural 2014/15 season, winning the very first Formula E race. Since then we have finished every Formula E season in the top three final rankings of the Drivers' Championship as well as the Teams' Championship. And, with driver Lucas di Grassi, we won the 2016/17 Drivers' Championship and the 2017/18 Teams' Championship. As part of the Audi Sport ABT Schaeffler team, we are continuing to work in close collaboration with Audi to develop the powertrain for the team."
But, it's a fast evolving world and in just five seasons Jeff has witnessed significant change in the cars' technology. "The biggest change I've seen in Formula E is the introduction of the Gen 2 car for Season 5 (2018/19). Compared to the Gen 1 car, this new car has nearly double the battery capacity, making it possible to complete the entire race without the previously mandatory mid-race pit stop to change cars. Also, we've seen big changes in the gearbox. When Formula E began, the teams used a 5-speed gearbox but, gearbox development in Formula E has transitioned more and more to single-speed units."
Formula E vehicle challenges
With thermal management being an important part of electric motor engineering, Jeff highlighted some of the challenges they have encountered with Formula E vehicles. "Thermal management, especially with respect to cooling the rotor containing the temperature-sensitive permanent magnets is certainly a key challenge. To achieve the highest cooling performance, direct cooling of the winding heads in combination with internal cooling of the rotor is being pursued. Currently, the low thermal capacitance of the oil used for direct cooling methods is still a drawback. At present, there is no coolant that combines the dielectric material property needed for direct cooling with a thermal capacitance similar to water. Only heavy separated water and oil cooling circuits allow us to harvest the best possible cooling performance. Therefore, development of efficient indirect cooling sleeves and cooling tunneling is being pushed."
"Dielectric coolants with high thermal capacitance are still the dream of all electric powertrain engineers."


Jeff Hemphill, Schaeffler
As Jeff explains, there are certainly a number of areas where engineering and lubricant innovation could help to improve E-vehicle performance. "With these high performance electric drive units, it is a challenge to balance friction reduction, heat capacity and durability while further increasing the efficiency of the entire drivetrain. And, one key factor that I think needs to be addressed is how to reduce friction in the contact surfaces inside the gearbox."
E product developments
While the needs of electric powertrains, which comprise the motor, inverter, transmission, parts of the rear axle, and related software, are different from those of conventional ICEs, Jeff says that the fundamentals are much the same. "We have been learning about those needs on the racetrack, through Formula E, as well as in conventional automotive powertrains. Along with the development with Audi of the motor generator unit, the Audi Schaeffler MGU03, used in this Season's Audi e-tron FE05 we have developed other products from cost-efficient 48-V hybrid motors and powerful high-voltage drive systems, such as electrical axles, through to visionary wheel hub drives."
One system that is already in volume production is Schaeffler's transmission for electric drivetrains. "The core of the entire system is the planetary gear set with a highly-integrated spur gear differential which we developed here at Schaeffler," Jeff explains. "It is available in both parallel axis and coaxial versions, both of which are fitted in the new Audi e-tron crossover SUV. Here, the coaxial variant provides rear-wheel drive while the parallel axis variant on the front axle enables all-wheel drive. In volume production since August 2018, we expect volumes to increase to some 250,000 transmission units per year."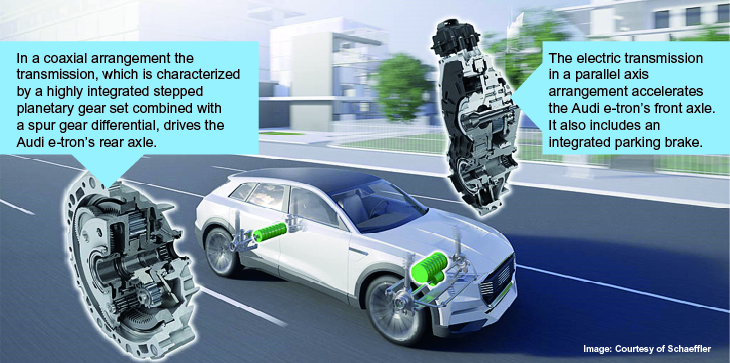 Schaeffler manufactures two in-house developed transmissions for electric drivetrains, both used in the Audi e-tron crossover SUV
As Jeff concludes, "The modularity of our products means we can adapt the transmission for other applications, which allows it to be applied to all-electric vehicles and hybridised powertrains based on internal combustion engines. We have already announced the start up of production of a transmission for a renowned German vehicle manufacturer in the second quarter of 2019, which means we are confident that the success story of this transmission will continue."
Infineum on E fluids
The transition from conventional ICE to hybrid or even all-electric vehicles requires a high level of innovative strength and collaboration across the entire automotive value chain.
In terms of lubrication, the limited penetration of electrification in today's drivetrains means conventional transmission fluids are typically being used. However, as sales of full hybrid and electric vehicles increase, the need for new specialised e-fluids will grow. Infineum's transmission formulations deliver a broad range of performance attributes such as high volume resistivity and thermal capacity while carefully balancing electrical properties with gear protection and materials compatibility. In addition, these new fluids also maintain traditional performance features including friction, oxidation and wear control.
As the market evolves, Infineum is continuing to work on the development of new solutions to meet the challenges that arise.
* Title image: Packed with Schaeffler engineering: the Audi Sport ABT Schaeffler #66 car, driven by Daniel Abt
---
View more articles in this category
---
Get technology news, opinions, specification updates and more, direct to your inbox.
Sign up to receive monthly updates via email