Please note this article was published in June 2017 and the facts and opinions expressed may no longer be valid.
14 June 2017
North American specification update June 2017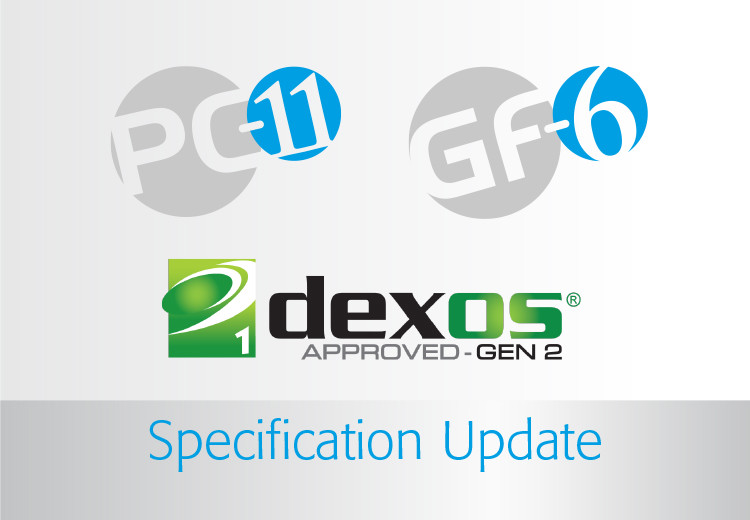 Joan Evans, Infineum Americas Industry Liaison Manager, keeps us up to date on some of the North American lubricant specification developments.
With the transition from API CJ-4 to API CK-4 now well underway it's time to take stock of what the new category means to OEMs, fleets and oil marketers.
Heavy-duty OEMs
Because the new oils are designed to offer enhanced fuel economy and durability they will help OEMs to both meet regulatory requirements and to offer advanced vehicles that can also improve customers' return on investment.
Most on-highway OEMs have issued their own corresponding specifications for API CK-4 and/or API FA-4. But, unlike past categories, not a single OEM requires API CK-4 or FA-4 engine oils for their 2017 model year (MY) engines. Almost all OEMs recommend API CK-4, while very few recommend API FA-4 at this time. So, it appears that OEMs will continue to allow the use of API CJ-4.
Currently, OEMs are promoting the improved performance of the new oils to encourage their uptake and to help justify their higher cost.
As fleets turnover and bring in new engines, API FA-4 use should increase - within five years it could be the main oil recommended by on-road OEMs for new engines.
However, it will still take many years for API FA-4 oils to be a major part of the heavy-duty diesel lubricant market.
In the off-road segment, most OEMs are still evaluating the new oils. Caterpillar will be recommending API CK-4 oils and will not introduce a new ECF oil specification. At this stage, no off-road OEM is expected to recommend the new API FA-4 engine oils. This isn't a reflection of the importance of fuel economy to off-road OEMs; they just have a different view of the best ways to achieve it.
Fleets and marketers
For fleets, the oils are designed to offer improved fuel economy and durability for both older and newer diesel engines.
What's more, they can continue to provide these benefits over longer drain intervals, which can help to reduce vehicle downtime and maintenance costs. However, more complex logistics means few fleets will be able to take full advantage of the added fuel economy benefits API FA-4 oils can deliver to their newest engines.
For oil marketers, the real benefit of these oils is that they provide further opportunity to differentiate their product offerings.
However, as marketers transition to the new oils, the need to educate end users on their benefits must be high on their list of priorities. This is not as easy as it sounds, since very few engines on the road require the new oils.
Some marketers are maintaining their API CJ-4 products as this quality level is still acceptable for all MY 2017 engine applications, at reduced oil drain intervals. However, insufficient blending and storage capacity along the supply chain could make it difficult to maintain both old and new products.
ILSAC GF-6
Although significant progress has been made, development of the four replacement and three new tests continues to hold things up. The progress is patchy, with some tests moving forward to acceptance as ASTM standards while others are still addressing problems with test precision and discrimination.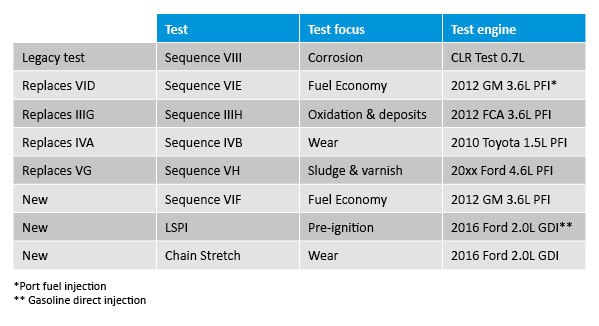 The plan remains for the precision matrices of all the new tests to be completed this summer.
Having all the tests ready in this timeframe is very optimistic, as operational issues and hardware changes continue to extend the time required to complete the precision matrices. 
The first allowable use date is now expected to slip well into 2019. As requested by General Motors in their "Call to Action", a small cross-industry subgroup of API/ACC/ILSAC will have an initial meeting in June to review the remaining activities on the ILSAC GF-6 timeline and look for ways to minimise any further delay.
As the tests for ILSAC GF-6 become finalised, the testing to develop Base Oil Interchange (BOI) and Viscosity Grade Read Across (VGRA), will be ramping up. API BOI/VGRA TF has been finalising plans to run oil matrices in the tests required for ILSAC GF-6 to establish some interchange for the initial roll out of oils claiming ILSAC GF-6. The testing plan is extensive and carries a price tag of over three million dollars and will require significant testing capacity and time to deliver recommendations for use with the new tests.
Future viscosity grades
Although viscosity grade trends are tough to call, SAE 0W- grades are expected to account for about 30% of the market by 2026. The introduction of SAE 0W-16 with ILSAC GF-6B could mean this grade will displace SAE 0W-20 in the future. However, OEMs seem to have very different views on the need to use such low viscosity oils. But, one thing is clear, hardware protection cannot be compromised and OEMs will expect to get the highest fuel economy and sustained engine protection from the new oils.
General Motors' dexos™
GM's complex second generation dexos1™:2015 specification update is almost complete. GM is approving the new oils and they should become more widely available this summer.
With dexos1™:2015 and ILSAC GF-6 on different trajectories, additive companies and oil marketers must make careful investment decisions.
In terms of second-generation dexos 2™, in both North America and globally, GM is looking to finalise the specification by the middle of 2017 – although GM says the oil is unlikely to be available in the US until sometime in 2018.
Legacy test update
Provisional licensing remains in place for ILSAC GF-5 as the Sequence VID test is no longer available and the testing to establish limits in the Sequence VIE test for ILSAC GF-6 performance is underway. The expectation is that the Category Life Oversight Group (CLOG) of API will review the data generated and make a recommendation to API Lubes Group for limits sometime in late August.
With the Sequence VID unavailable, marketers are also having difficulty licensing SAE 0W-16 oils as API SN/RC. Provisional licensing is in place for the Sequence VID, however it requires technical support (Level 2 data as defined by the ACC Code of Practice), which may not be available since SAE 0W-16 formulations are relatively new to our market. In response to an initial proposal and request by Toyota for equivalency limits in the Sequence VIF, the surveillance panel, the statisticians, and Toyota provided technical input to CLOG, which has recommended a testing protocol to establish data for a Sequence VIF limit for API SN/RC. This testing will occur post the Sequence VIE data development and a limit will be established, hopefully by later this summer.
The Sequence IIIF, required for the older API C categories (API CJ-4/CI-4/CH-4), will be out of parts by 3Q of this year. Testing for equivalency in the Sequence IIIG had been on hold while the Sequence IIIH worked through using a new piston batch. Testing will resume with the new piston batch and CLOG will review the resulting data. An API ballot for limits for API SN passed and effective February 8 2017, a limit of 3.7 WPD/150% viscosity increase/no stuck rings in the Sequence IIIH is an acceptable alternative to the Sequence IIIG. The same limit is currently being balloted by API for use with ILSAC GF-5. Limits for older categories still need to be worked and CLOG continues on a plan to sustain older categories once the current legacy tests become unavailable.
Provisional Licensing Guidelines for the current possible situations if more than one test is unavailable are currently being balloted by API.
This will maintain the current API specifications and allow marketers to license oils against the current performance categories.
Industry stakeholders will need to work very hard to find acceptable solutions to these challenges. It is clear that CLOG, along with the timely approval for replacement tests, will play a key role in helping to resolve the issues.
Get technology news, opinions, specification updates and more, direct to your inbox.
Sign up to receive monthly updates via email