10 July 2017
New lubricants for China
Fuel economy drives turbocharged gasoline direct injection engine oil development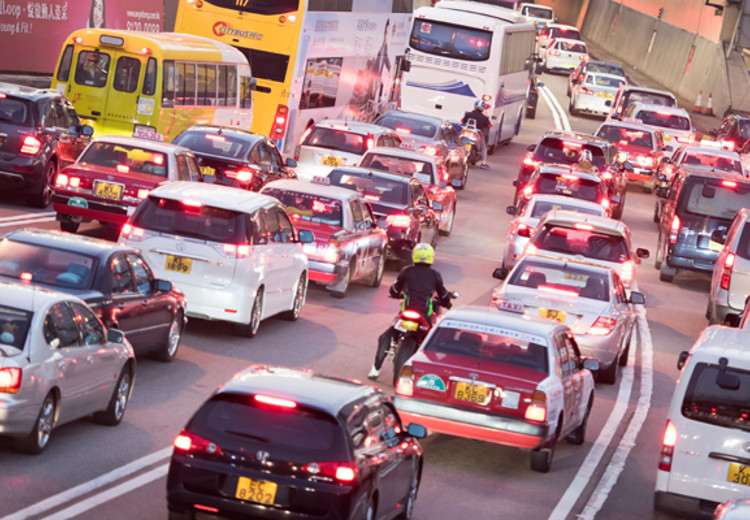 Turbocharged gasoline direct injection engines are one of the technologies being used by OEMs to help meet continually tightening Chinese fuel economy and emissions limits. Infineum Technologist, Leon Zou, explains the lubrication challenges presented by this engine technology and explores how Infineum is working to overcome them.
TGDI engine field trial
TGDI engine field trial Infineum International Limited / 润英联国际有限公司
With the Chinese government introducing stricter nationwide fuel economy targets by 2020, the role of turbocharged gasoline direct injection (TGDI) engine oils is becoming increasingly important in the Chinese market.
The key challenges for lubricating a TGDI engine are as follows:
TGDI engines operate at higher temperatures than a conventional engine, resulting in the need for superior anti-oxidation capabilities of the engine oil
TGDI engines produces soot because of incomplete combustion, causing engine wear and viscosity increase of engine oil
Potential for low speed pre-ignition (LSPI) and chain wear
Sludge formation due to fuel ingress from direct fuel injection

Two vehicle models were used in this Infineum TGDI field trial, one is from a joint venture brand and the other one is from a local Chinese brand.
The engine displacement is 1.4L and 1.5L.
Four oils were tested in the field trial. Three of the oils were based on Infineum technology, the other one is commercially available API SN oil.
The cars were driven by professional drivers using test routes in the Tianjin region and the oil drain intervals (ODI) were set at 20,000km, with used oil samples taken every 5,000km, and analysed in a third party laboratory.
Now, let's see how Infineum technology performs in the engine!

We used standard ASTM engine rating methodology, which mainly focuses on engine carbon, varnish and sludge, as well as evaluating wear of engine parts.

The main bearing wear result of this engine is between trace wear to light wear, and in this area it scores 8-9 out of a possible 10 points.

For the engine sludge rating, this engine scores 9.75 points, indicating almost zero sludge.

In the area of liner wear, there is around 1% polishing area.
This is a fine example of a lubricant providing excellent protection to TGDI engine.
To help reduce greenhouse gases China has been progressively tightening its passenger car and heavy-duty fuel economy requirements. Plans are now in place for even more stringent targets, and further reductions are planned in 2025 and 2030.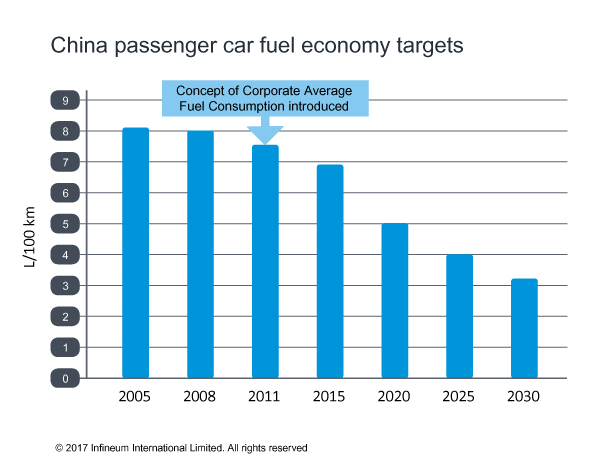 In addition, as vehicle ownership continues to rise, China is tightening particulate matter, NOx, CO and total hydrocarbon (THC) emissions standards to help control air pollution. From January 2017, National 5 limits, which are equivalent to Euro 5 levels, were introduced nationwide. However, further new China 6a and 6b emission limits are expected to impact all vehicle sales and registrations in 2020 and 2023 respectively. These will again significantly cut emissions limits and introduce a new 6.0x1011 #/km requirement for particulate number.
These stringent fuel economy and emissions limits are the key factors driving the introduction of turbocharged gasoline direct injection (TGDI) vehicles in this region of the world.
TGDI advantages
In a TGDI engine the injector nozzle is placed inside the combustion chamber, allowing fuel to be injected direct into the cylinder instead of into the intake ports. The charge cooling effect allows a higher compression ratio, which results in better fuel efficiency, higher power and torque. In addition, fuelling control enables transient issues to be reduced and lowers emissions such as THC.
These advantages mean TGDI vehicles are gaining ground and, in the past five years, their market share has increased from less than 7% to almost 20%, a trend that is extremely likely to continue.
TGDI lubrication challenges
The use of TGDI engines presents a number of lubrication challenges: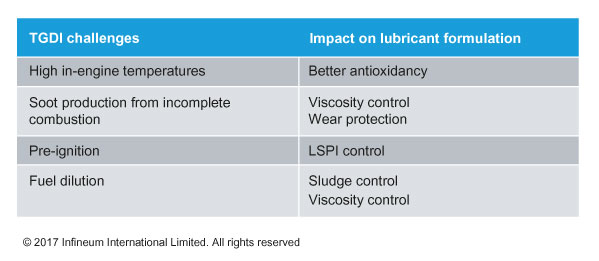 The industry has responded to these challenges by upgrading engine oil technology. In North America for example, API and ILSAC are expected to launch the new ILASC GF-6 gasoline engine oil specification in 2019. In Europe, ACEA released the ACEA 2016 specification for passenger cars in December 2016.
These specifications include engine tests, such as LSPI, timing chain wear, deposit control and sludge and piston cleanliness to ensure TGDI engines are sufficiently protected. In addition to the industry specifications, some OEMs have also upgraded their own engine oil requirements to meet the needs of TGDI applications. A wide range of TGDI engines, including Ford, General Motors, PSA and Daimler, are being used in the specifications to demonstrate engine oil performance.
China field trial
Infineum has undertaken field trials in China to demonstrate the performance of its technology in TGDI engines. Three Infineum candidate oils were formulated to ACEA A3/B4 API SN SAE 5W-30 and were run against a commercial API SN SAE 5W-30 reference. These oils were tested in two Euro V passenger car models, one from a JV brand and the other from a local Chinese OEM.
The trial was run using professional drivers over test routes in Tianjin, a major port city in northeastern China. It involved three 20,000 km oil drain intervals, with used oil samples taken every 5,000 km. On inspection by a third party organisation, the Infineum technology oils had significantly better piston deposit control than the reference oil.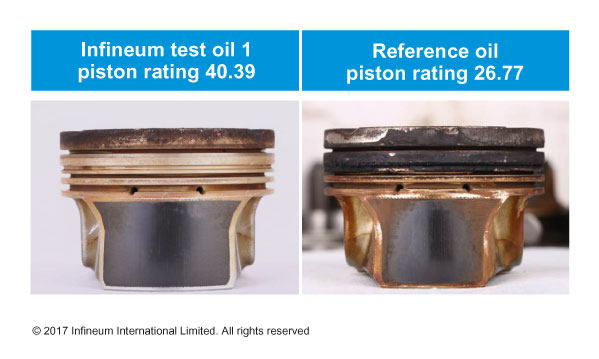 The Infineum technology oils had significantly better piston deposit control than the reference oil
In terms of viscosity control, the test oils' performance was equivalent to the reference oil; in addition, they demonstrated good sludge handling capability and wear protection.
LSPI concerns
While downsized and turbocharged engines clearly offer efficiency and emissions gains they can also exhibit an abnormal combustion event known as LSPI. Because LSPI has the potential to cause severe engine damage in just a few engine cycles, Infineum has been heavily involved in the development of a meaningful industry LSPI test.
To evaluate LSPI performance, one of the test oils was run in the General Motors' pre-ignition test where it delivered very strong results when compared to baseline and full sulphated ash, phosphorus and sulphur (SAPS) reference oils.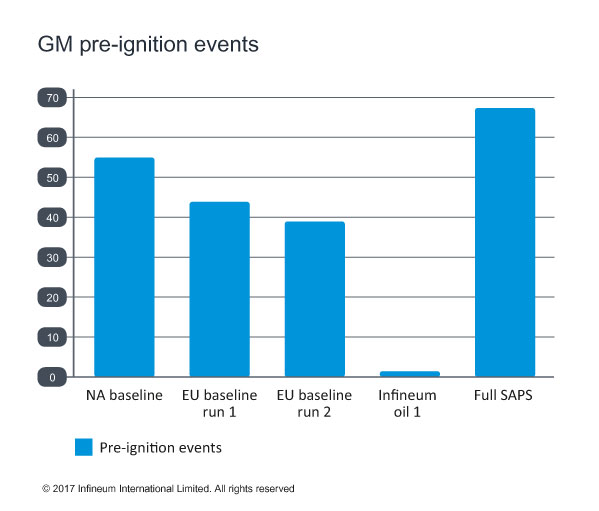 Infineum test oil 1 delivered very strong results in the General Motors' pre-ignition test
Infineum technology has demonstrated good performance in TGDI engines in real-world conditions – overcoming all the challenges presented by the technology.
As emissions limits and fuel economy targets continue to tighten in China the popularity of this engine technology is expected to continue to grow. This in turn means increased demand for field-proven engine oils, which have been specifically formulated to meet the requirements of TGDI engines.
---
View more articles in this category
---
---
Get technology news, opinions, specification updates and more, direct to your inbox.
Sign up to receive monthly updates via email