25 February 2020
Natural gas engine oil delivers more up time
Extensive field trials confirm lubricant performance in latest high efficiency engines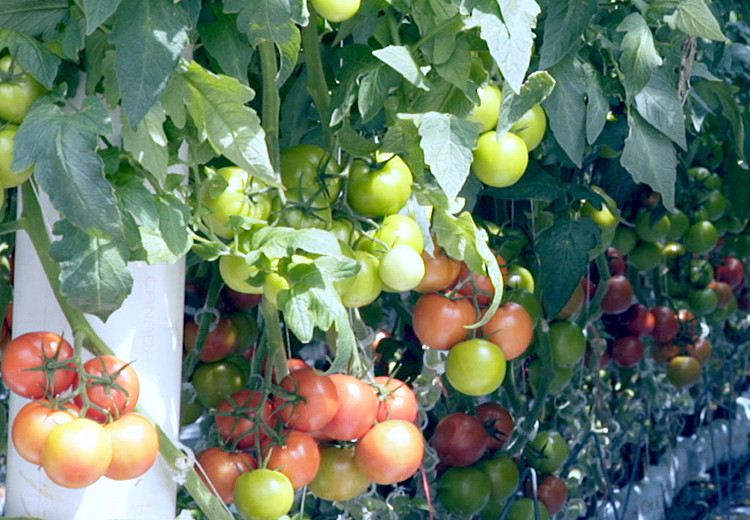 In the harsh conditions encountered in the latest generation of stationary engines, lubrication technology must work very hard to deliver sufficient protection and performance. Watch a video of the outcome of a recent field trial where, in a severe 24/7 combined heat and power application, Infineum technology delivered outstanding protection - keeping the engines reliably in service beyond scheduled service intervals.
Natural gas engine oil field trial
Gas engines are constantly evolving. Manufacturers are introducing new engines which are more powerful and more efficient than their predecessors. These new engines are helping customers maximise the return on their investment, but they are also creating more demanding requirements for lubricants.
Modern engines tend to operate at higher temperatures and higher pressures than older engine designs. These design changes, as well as associated changes in operating conditions, can produce new and unexpected stresses on the lubricant, which haven't previously been seen.
With current lubricants struggling to meet the demands of the latest engines, Infineum has been working to develop the next generation of gas engine oils, designed to excel in the latest hardware.
Testing these formulations in real world situations is critical to gaining a deep understanding of the underlying chemistry of the lubricant and its operating environment, which is why we've collaborated with Houweling's Tomatoes, a family owned, world-renowned greenhouse tomato grower.
At the Houewling's site in British Columbia, Canada, we've been field testing our lubricants in their Jenbacher 624H engines. This partnership helps us ensure our products undergo rigorous testing and provides Houweling's with multiple benefits.
Using a gas engine for CHP benefits us in many ways, as we use all the flue gases for CO2 in the greenhouse to fertilise the plants. As well as we take the heat off the water and use it to heat up the greenhouses. It keeps us power to the site, so we sell it back to the grid, as well as we use it to supply all our grow lights, so we have the advantage of keeping our plants 24 hours a day, 365 days a year.
The engine oil is basically the lifeblood of the engine. If you use an inferior oil product, you're going to deteriorate your engine much quicker. Just like a car, the better the oil product, the better mileage you get and the longer the life you get out of the engine.
So, for Houweling's this engine has to remain running 24/7 until it reaches GE Jenbacher's recommended maintenance intervals. You only want this engine to come down once every 2,000 hours. If it comes down in between that time, they're losing money, they're losing production.
Our testing has led us to conclude that the deposits found in modern gas engines are different to those found in older generations of engines and therefore require new formulation approaches to provide the required level of oil performance.
In this market, to keep utilisation rates up and running costs down, it is important for oil changes to coincide with the standard service maintenance interval. Oils must be capable of reliable operation beyond this period, so that they do not force the engine out of service for unscheduled maintenance.
We have that option to wait for the 2,000 hours service. When we were using other oils, before Infineum came in, we were having to shut down at 1,500 hours, 1,100 hours. Instead now we get to expand out to 2,000 – 2,400 hours and it's a big benefit to us.
The longer you can run the engine without having to shut it down and the change the oil, the better off you are, the more efficient it is, the easier it is on the engine. The engine doesn't like to be turned on and off, it is better if you can keep it running 24 hours a day, 7 days a week. So, the longer that we can run it through our intervals, the better off we are.
Designing lubricants that are effective in modern gas engines is challenging and requires expert knowledge of all the relevant components and chemistries. Our field testing enables us to formulate gas engine oils with new high-performance additives and high-quality base stock combinations, which ultimately deliver market-leading lubricants able to keep engines running more efficiently for longer.
End users of stationary natural gas engines in combined heat and power applications are demanding more power, more up time and more return on their investment. In response, engine manufacturers are introducing new efficient engine designs that operate at higher temperatures and pressures. However, while these engines might meet end user requirements, their harsh operating conditions mean they significantly increase the stress on the engine lubricant.
Using conventional natural gas engine oils (NGEO) in newer engine designs can result in increased corrosion of engine parts and premature lubricant thickening.
In addition, the build-up of insoluble deposits has the potential to cause ring sticking and abnormal combustion, which can lead to engine damage. Initial testing of conventional NGEOs in the latest high efficiency engines revealed oil life can be significantly reduced, with both base number and oxidation reaching condemning limits after as little as 800 hours.
Carefully formulated lubricants, with the right balance of additives and high quality base stock, can help to prevent or retard the process of NGEO degradation. This allows longer intervals between servicing and less downtime, which equates to lower costs and higher productivity for the operator.
For these high efficiency stationary natural gas engines, Infineum formulated a new NGEO using salicylate technology and Group II base stocks. The new SAE 40 oil has been designed with low sulphated ash and low phosphorus to be compatible with engines and aftertreatment systems from all major OEMs. The new formulation also has tetrapropenyl phenol (TPP) levels below the labelling threshold.
To ensure the performance of this new formulation it was vital to test it in real-world operating conditions in the latest available hardware.
The field trial
Infineum selected a Jenbacher J624H engine, equipped with steel pistons, with a power output of 4400 kWel for the field trial. Operating at 24 bar brake mean effective pressure (BMEP) this engine presented a severe lubricating environment and a challenge for lubricant formulators. The engine used was operating in combined heat and power service at a 20-hectare greenhouse facility, where the excess CO2 was being used for plant and seedling fertilization. It was essential for these engines to remain running 24/7 until the OEM's recommended standard service maintenance intervals of 2,000 hours was reached. The test site consisted of two identical engines, one used as the test engine for the new Infineum NGEO formulation and the other running a leading approved commercial oil as a reference to provide a performance comparison.
The results
Used oil samples were collected regularly, approximately once per week, throughout the duration of the 6,000 hour field test. The used oil samples were analysed in the laboratory to monitor the chemical and physical condition of the oil. Results were related back to limits prescribed by the OEM, to determine when it was necessary to replace the oil. According to these limits, the reference oil was condemned on base number (TBN) loss at 1,600 hours. The Infineum oil was eventually condemned on oxidation after 2,500 hours – delivering 900 hours more uptime than the reference oil.
The extended running hours gave the engine operator greater flexibility regarding oil change scheduling.
By coinciding oil drains with maintenance intervals, the engine was only brought down for scheduled maintenance rather than for unplanned oil changes.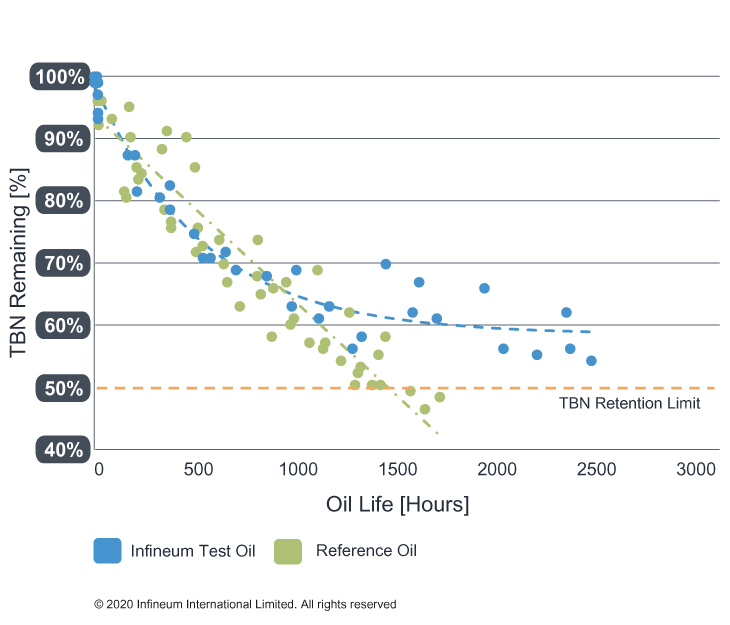 The reference oil condemned on TBN loss, the test oil retained base number throughout the oil life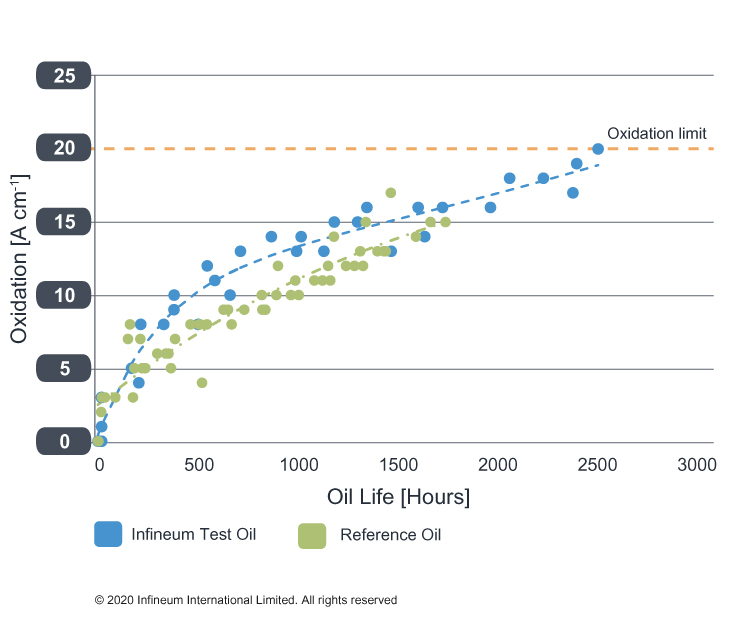 The Infineum test oil delivered 900 hours more uptime than the reference oil
Wear metals were also found to be under control throughout the duration of the field trials. On inspection at the end of the test, the engine and power units were in good condition. For the test oil, there were limited deposits and mild discoloration on the second land and the second groove and those below were clean. In comparison, for the reference oil, significant levels of deposits in the top groove led to ring sticking and deposit build up in the second groove and on the second land was also noted. Over and above the condition of the ring pack, the piston crowns and cylinder heads displayed no excessive deposits and the cylinder liners and bearings were in good condition, with limited signs of wear.

Images of the ring grooves at end of test, showing limited deposits for the Infineum test oil
The field trial demonstrates the ability of the new Infineum high performance NGEO to deliver exceptional cleanliness and long-lasting protection for the latest high efficiency natural gas engine technology. By enabling longer service intervals to be reached the oil not only helps to reduce operating costs, but also helps to improve productivity.
Following the field trial the new Infineum gas engine oil formulation was formally approved for use in Jenbacher Series 6, 4, 3 and 2 engines.
As engine designs evolve they will continue to present new challenges for lubricant formulators. To ensure that Infineum is prepared with additive solutions to meet these challenges its formulators continue to research and develop new chemistries and, in conjunction with field test engineers, these innovations are tested and validated in severe real world conditions. This ensures that new additive technologies and formulations are ready to meet the demands of this evolving market.
---
View more articles in this category
---
---
Get technology news, opinions, specification updates and more, direct to your inbox.
Sign up to receive monthly updates via email