15 May 2023
Multi-vehicle driveline fluids
A smart way to meet the service fill requirements of multiple OEM specifications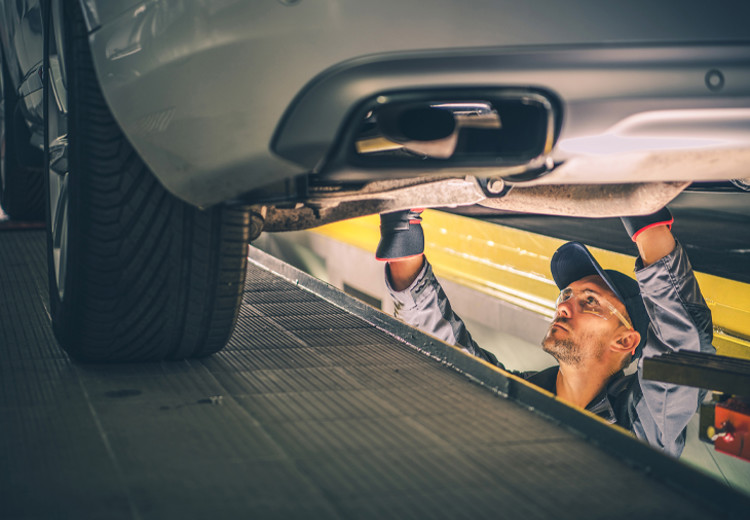 OEMs in North America are increasingly fitting stepped automatic transmissions with eight or more speeds into their light-duty vehicles as they look for fuel economy improvements. However, the wide variety of different types of transmissions in the light-duty parc means the number of fluids required to meet the full range of service fill requirements is expanding. Morgan Romasko, Infineum North America Driveline Operational Marketing Manager, explains how multi-vehicle driveline fluids, formulated to meet a wide range of OEM specifications, can bring a number of benefits to this increasingly complex market.
The North American light-duty vehicle parc is continuing to grow – reaching an all-time high of more than 280 million in 2022. And, as OEMs look for technology to help improve fuel economy, the number of different types of transmission in use is also continuing to grow. Over time, as fuel economy mandates have been tightened, the market has transitioned away from the once popular four, five and six speed automatic transmissions and is now dominated by those with eight or more forward speeds. The average age of light-duty vehicles in operation in this region is reported to have risen to more than 12 years. This means there are a huge number of vehicles in the market with vastly different service fill transmission fluid requirements. 
An interesting  trend we are seeing in this region is the increase in the number of installations from OEMs outside of North America, in particular from Japan and Europe. In addition, transmission hardware is now even more complex and compact than in the past.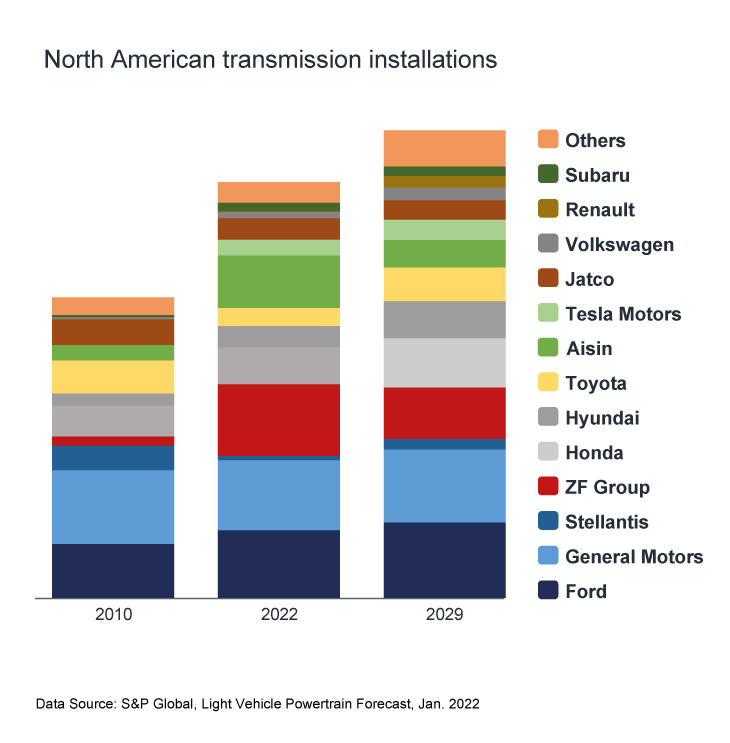 This diversification means that along with the JASO 1-A 13 and 1-A 13-LV, that combine critical elements of several OEM specifications into one, there are a growing number of OEM fluid specifications designed to ensure the continued protection of their specific transmissions.
North American service fill market
Changes in the vehicle parc mean the demand for service fill fluids in North America is continuing to evolve. 
Over the years we have seen, and continue to expect, a steady decline in the use of GM DEXRON® III, Ford MERCON®/MERCON®V and Chrysler ATF+4® automatic transmission fluids (ATF). These tended to be higher viscosity fluids that covered older vehicles, most of which are now out of warranty.
On the growth side, we expect to see more demand for both DEXRON®VI and MERCON®LV low viscosity fluids.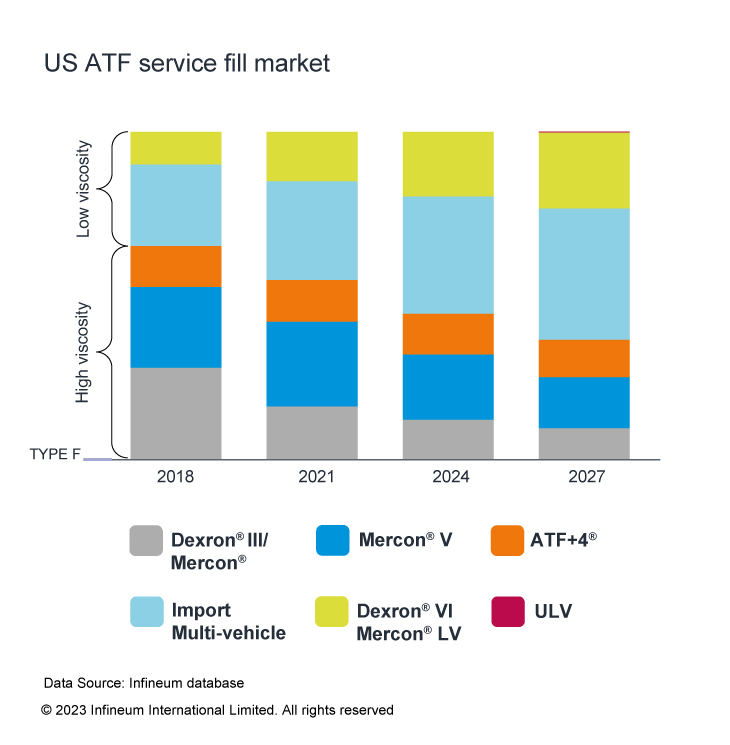 The growing numbers of import vehicles with different OEM ATF specifications make a multi-vehicle solution attractive, especially for vehicles out of warranty. This is especially the case for quick lube and service shop operations that need to service a wide range of vehicles without carrying stock of multiple fluids. And, not surprisingly, we can see exciting opportunity and growth in this multi-vehicle transmission fluid market segment.
The benefits of multi-vehicle fluids
Currently more than 100 ATF types are available in the North American market. This proliferation means a single multi-vehicle fluid can offer significant advantages to users looking for versatility, performance and convenience for light-duty applications. It is understandable that there is some scepticism around  the use of multi-vehicle ATF since it is not licensed. However, our products have been proven in the market, successfully delivering a fine balance of friction and oxidation control on the road in consumers' vehicles for more than 10 years.
Infineum multi-vehicle ATF cover 99% of all the latest and legacy light-duty planetary gear transmissions on the roads today.
Multi-vehicle fluid technology is designed to cover the needs of the ageing and diversifying North American car parc. In terms of its advantages, it delivers the balanced frictional performance and hardware protection for the latest domestic and import transmissions, provides exceptional performance in older designs and acts as the perfect complement to OEM licensed ATFs.
Multi-vehicle ATF is formulated with advanced additives that help protect against wear, oxidation, and deposit formation. It can also provide smooth shifting and consistent performance across a range of temperatures. This can extend the life of the transmission as consumers keep their vehicles for longer and longer.
The single additive package can be used to blend in high and low viscosity formulations without sacrificing hardware protection and delivers performance attributes including:
Friction control: finely tuned to enable balanced torque transfer and smooth shifting
Friction durability: maintain anti-shudder durability enabling smooth acceleration over time
Oxidation stability: increase oil life and reduce sludge
Shear stability in high and low viscosity environments
Infineum has run a comprehensive test programme, including field, dynamometer and rig tests, in a range of different transmissions to assess multi-vehicle fluid advantages in some of the key performance areas and to prove all the various ATF applications.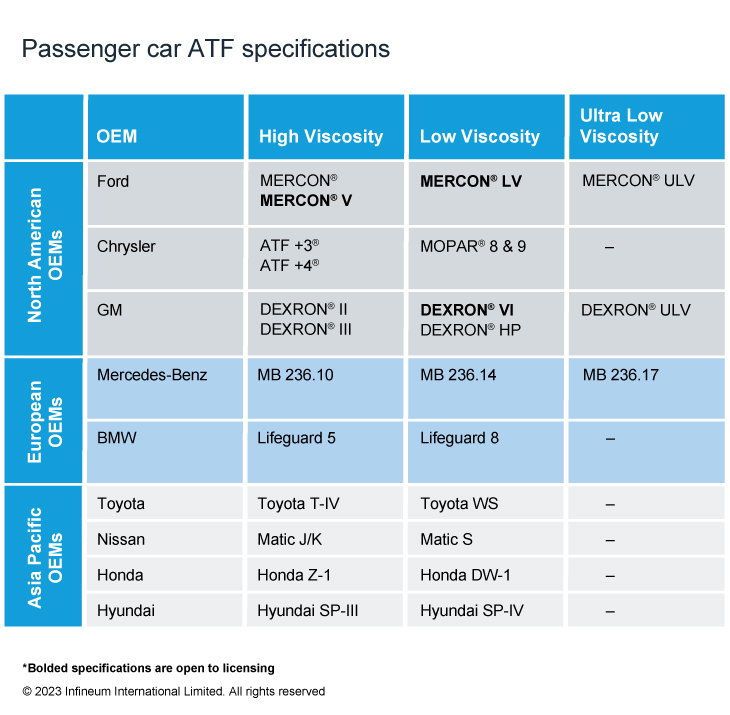 Opportunities for growth
Formulation flexibility is of growing importance, particularly as base stock supply remains tight and prices volatile.  Here Infineum products can be formulated in many Group III base stock options, or Group II & III base stock systems with up to 50% Group II. In addition, as consumers look for more sustainable product options, this formulation flexibility has enabled us to start to integrate both re-refined and bio-based base stocks into our driveline portfolio. Also, having a dynamic single fluid that satisfies a range of vehicle needs can contribute towards sustainability goals via the simplified logistics, storage, and handling required to get the right fluid to the right service areas.
Clearly, low viscosity multi-vehicle ATFs can offer significant advantages to users looking for a single fluid to cover a range of light-duty applications. They not only deliver the balanced frictional performance and hardware protection for the latest domestic and import transmissions and provide additional protection to older transmissions but also give blenders the flexibility they need to meet the requirements of all their target markets.
Infineum multi-vehicle fluid technology performance is proven in millions of transmissions currently on the road.
Proven multi-vehicle ATFs provide fluid marketers with a strong customer value propositions including reduced stock holding, increased flexibility and less potential for misapplication and offer an exciting opportunity for future growth in North America and potentially beyond.
---
View more articles in this category
---
Get technology news, opinions, specification updates and more, direct to your inbox.
Sign up to receive monthly updates via email