25 September 2018
Meeting China's heavy-duty challenges
Latest lubricant technology delivers hardware protection over extended oil drain intervals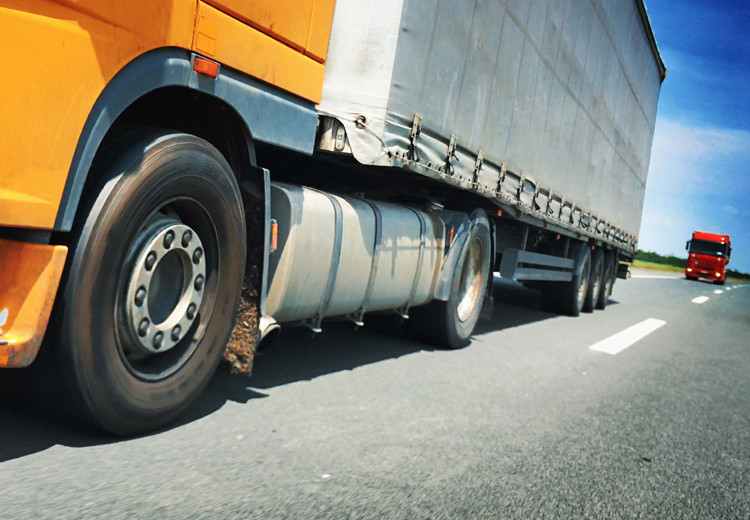 As commercial vehicle OEMs introduce new hardware to meet China's tightening emissions and fuel economy requirements and as fleet managers demand reliable vehicle operation over longer service intervals, Insight reports on the performance of the latest long drain lubricants in extensive field trials.
Commercial vehicle manufacturers serving the Chinese market are working hard to ensure their vehicles are ready to meet upcoming emissions regulations. While, the current China V emissions regulations were typically met with fairly minor hardware modifications – China VI is a different story. Phasing in from July 2020, we can expect to see some dramatic changes to ensure emissions compliance.
At the same time, in such a highly competitive space, OEMs are also introducing advanced technology into their vehicles to improve fuel efficiency, reliability, operating performance, safety, and driving comfort to attract new sales. However, the complex Chinese market dynamics present additional challenges. Under the economic new normal in China, commercial fleet managers are not only looking for compliance and reliability, but also for every opportunity to make cost savings.
Extending oil drain - a fine balance
Extending oil drain intervals is one route to reducing the total operating costs for commercial vehicle fleet managers, but there are real trade offs that must be considered. Yes, longer drains can help to keep trucks on the road for longer, which increases their earning potential and reduces servicing costs. But, stretching the intervals too far introduces risk – firstly of shortening the operating life of the engine and secondly of incurring the cost of early, unscheduled engine overhauls or even vehicle replacement.
Advanced lubricants that can deliver efficiency gains and longer drain capabilities are increasingly becoming a part of the vehicle product offering.
But again, it's a fine balance, because it is also essential that engine protection, engine cleanliness, low temperature performance and fuel economy are not compromised. These demands impose a high requirement on lubricant robustness and reliability, which must again be balanced with cost optimisation.
Another layer of complexity in the Chinese market comes from the operating environment. Different fuel types, inconsistent fuel quality, extremes of temperature and complex road conditions are some of the many variables that must also be considered. Infineum has been working to understand the complex nature of HDD oil degradation in China, and to find solutions to these challenges.
The road to higher performance
China uses European ACEA oil sequences and API licensing standards to define engine oil quality. These industry specifications provide a set of performance requirements that define oils that will run in today's vehicles without causing problems. They deliver good quality lubricants that OEMs, oil formulators, oil marketers and end users can use confidently. While these industry standards are not mandatory in China, they provide a good example of how to address the local challenges and many lubricant companies and OEMs are interested in adopting them.
However, where additional challenges have been identified, some OEMs have introduced additional requirements or tighter limits for specific parameters via their own in-house specifications – for example, Scania's Long Drain Field Trial (LDF). Oils carrying the LDF-2 or LDF-3 approval are considered to be extremely robust and able to provide extended drain performance.
In our opinion, reaching the Scania LDF-2 or LDF-3 quality level is a good match for the stringent performance levels stipulated by Chinese OEMs for the Chinese market.
China's challenges
One of the biggest challenges facing HDD lubricant marketers looking at China is the wide variety in the quality of available diesel fuels. In the big cities, for example, fuels with low sulphur are available, but in other areas China III fuels and so-called 'common diesel' are still being sold. This means commercial vehicles could be filled with fuels containing anywhere between 10 and 1,000 ppm sulphur.
The ability to deliver high and robust total base number (BN) for superior acid control is one of the key requirements when developing an effective long drain lubricant.
However, designing a technology to meet or surpass the performance level demanded by the Scania LDF3- field trial requires careful assessment of the full formulation approach. Many other factors must also be assessed to ensure extended oil drain engine oils continue to provide sufficient hardware protection:
Selecting the best detergent system to control deposits in turbochargers and pistons.
Maintaining excellent viscosity control – a critical parameter related to both oil degradation and engine condition – which requires a highly stable viscosity modifier.
Delivering superior oxidation to minimise corrosion, which can be achieved with salicylate technology.
Infineum has developed HDD technology to meet the requirements of the Chinese market for both China IV and V engines using a careful combination of advanced chemistries. In bench and rig testing, the resulting oils have demonstrated excellent performance against all these requirements. Following the success of the initial tests, Infineum has been putting the technology through extended-drain field trials to assess the ability of long drain formulations to offer sufficient protection to today's vehicles under real Chinese driving conditions.
Extensive field trials confirm performance
One field trial has been underway since early 2017, in four China IV, 11 litre diesel vehicles running from the north to the south of the country, using a bespoke SAE 10W-40 grade oil.
Oil samples have been taken every 10,000 km and the test is scheduled to continue to run over two approximately 180,000 km oil drain intervals (ODI). Although the test is still on-going, results are in for the two trucks that have already reached their first ODI.
One truck, which at the start of the test had over 400,000 km on the odometer, completed 213,000 test km before the oil service was undertaken. At this point it was decided to suspend further testing so that the engine could be dismantled and assessed. On inspection, engine wear was found to be within normal limits and the levels of carbon deposit and sludge were also normal. The second truck ended its first oil drain period at 156,000 km and has now joined the others back on the road.
After more than 200,000 km the pistons were clean and the bearings showed excellent wear performance
In both vehicles, the Infineum technology exhibited strong performance at these extended drain intervals, with minimal viscosity increase and excellent protection against both mechanical and corrosive wear. In addition the oil delivered excellent BN retention – a significant parameter for determining the extent of oil degradation.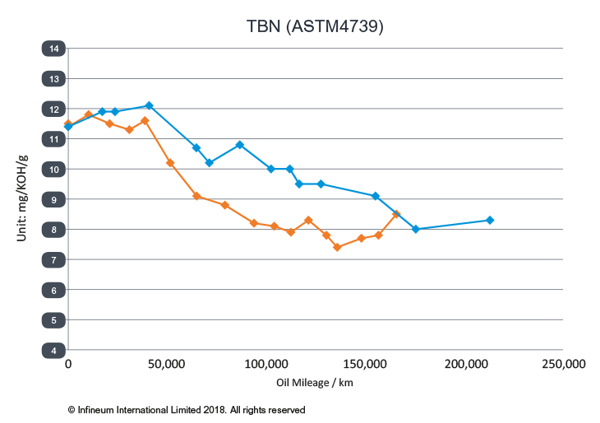 The Infineum technology exhibited strong performance at extended drain intervals, with excellent base number retention
Preparing for China VI
In a second field trial, which has been running for almost a year, 11 China V, 11 litre diesel vehicles have been running on long-haul journeys to Guang zhou, Cheng Du, Xin Jiang and Chang Chun.
China VI capable lubricant technology is being tested. However, since China VI engine and vehicle platforms are not yet available for testing, the trial is using current vehicle technology to ensure backward-compatibility and to assess performance in higher sulphur fuels.

Four different low sulphated ash, phosphorus and sulphur (SAPS) SAE 15W-40 and 10W-40 test oils have been formulated to API CJ-4, CK-4 and ACEA E6-12. The test is being run over three ODI with sampling taking place every 10,000 km.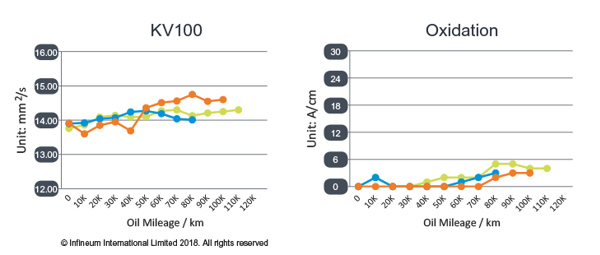 At extended drain intervals the test oils demonstrated good viscosity retention performance and oxidation control (examples shown ACEA E6/ API CK-4 oil)
Although the trials are still underway, interim results show that the oils have demonstrated good viscosity and BN retention performance. In addition, oxidation levels are low and well controlled, indicating the test oils are able to maintain performance at these longer drain intervals.
Meeting future requirements
The Chinese commercial vehicle lubricant market is becoming increasingly complex, with further changes to emissions and fuel economy requirements on the horizon. The upcoming move to China VI, which is equivalent to, or in some aspects even more stringent than, the Euro VI emissions standard, will be phased in for HDD vehicles from 2020.
Reports suggest that the new China VI standard could mean diesel particulate filters (DPF) will be fitted on all new HDD vehicles introduced to the market after July 2021.
Achieving the dramatic reduction in particulate matter and NOx emissions required for HDD vehicles to comply with China VI is expected to impose a tremendous challenge for technology providers. Infineum will continue to develop long drain technology that also delivers engine protection, engine cleanliness, low temperature performance and fuel economy to these next generation engines.
The potential to supply lubricants for Chinese HDD applications represents an attractive proposition for lubricant marketers. Infineum technology enables the development of robust long drain lubricants that will continue to deliver the required level of protection in the complex conditions encountered in this exciting growth market.
Get technology news, opinions, specification updates and more, direct to your inbox.
Sign up to receive monthly updates via email