09 August 2022
Light-duty lubricant viscosity trends lower
High performing lower viscosity engine oils support North American OEMs' drive for net-zero emissions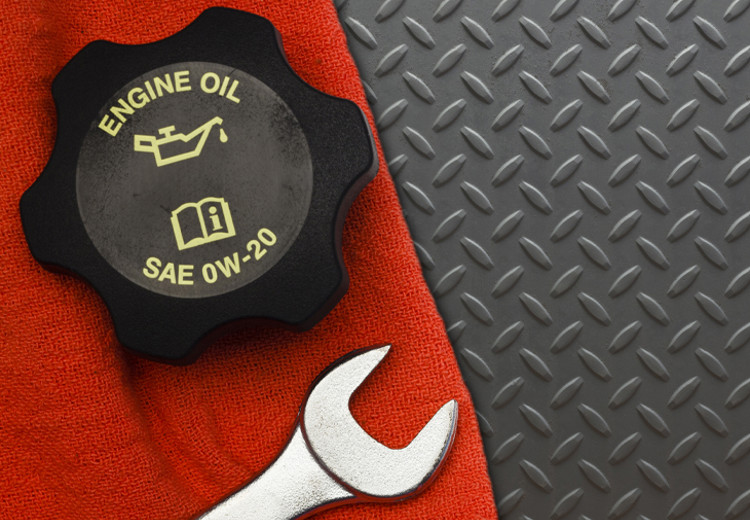 The number of OEMs committing to net zero emissions is growing the world over. This trend, combined with the need to meet tightening mandated emissions limits and lower fuel economy targets, means industry is looking at the whole vehicle system for improvements. Fabien Thauvin, Infineum North American Crankcase Operational Marketing Manager, explores how the use of lower viscosity grade engine oils, formulated to deliver exceptional performance and hardware protection, is set to grow in support of these challenging industry drivers and OEM requirements.
In North America, first half (1H) 2022 light-duty sales were down 17.9% at 6.86 million vs. the same period in 2021 according to estimates from forecasters Marklines. This slow sales trend looks set to continue into 2022 as supply shortages persist. It's an interesting market to watch. The top five US automakers (in terms of sales volumes), General Motors (GM), Toyota, Ford, Stellantis and Honda, all posted lower sales numbers than in the same period last year. Tesla, on the other hand, as its electric vehicles gain some traction, recorded growth and now holds almost 4% of North American sales. Given the apparent desire to reduce emissions and improve fuel economy, it continues to be surprising that sales of bigger, less fuel efficient models are still strong with SUVs and pickup trucks accounting for over 78% of 1H sales.
Many of the key players in the automotive market have already stated their carbon neutrality and emissions reduction commitments and are making significant investments to meet these goals.
GM for example says it plans to be carbon neutral by 2040 in its global products and operations and aspires to eliminate tailpipe emissions from new light-duty vehicles by 2035. Last January, the automaker announced it will invest more than seven billion US dollars in four manufacturing sites in the US state of Michigan, where the company is headquartered. Ford says it is working to reach carbon neutrality globally no later than 2050, which is backed by science-based interim targets it plans to meet by 2035. Ford Motor Co is setting up a new 'Model E' division that focuses solely on electric vehicles and says it will boost spending on electric vehicles to 50 billion US dollars through 2026. Stellantis, which includes the US automaker Chrysler, says it is ready to achieve carbon net-zero by 2038 from well to wheel and throughout the entire supply chain, and has set a path to cut its carbon emissions in half by 2030, compared to 2021 levels.
Specification updates
As they work to meet these goals we can expect not only an increase in the number of full battery electric and hybrid vehicles in OEMs' portfolios but also changes to conventional powertrains in order to improve efficiency and reduce tailpipe emissions. OEMs are looking to achieve this through a wide range of initiatives for example, vehicle mass reduction, combustion cycle efficiency, higher compression ratio engines, variable compression ratios and turbocharger geometry, cylinder deactivation, as well the use of new coatings and materials.
OEM activities will require advanced lubricants and drive the evolution of new lubricant specifications to ensure the protection of the engine and advanced aftertreatment systems, particularly as oils trend to lower viscosities and drain intervals extend.
Since May 1 2020, marketers have been licensing engine oils meeting the ILSAC GF-6A, GF-6B and API SP standards. As a reminder, ILSAC GF-6A covers SAE XW-20 and XW-30 viscosity grades with >2.6mPa.s HTHS and is back serviceable. ILSAC GF-6B is a fuel economy grade supporting SAE 0W-16 with 2.3-2.6 HTHS and is not back serviceable.
As illustrated in the table below, oil marketers have rapidly adopted ILSAC GF-6A and API SP since the rollover started, but the number of ILSAC GF-6B licenses remains limited.
| | | | |
| --- | --- | --- | --- |
| Specification | API SP | ILSAC GF-6A | ILSAC GF-6B |
| Brand licenses | 7,003 | 4,617 | 270 |
At the API Lubricants Group Standards meeting in Seattle in late June 2022, API announced its intention to add SAE 0W-8 and 0W-12 viscosity grades to API SP and also requested the inclusion of these viscosity grades in ILSAC GF-6B. 
In other specification updates, in mid-2021 OEMs, via ILSAC, formally requested that the API Lubricants Group develop a supplement to the API SP passenger car engine oil specification, to include a requirement for low-speed pre-ignition (LSPI) protection in aged oil. Ford sponsored an ASTM Task Force who developed an aging test procedure using the Sequence X engine and evaluated the LSPI protection of these oils in the Sequence IX test. The Precision Matrix, funded with significant contributions from API, ASTM, the four additive companies and test labs, started in February 2022 and is moving towards completion. The Aged-oil Sequence IX limit is expected to be at 5 events maximum, as it is for fresh oil.
Despite OEMs' focus on supply issues, the ILSAC chair recently spoke on "Emergent Specifications for Passenger Car Engine Oils" sharing some directions on ILSAC GF-7 definition and a tentative Implementation Timing for 2Q-2028. Early indications suggest the ILSAC standard may focus on fuel economy, wear, improved stochastic pre-ignition and turbo protection.
Rollout of dexos1TM Gen 3
GM's global dexos1TM Gen 3 specification rollout continues, with mandatory use by September 1 2022. The new engine oil specification includes a revised stochastic pre-ignition test, a new GM Oil Efficiency Evaluation (GMOEE) test with tighter limits than those set for dexos1TM Gen 2, along with tighter limits for oxidation, turbo coking, API Sequence VH (sludge and varnish) and Sequence VIII (corrosion) tests and lower sulphated ash limits. These changes are designed to support extended oil drain interval and fuel economy improvements. Looking ahead, further activity is expected in the dexos® engine oil specifications:
August 31 2023. End of sell down period for dexos1TM Gen 2, only remaining bottles on the shelf produced on or before

September 1 2022.

2024. Conversion of all dexos2TM oils to dexosDTM (SAE 0W-20/5W-30) for diesel vehicles
2027. Targeted timing for dexos1TM Gen 4. Improvements to fuel economy, stochastic pre-ignition, emissions, wear, oxidation, deposits, and aeration performance with more current hardware designs plus lower sulphated ash for aftertreatment system protection can all be expected.
As of the end of June, 168 brand licenses had been reported on the GM website for dexos1TM Gen 3, compared to the 1228 brands licensed under dexos1TM Gen 2. We can expect a rapid growth in the use of SAE 0W-20 viscosity grade oils for GM vehicles.
North American viscosity grade trends
The trend to lower viscosity grades is taking place across the automotive industry in North America in support of OEMs' fuel economy and sustainability targets.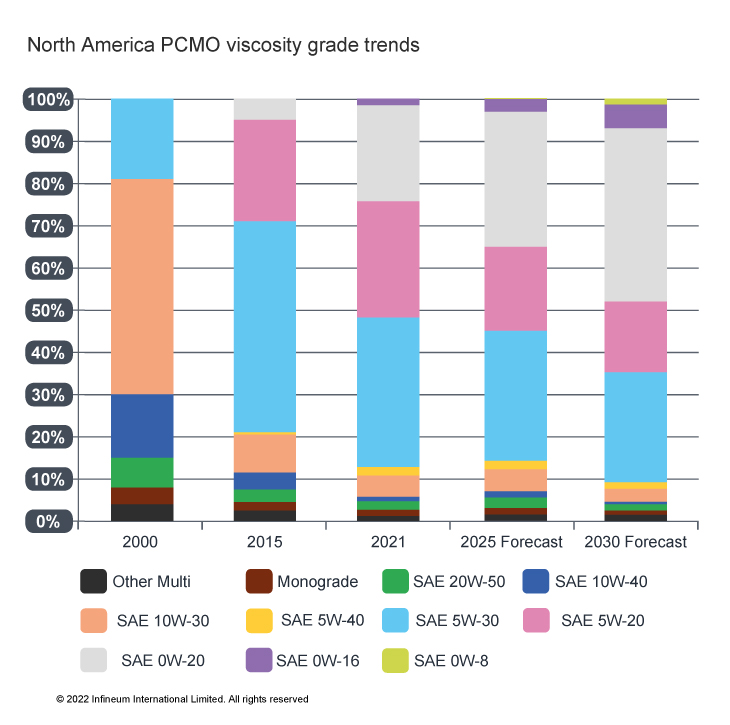 Today, at around 35% market share, SAE 5W-30 remains the dominant grade, although interest in lower viscosity grades is increasing. SAE 0W-20 currently represents about 25% of the market and it is projected to grow above 40% by 2030. In 2021, we saw a slight drop in the market share of SAE 0W-20 finished oils compared to 2020, as Group III base oil supply tightness and higher synthetic oils prices temporarily paused the drive to these ultra-low viscosity grades.
SAE 0W-20 is expected to become the most popular grade in North America by 2030
Although SAE 0W-16 remains a niche grade, its broader adoption is expected to accelerate as Japanese OEMs push towards low viscosity oils. Ultra-low viscosity, SAE 0W-8, oils are expected to enter the market at the end of this decade.
In the future, as lubricants move to lower and lower viscosities, synthetic fluids can be expected to dominate the market and the demand for high quality (Group III/III+) base oils will continue to rise at the expense of Group II.
No compromise on performance
In the quest for fuel economy it is essential that the introduction of lower viscosity grades does not compromise engine durability or emissions system performance.
In our view, it is vital to formulate low viscosity lubricants with high quality base stocks and advanced additive systems to ensure they retain the required level of performance and protection over ever-extending drain intervals.
At the same time, these new lubricants, designed to deliver enhanced fuel economy via reduced friction, must also support the introduction of new hardware systems that may present even more challenging operating conditions. Infineum has been investing in projects designed to support these market trends and is ready to meet the most extreme low viscosity needs.
---
View more articles in this category
---
Get technology news, opinions, specification updates and more, direct to your inbox.
Sign up to receive monthly updates via email