01 November 2022
High hopes for hydrogen
Hydrogen combustion engines provide fast track route to cleaner future for heavy-duty trucks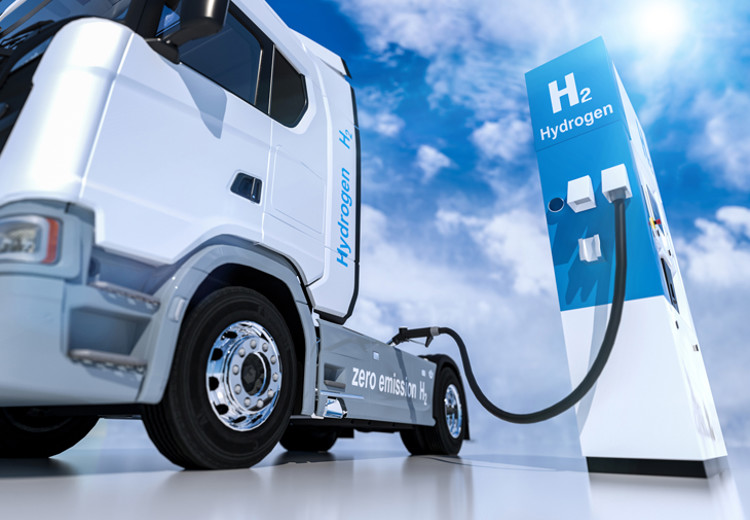 The reduction of greenhouse gases from transportation is essential to meet tougher control measures being introduced across the globe.  While in smaller vehicles, powertrain electrification is expected to be the main route to tailpipe carbon emissions reduction, Tom Featherstone, Infineum Team Leader, explores how hydrogen-powered internal combustion engines are proving to be a good fit for heavy-duty vehicles, where charging time and load carrying are important requirements.
To contribute towards global greenhouse gas (GHG) reduction commitments, the transportation sector is introducing a variety of emission reduction strategies. In all vehicle segments we have seen net-zero carbon announcements from the leading OEMs and many interim targets on the road to this goal. In the lighter vehicle markets, such as passenger cars and motorcycles, powertrain electrification is the key strategy, and a growing number of hybrid and full electric models are already on offer. However, the requirements of heavy-duty long-haul vehicles are very different. Here battery electrification is challenging due to large battery mass and volume, leading to reduced payload capacity, higher vehicle purchase costs and reduced utilisation due to long charging times. OEMs are looking at a number of options including the use of alternative fuels. 
While biofuels are a step in the right direction, the market must find appropriate zero carbon fuel sources to meet its long-term objectives. 
To date, hydrogen has predominantly been used in fuel cells. But now, it is seeing widespread adoption as a green energy carrier, which can be used to balance energy demand on power grids and be rapidly deployed in durability-proven internal combustion engines to enable OEMs to meet future carbon reduction targets.
In the heavy-duty sector, the hydrogen internal combustion engine (H2ICE) option has a number of advantages over powertrain electrification via fuel cells: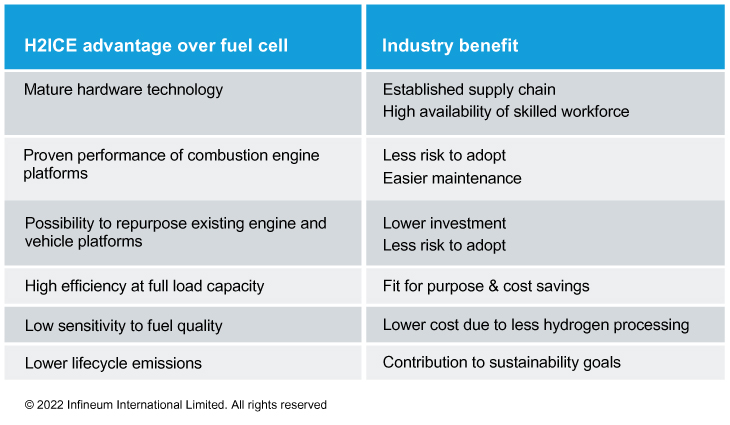 Infrastructure investment needed
The key barrier to its wider adoption that remains is the lack of an extensive hydrogen infrastructure. By the end of 2020 the International Energy Agency (IEA) reported that there were 540 hydrogen refuelling stations (HRS) worldwide, although not all were open to the public. Half of these were in Asia, 35% in Europe and most of the rest in the US. However, IEA says that more effort is needed to scale up production of hydrogen, to reduce costs and to replace high-carbon hydrogen produced from coal and oil with low-carbon hydrogen by coupling conventional technologies with CCUS (carbon capture use and storage) and by generating hydrogen through water electrolysis.
Currently there is a broad spectrum of hydrogen types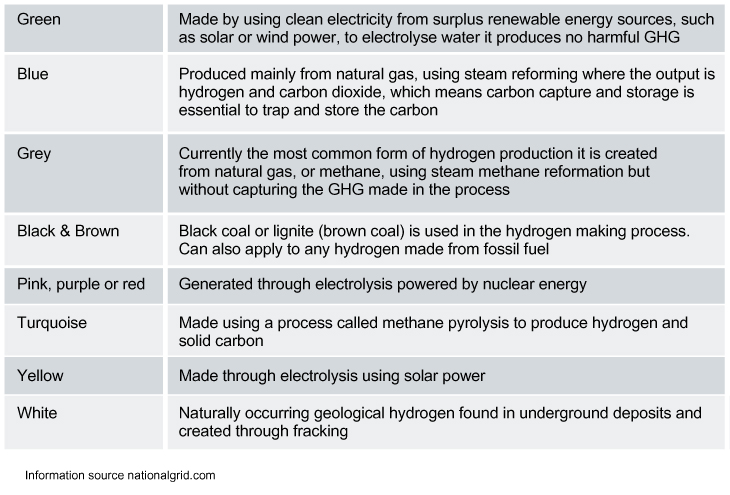 Activity is already underway to rectify the production and infrastructure shortcomings and investment is strong. The US, for example, has opened up US $7 billion in funding to create clean hydrogen hubs across the country. These are seen as a central driver in furthering the Biden Administration's goal of a net-zero carbon economy by 2050. Currently most of the 107 HRS are in California and the US government has a goal of 200 hydrogen stations in the state by 2025, with 1,000 envisioned by 2030. 14 HRS are planned for the North-eastern states and, as the market expands, HRS will be matched with vehicle rollout as both grow together.
In Europe, €5.2 billion of public funding has been pledged, which is expected to unlock additional €7 billion in private investments, to support research and innovation, first industrial deployment and construction of relevant infrastructure in the hydrogen value chain. The EU Hydrogen Roadmap Ambitious Scenario expects 15,000 HRS could be in Europe by 2040.
In China, the government has released a long-term plan for hydrogen for 2021–2035, which has a phased approach for developing a domestic hydrogen industry and manufacturing capabilities. Plans from China's New Energy Vehicle Industry Development Plan project HRS capacity to grow from 85 units in 2020 to 2,000 units by 2035.
Adding up the global commitments, 23,000 hydrogen filling stations could be in use globally by 2040 to support the growing number of fuel cell and hydrogen internal combustion engine vehicles expected on the roads.
Hydrogen ICE and lubrication challenges
Hydrogen ICE technology is applicable to a number of transport segments including cars, trucks, motorcycles, ships and rail, with many OEMs at various stages of research, proof of concept and product commercialisation. In the on road heavy-duty segment, several OEMs including Daf, Cummins, Scania with Westport, MAN and Chinese OEMs Weichai, Yuchai and FAW have all announced investments in H2ICE. This means that as the technology is gradually commercialised, we can expect to see these vehicles on our roads in the next few years.
Although H2ICE is based on the well-understood internal combustion engine, a number of lubrication challenges can be expected to arise.
Pre ignition
Since hydrogen has a very low ignition energy (0.017 vs 0.24 mJ for gasoline), it can be ignited by hot spots in the combustion zone. These can include, for example, hot surfaces on engine parts, lubricant derived deposits and the lubricant ejected from piston rings. 
OEMs will need to consider a wide range of design strategies to minimise the risk of hotspots including fuel mixing management and piston and spark plug design. At the same time, for the lubricant formulator, it will be important to understand the ways in which lubricant composition can influence both pre-ignition and combustion zone deposits. In our view, achieving the right balance of metals, viscosity and deposit control will be essential to ensure the potential for pre-ignition events is minimised.
Water
The biproduct of hydrogen combustion is water. In duty cycles where engine temperatures are suppressed, water can accumulate in the oil, which can have a number of impacts.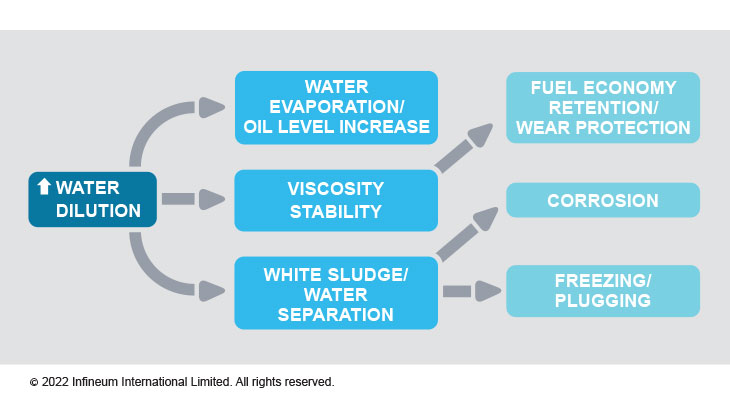 It is important in the development phase to identify the duty cycles and applications that might be at risk of water accumulation. This will allow water handling chemistry, that has already been developed for passenger car hybrid systems, to be tested in H2ICE applications. In our view, it will be important for formulators to focus on maintaining viscosity control at high water levels and to assess how corrosion inhibitor and emulsifier chemistries can be used effectively.
Aftertreatment
Although reduced aftertreatment is required in H2ICE relative to fossil-fuelled vehicles, NOx management is still needed. In addition, the lubricant becomes the only source of hydrocarbon (HC) and CO2 emissions. With that in mind, it will be important to monitor legislation to understand the allowance for lubricant emissions and to assess how the reduced aftertreatment requirements can enable lubricant formulation chemistries to be modified. Finding ways to control lubricant viscosity and minimise lubricant related HC and CO2 emissions will become a focus of attention. 
Fuel economy
The reduced energy density of hydrogen compared to conventional fossil fuels will increase the vehicle space needed for fuel storage. Although hydrogen has the potential to be a zero carbon fuel, fuel economy is expected to become important for OEMs wishing to extend vehicle range without increasing the fuel storage.
Future directions
The Hydrogen Council is a global CEO-led initiative with a long-term ambition for hydrogen to foster the clean energy transition. It suggests heavy-duty trucks are expected to be the largest consumer of hydrogen long-term due to their high mileage and power characteristics, requiring 110 MT of hydrogen in 2050 to abate 13 GT of CO2. Clearly there are still a number of engineering, infrastructure and lubricant formulation challenges to address as the technology comes to market. However, hydrogen ICEs have the potential to provide a lower-cost, zero carbon solution for high-load, high use, long-haul applications, where battery-electric solutions do not meet operational requirements and fuel cell technology may not yet be economically viable. As vehicles with new H2ICE engines come to market an opportunity for lubricants matched to their specific needs could arise.
Get technology news, opinions, specification updates and more, direct to your inbox.
Sign up to receive monthly updates via email