07 December 2021
Fleet owners' lubricant priorities
Infineum survey reveals heavy-duty vehicle owners put a high value on brand performance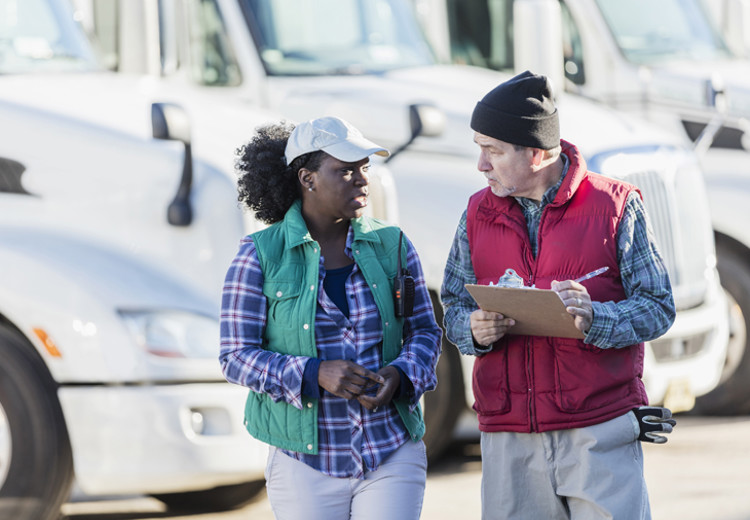 While US Class 8 truck sales were hit by the COVID-19 pandemic, sales are rebounding and the future looks promising. For lubricant suppliers to capitalise on the opportunities this changing market presents they need a clear understanding of what buyers most value. Fabien Thauvin, Infineum North American Crankcase Market Manager, gives some insights into the findings of a survey that explores the criteria driving the selection of heavy-duty engine oils by fleet operators.
In 2020, amidst the global pandemic, US Class 8 sales fell by more than 30%. But, recovery is already underway. In the first nine months of 2021, according to Wards Auto, sales improved by >20% over the same period the previous year, reaching more than 163,000 units. It looks likely that demand in 2022 will be robust due to sturdy freight growth - and fleets will have a need for new trucks. But, OEMs are still likely to be feeling the effects of supply chain issues and parts shortages that continue to limit production and delay the delivery of new trucks.
Regardless of the uncertainty over future sales volumes, the outlook for lubricant demand looks relatively flat in the coming years. In a low growth market, suppliers are looking for ways to add value and strengthen customer relationships.
Understanding the factors driving lubricant purchasing decisions, the most valued lubricant attributes and added value services that really matter to fleet operators is becoming increasingly important.
While our survey can't predict the future of this volatile market, it can spotlight the purchasing behaviours that drive the selection of heavy- duty engine oil (HDEO) in fleet operations.
Trust in the brand
While our survey respondents said that cost of ownership ranked high in HDEO selection criteria, trusting the brand was undoubtedly the most important factor and here the key attributes in brand choice include:
Minimal risk
Performance and quality
Correct and appropriate credentials (e.g. OEM approvals)
Company stands behind the product
Fair pricing
Supply logistics
Product support
End users strongly favour 'known' brands of HDEO as opposed to unfamiliar brands. The potential risks associated with using an unknown brand strongly outweigh any cost savings that may be realised. Known brands can be categorised into three sub-segments – the leaders - major internationally recognised brands, second tier majors, with national recognition and a third tier which includes independent and private label HDEOs that are either national recognised or have a strong regional presence. While product performance remains an important point of HDEO differentiation, there is perceived to be little difference between the brand leaders, with an assumption of assured product performance.
Preventing equipment damage and minimising downtime are highly important factors for fleet operators – which is why minimising risk ranks high in the selection criteria list.
With each asset costing close to $200,000 to replace, fleet operators said they were unlikely to take chances on experimenting with an unfamiliar lower cost brand.
The value of service
With performance taken care of, total cost of ownership (including price but also considering fuel savings and lower maintenance costs) and value-added services were cited as the two key decision criteria. In these areas significant points of differentiation are seen, with the majors losing out on price to the other tiers, but wining on value added services.
What we are starting to see here is a real shift in the importance of value added service, especially for medium to large fleets.
In the past, industry focus in this area has primarily been on oil analysis, equipment and tank monitoring. However, advances in technology and logistics combined with better availability of consultative services and fleet management tools are areas of value that offer quantifiable step out points of differentiation.
Distributors have a large role to play in this market, with significant control over the messages they decide to convey. And here the focus is on promoting value added services, logistics, and technology advantages. Mid-sized fleet operators would consider switching brands based on distributor recommendation, but this is predicated on the level of trust they have with regards to the distributor and the brand recommended.
Size matters
Since the survey interviewed fleet operators from very large and medium operations, it was possible to assess the different behaviours of each.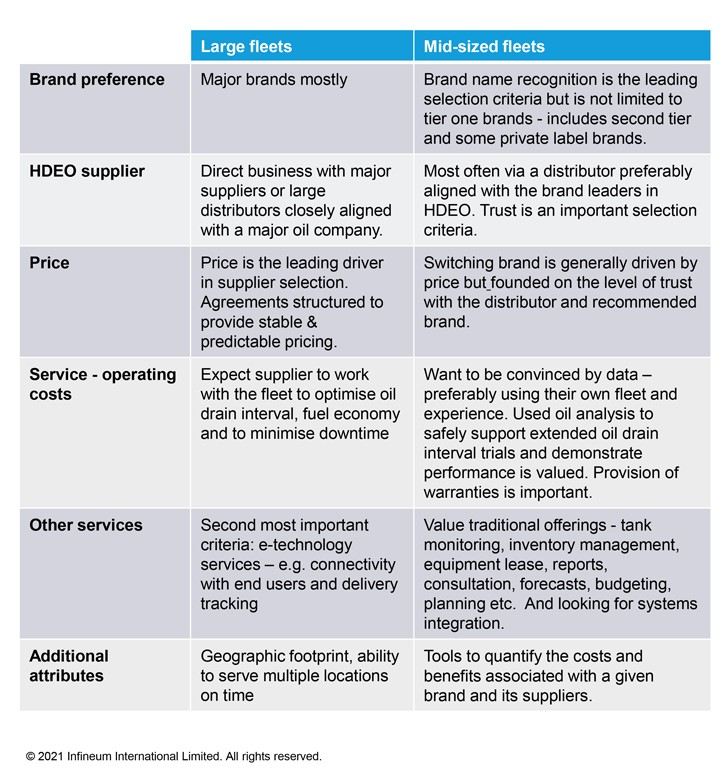 Viscosity grade penetration
Questions concerning future SAE viscosity grade trends are some of the most common lubricant-related questions we receive. This is hardly surprising, since these trends are critical in helping to shape supply planning decisions. It might seem to be a straightforward activity, but in reality because a range of factors need to be considered these predictions are very complex.
What we learned from our survey is that, according to the fleet operators interviewed, viscosity grade penetration is in line with our view of the market.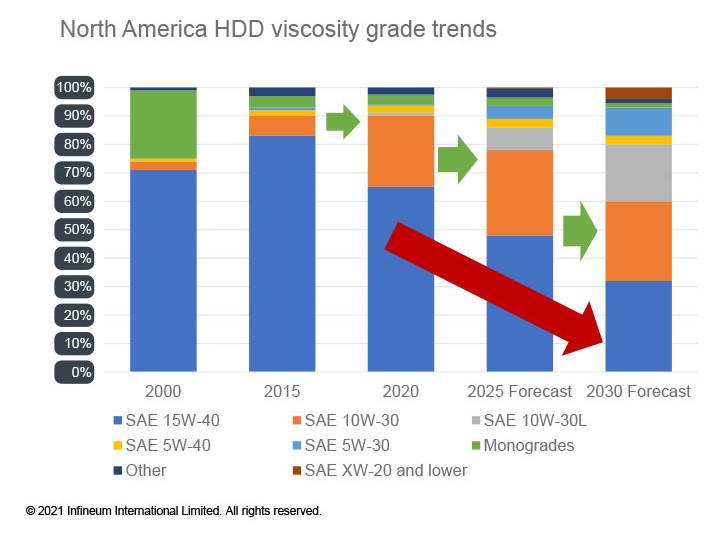 The survey confirmed our own view of viscosity grade trends in this market
API CK-4 SAE 10W-30 oil penetration is growing, especially in larger fleets, a trend we can expect to continue since the notable fuel consumption benefits, and hence operating cost reduction of switching from SAE 15W-40 to 10W-30 are well recognised. However, all of the mid-sized fleets we spoke to still reported using SAE 15W-40 HDEO meeting API CK-4. In our view, demonstrating the cost saving benefits that these operations could realise by switching to SAE10W-30 would be worthwhile.
Currently the demand for low-viscosity API FA-4 is very soft, with less than 1% market share, although demand is expected to build over time. SAE 5W-XX grades should see some growth, although this high value segment will not become mainline in the near future. The key barrier to the adoption of API FA-4 oils is that, unlike API CK-4, they are not backward compatible. This means vehicles that require API CJ-4 or CI-4, can be protected with API CK-4 but not API FA-4 - presenting logistical challenges to mixed fleets with vehicles where API FA-4 is not approved.
Most MY 2017 trucks or newer should be compatible with API FA-4 products. And, as sales of new vehicles pick up, it will not be long until a large proportion of the vehicle parc is able to use these oils.
The high value fleet owners place on durability means proof of performance of API FA-4 oils in the field will be critical to convince them to take advantage of the fuel economy benefits these oils can deliver.
As the Class 8 truck market recovers into 2022 and the population of API FA-4 compatible trucks grows, Infineum will continue to support its customers by demonstrating the value of lower viscosity lubricants in reducing total cost of ownership for fleet operators.
Fleet owners expect lubricants to protect and extend the life of their most valuable assets and put their trust in brand reputation. However, with the right proof of performance, marketers can convince fleet owners to take advantage of the lubricants ability to deliver durability at low viscosity while also lowering total operating costs.
Get technology news, opinions, specification updates and more, direct to your inbox.
Sign up to receive monthly updates via email