07 December 2020
DCTF meets hybrid challenge
New hybrid dual clutch transmission fluid technology excels in tests and field trials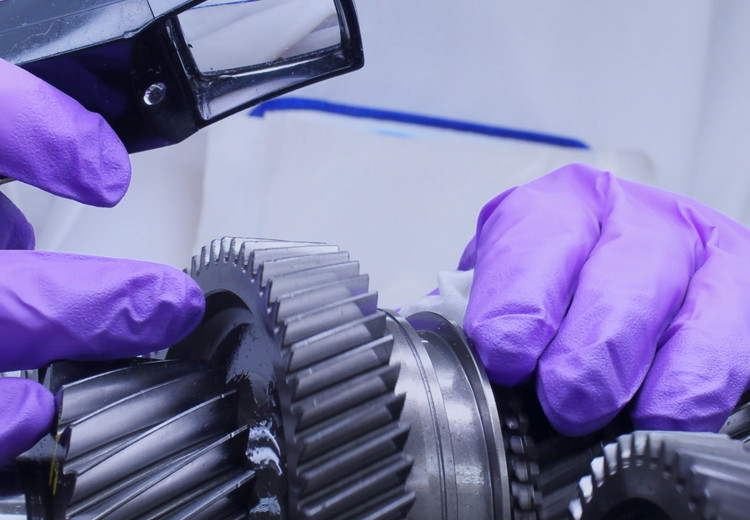 At a global level, dual clutch transmission installations are forecast to grow at a faster rate than conventional automatic, continuously variable and electrically variable systems. The use of wet DCT transmissions in hybrid vehicles is a growing trend and one that presents significant lubrication challenges. Watch the video and read on to find out more about the extensive testing Infineum has undertaken to ensure its technology meets the specific needs of hybrid applications.
Infineum has recently formulated a new wet dual clutch transmission fluid additive to meet the latest OEM requirements, including suitability for hybrid vehicles. It provides extensive market coverage, critical as Dual Clutch Transmission market share grows globally, and notably in China. This additive package achieves differentiated performance by improving reliability, anti-shudder ability, and boosting fuel efficiency.
In order to validate the new technology, field trials have been conducted in China and Germany since mid-2019. The field trials include 10 vehicles equipped with 4 typical wet DCT models from major European and Chinese OEMs, including hybrid and oil cooling versions.  Low viscosity and ultra-low viscosity fluids using this technology were tested on the road. We also ran the vehicles with their original low-viscosity fluids as a reference. Using a combination of road conditions, including inner-city and highway, we tested the performance in real and challenging conditions. The field trials were 100,000km long per vehicle without oil change, and the oils were sampled and analyzed along the field trials.
At the end of the field trials, the transmissions were removed and sent to Southwest Research Institute in US and ISP in Germany for dismantling and rating. From the used oil analysis and transmission inspection and rating in SWRI and ISP, our new technology demonstrates superior protection, excellent cleanliness, and minimum deterioration or wear.
Infineum's new hybrid DCTF additive is a state-of-the-art product developed from a careful balance of premium proprietary additive components. Its cutting-edge performance exceeds market requirements today and is future proofed for the challenges of tomorrow. It is truly an example of Performance you can rely on.
In the coming years, growth is forecast in the global transmissions market, although the split between the various transmissions designs is expected to change significantly. As OEMs continue to look for efficiency gains, we can expect conventional manual and stepped automatics to lose ground, while dual clutch transmissions (DCT), dedicated hybrid transmissions and reduction gearboxes will all grow.
In six years' time, DCT could account for almost 20% of the market, with more than 90% of installations being in China and Europe.
DCT can be split into wet and dry systems and of the two, the former, which is more likely to be used in higher torque applications, is expected to grow much more rapidly. There are two designs of wet clutch DCTs; the most common has a single sump to lubricate both the gears and the clutch, while other designs have separate sumps for each. Adding complexity, wet-DCT transmissions are increasingly being used in full hybrid vehicles, with the average yearly growth rate to 2027 for full hybrid wet-DCT expected to be some 40% globally. In these systems the lubricant, in addition to providing conventional protection and performance, must also cool the motor, deliver electrical properties and offer advanced materials compatibility – making it the most challenging environment for a DCT fluid.
Today, conventional transmission fluids are commonly used in full hybrid vehicles. But, as designs become increasingly demanding, tailored e-fluids are being developed to prevent issues such as arcing and corrosion. However, these new fluids must also deliver sufficient transmission performance and protection at even lower viscosities, which means new considerations must be applied to component selection for these applications.
New hybrid-specific DCT formulations must be carefully designed to deliver a broad range of attributes including:
Superior friction and anti-shudder durability
High static friction to enable high torque capacity
Gear protection and oxidation performance
Compatibility with Hybrid DCT and one-sump DCT
With these attributes in mind, Infineum developed a new technology specifically designed to address the lubrication challenges presented by both current and future DCT systems.
Laboratory Testing
The number one performance issue reported by the drivers of cars equipped with DCT transmissions is clutch shudder, which makes its control a high priority for fluid developers. Developing a fluid that can maintain a positive friction gradient is essential to ensure shudder-free operation. In Infineum laboratory tests, the new fluid maintained a positive friction gradient, with no signs of decline of dμ/dv after 20,000 cycles, demonstrating its anti-shudder capabilities. In addition, the new DCT fluid passed the BorgWarner® HELT test over 20,000 cycles, which is twice the duration that this test is typically run.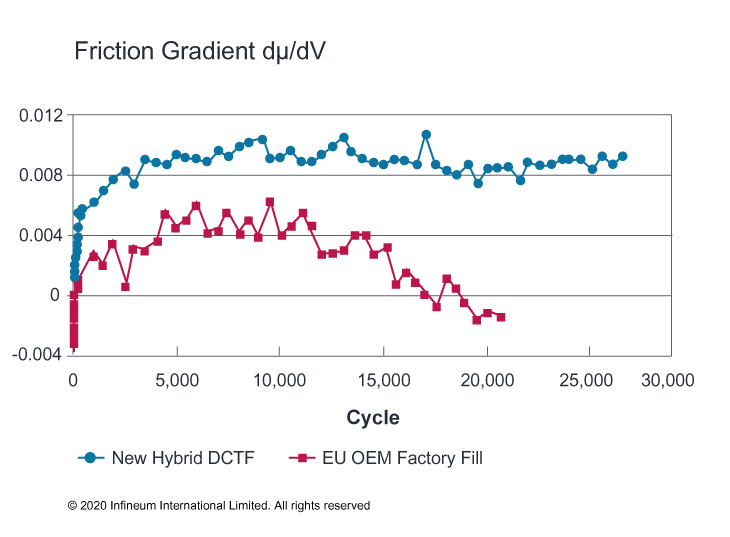 The new DCT fluid maintained a positive friction gradient, longer than the reference fluids, in the Infineum in-house GK rig high-energy launch screener test for anti-shudder durability
To assess the gear and bearing protection offered by the fluid a number of durability tests were conducted including gear pitting and scuffing, along with bearing wear and pitting control. In addition, to ensure the fluid is compatible with Hybrid DCT its electrical properties and copper compatibility were also assessed using volume resistivity and extended copper corrosion (ASTM D130) tests.
In all of these tests the hybrid DCT fluid technology delivered excellent performance. Following these positive laboratory results, the performance of the fluid was further confirmed via tough field trials in China and Germany.
100,000 km field trials
The field trial, which ran for 100,000 km without oil change, included 10 vehicles equipped with four typical wet-DCT models from major European and Chinese OEMs, including hybrid and oil cooling versions.  Low viscosity and ultra-low viscosity fluids using the new technology were tested and the vehicles' original low-viscosity fluids were also run as a reference. The trial included a combination of road conditions, including inner city and highway motoring in order to test the performance of the new fluid in real and challenging conditions.
Oil monitoring throughout the trail showed that not only was kinematic viscosity retained but also there was no degradation in gear and bearing durability. In addition, in the hybrid vehicles, the new technology demonstrated good motor compatibility and only a mild volume resistivity drop after the field trial.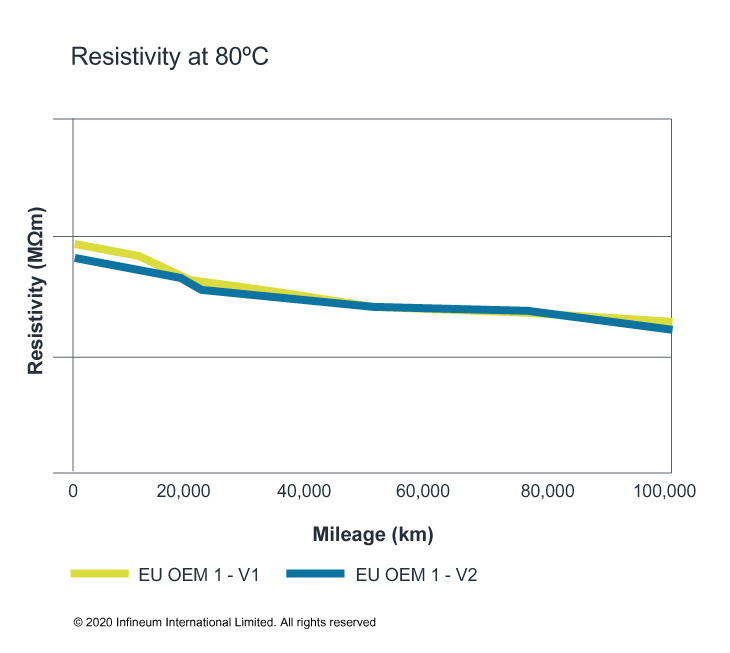 The hybrid DCTF technology showed only a mild volume resistivity drop after the field trial
At the end of the field trial the systems were dismantled and the parts were rated by SwRI in the US and ISP in Germany. This inspection confirmed that the hybrid DCT fluid technology provided good hardware protection to the gears, bearings, synchronizer, fork pads and also delivered excellent cleanliness. In addition, the results reported for the test fluid in these criteria was very similar to that observed for the factory fill reference fluids.
Conclusion
In the coming years the use of DCT transmissions is set to grow, particularly in Europe and China. In these markets, as OEMs work to electrify their powertrains, it is likely that DCT transmissions will be used in full hybrid vehicles, which is a very challenging combination for the transmission fluid.
The development of fluids designed for use in current and next generation DCT transmissions requires a very careful balance of advanced additive components.
The new technology developed by Infineum not only offers differentiated performance by improving reliability and anti-shudder durability but also good electrical properties, heat transfer and materials compatibility. By demonstrating excellent performance and protection in these extensive field trials for both one-sump DCT and full hybrid DCT designs the single technology has proved its ability to cover the full series of DCT applications.
---
View more articles in this category
---
---
Get technology news, opinions, specification updates and more, direct to your inbox.
Sign up to receive monthly updates via email