10 August 2016
CVT system design
Advanced fluids are a key part of continuously variable transmissions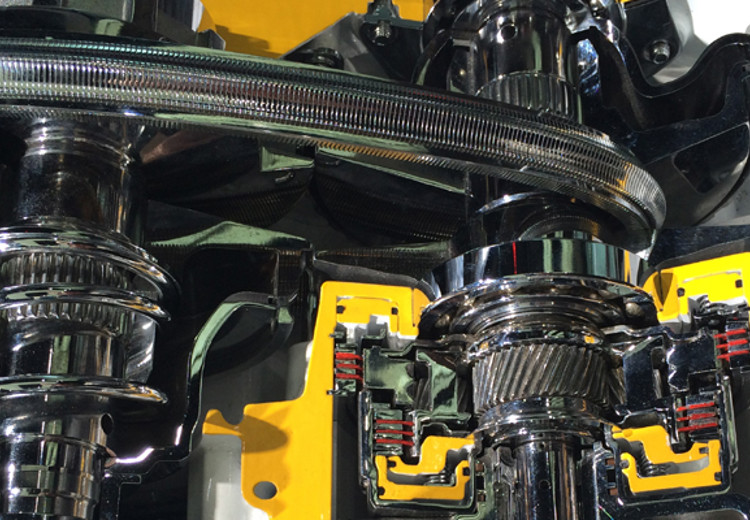 The fuel economy advantage delivered by continuously variable transmission systems is driving more OEMs to offer the technology in their vehicles. Insight assesses the advantages of the latest hardware and looks at how CVT fluids are being designed as part of the total system to ensure the required level of performance is achieved.
As CO2 emissions regulations tighten the world over, OEMs continue to look for every opportunity to improve the efficiency of their vehicles. The transmission system is a key target, and in conventional stepped automatics we have seen the trend for lightweighting and an increase in the number of gear steps. OEMs have also introduced new hardware including dual clutch transmissions (DCT) and continuously variable transmissions (CVT). So far, the uptake of these different transmission types has varied from region to region. Amongst other factors, their popularity is typically a reflection of the driving preferences in each region.
CVTs offer a number of benefits. They continuously and seamlessly select the optimum ratio for the engine as driving conditions change, without the fixed ratio constraint of step-gear transmissions. This variable ratio flexibility, within the minimum and maximum limits of a CVT design, allows the engine to operate at peak efficiency with uninterrupted torque transfer to the drive wheels.
It is the ability to optimise engine operation that provides CVTs with an advantage in overall vehicle fuel efficiency over other transmission designs.
CVTs will continue to be popular in Japan and Korea, and we expect to see strong growth in China and in North America, where technical advancements enable their use in larger vehicles.
CVT deployment
Automatic transmissions are being deployed at an increasing rate worldwide, even in regions that had been bastions of manual transmissions. However, even though there have been advances in conventional planetary gear transmissions, we expect their use to plateau. In our view, much of the future growth will come from the deployment of unconventional CVT and DCT designs.
While OEMs including VW, Audi and Hyundai are leading the deployment of DCT systems, CVTs are currently seeing wider use across a broad range of OEMs including Nissan, Honda, Subaru, and Toyota. These OEMs are likely to deploy CVTs across all regions. However, China and South Asia are forecast to lead the growth since the lower torque engines used in these regions present fertile ground for CVT technology. We could expect to see more than a 10% CAGR as these regions shift away from manual transmissions towards this advanced technology.
CVT and OEM activity
Dedicated transmission manufacturer, Jatco, is expected to remain the largest global CVT manufacturer and has announced that its global production volume of CVTs reached 30 million units at the end of March 2016. The company has introduced the CVT8 for medium and large vehicles up to 3.5 litres, which it says combines better environmental performance and a stronger, sportier drive. The transmission is reported to improve fuel economy by up to 10% compared with a conventional Jatco CVT. The company has also launched the 'one-motor two-clutch' CVT8 Hybrid, for medium and large FWD vehicles. Jatco says it offers a significant friction reduction and wider ratio coverage, using a built-in motor and a clutch for engaging or disconnecting the engine within the torque converter housing.
Honda has recently expanded CVT applications in North America, and future growth is expected to be primarily in China and South Asia. The OEM offers CVT options on its compact and mid-size vehicles and says CVTs can increase fuel economy by 5%.
Toyota has recently introduced CVTs in North America. Its '7-speed' CVTi-S is designed to feel more like a conventional automatic in operation, with discrete stepped shift points programmed into the car's acceleration and deceleration curves. The CVTi-S mimics the familiar characteristics of geared automatics by creating a sense of positive shift engagement. Toyota expects most future growth to come from the North American and Chinese markets.
Reports suggest that the focus of Subaru/Fuji Heavy will remain in North America. Their Lineartronic chain CVT has replaced ATs in more than 90% of their vehicles – including those in hybrid electric vehicles (HEV). The system, which the comapny says allows the engine to operate at lower speeds for longer than conventional automatic transmission systems, reportedly delivers better fuel economy plus a smoother ride and a quieter engine.
Lastly, Hyundai is expanding its use of CVTs beyond its home market into China. The Kappa CVT was developed by Hyundai and has been optimised to provide efficiency via an ultra-flat torque converter specifically for its Kappa engine. The company has also developed an eco-friendly hybrid electric vehicle CVT.
As we look out six years, we expect quite a difference in the adoption of CVTs by OEMs.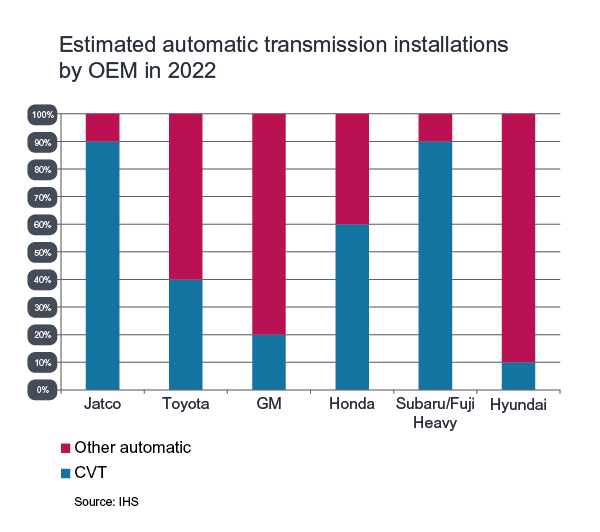 CVTs rely on the fluid
More than any other transmission, a CVT relies on the performance of the fluid for its successful operation.
As new CVT designs come onto the drawing board, with unique lubrication requirements, the transmission fluid has become an integral part of the design.
To understand why a conventional automatic transmission fluid (ATF) is not suitable for use in a CVT, it is important to understand how the CVT functions. The heart of a CVT consists of a variator with two pulleys, each built up of two conical, adjustable sheaves, around which a steel push belt or chain is looped. The torque is transmitted by the steel-on-steel frictional force generated between the pulley and the belt or chain. With high steel-on-steel friction, it is also essential to minimise wear between these elements. CVT fluids (CVTF) deliver high steel-on-steel friction to allow CVTs to be used in the highest torque applications.
A conventional ATF delivers low steel-on-steel friction, which can lead to belt slippage, wear and severe damage to the pulley and the belt or chain.
Shear stability is even more important for CVTF than for conventional ATF because of the high pressure pumps that are used in CVT applications. In addition to these specific requirements, CVTF must also offer advanced wear protection – particularly to control fatigue and sliding wear.
However, the requirements don't stop there, CVTF must also provide extended anti-shudder durability to enable aggressively slipping clutch operation, used by some designs for fuel efficiency, without reducing steel-on-steel friction. They must also deliver good oxidation stability, air release capability and paper-on-steel friction.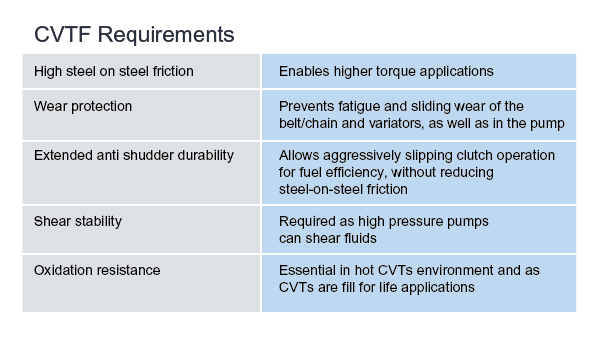 Getting the right balance between all of these critical characteristics is a rewarding challenge for fluid formulators. In our view, advances in CVT hardware technology provide fertile ground to develop ultra-advanced fluids. This means formulation expertise will be increasingly important so that technology can be customised for optimum hardware performance in both belt and chain CVT applications.
---
View more articles in this category
---
---
Get technology news, opinions, specification updates and more, direct to your inbox.
Sign up to receive monthly updates via email