28 June 2022
Commercial vehicle drivers
Lubricants keep pace with changing hardware, emissions regulations and fuel economy requirements
Tightening emissions regulations in Europe and North America and the need to improve fuel economy are driving OEMs to introduce alternative powertrain technologies and to make changes to conventional engine and aftertreatment technologies. As OEMs and regulators look for fuel efficiency gains and engine oils trend to lower viscosities, Insight looks at some of the hardware trends and assesses how new lubricant specifications can help to ensure hardware protection.
Heavy-duty commercial vehicle sales were not as hard hit by the pandemic as other transport sectors. However, factors such as high prices and semiconductor shortages are now starting to impact growth. In Europe ACEA reported that in 2021 new heavy-duty truck registrations, although still 12% below 2019 pre-pandemic levels, had surged by >21%, reaching over 240,300 units, with all 27 markets across the European Union posting growth. Analysts had suggested that although supply side delays following disruptions and shortages could slow the upward trend, order books indicated that the recovery would last into 2022. However, four months into 2022, ACEA reports sales are down by more than 10% on the same period in the previous year.
In North America, Class 8 sales reached almost 365,000 in 2021 - backed by robust freight and vocational demand due to the strength of a growing economy. Sales had been expected to continue to grow in 2022 however, initial indications show sales January to April y-o-y are down 56%. While fleet demand for new vehicles remains strong, production has been hampered by semiconductor and other component availability along with OEM and supplier labour shortages. In addition, record high diesel fuel prices are impacting fleet operating costs and cash flow, hindering the ability of fleet owners, and especially owner operators, to invest in new vehicles.
Emissions regulations drive change
Emissions regulations are continuing to tighten, with measures being taken to cut CO2 and other pollutants from heavy-duty vehicles.
In Europe, heavy-duty vehicles manufacturers need to meet targets for the fleet-wide average CO2 emissions of new lorries registered in a given calendar year. The targets, expressed as a percentage reduction of emissions compared to EU average in the reference period (1 July 2019 - 30 June 2020), are 15% reduction from 2025 and 30% reduction from 2030 – although this latter limit will be reassessed in 2022. As a first step, the CO2 emission standards will cover large lorries, which account for 65% to 70% of all CO2 emissions from heavy-duty vehicles and regulators suggest this can be achieved using technologies that are already available in the market.
In addition, Euro VI, which has been in place since 2013, tightened existing emissions limits, extended the durability provisions, and introduced several important new elements including new duty cycles and particle number (PN) emission limits. Many other regions in the world are adopting Euro VI equivalent emissions, which is driving the introduction of new technologies and aftertreatment systems. 
Euro VII is now being debated and here the aim is to reduce air pollutant emissions from road transport and set harmonised rules for vehicles to improve air quality, with an emphasis on urban areas. In addition, the revisions aim to reduce complexity and compliance costs, provide appropriate and up-to-date limits for all air pollutant emissions and ensure that new vehicles keep emissions under control throughout their entire lifetime and in all conditions of use. However, it is unlikely that a formal proposal will come into force much before 2025. 
Click here to read our interview with ACEA on Euro VII.
In March 2022, the US Environmental Protection Agency (EPA) took the first step on its 'Clean Trucks Plan' - a series of clean air and climate regulations that the EPA says it will develop over the next three years to reduce pollution from trucks and buses starting in model year (MY) 2027 and to advance the transition to a zero-emissions transportation future. The proposal would reduce NOx emissions from the truck vehicle park by as much as 60% by 2045. In addition, further action on NOx reduction comes from the California Air Resources Board (CARB) that has set new ultra-low NOx limits to cut emissions by 75% and 90% from the current standard of 0.2 g/bhp-hr in 2024 and 2027 respectively.
The need to cut emissions is driving interest in alternative energy sources such as natural gas, battery electric, hydrogen and ammonia for commercial trucks.
While we see vehicle electrification accelerating in the medium-duty sector and last mile delivery trucks, there are a number of hurdles to overcome before full electrification sees broad adoption in long-haul trucks. We think one to watch here is the use of hydrogen in conventional internal combustion engines (H2ICE). This readily available technology is very promising for the propulsion of long-haul heavy-duty trucks, not only in terms of zero emissions, but also in the long intervals between refuelling stops.
However, diesel is expected to remain the dominant fuel for trucks for many years since there are still a number of barriers, including vehicle purchase price and lack of recharging/refueling infrastructure that means the roll over to these new fuel technologies will take some time.
The focus on clean air and cutting greenhouse gas emissions is driving innovation not only in the powertrain, but also to the entire vehicle
Reducing PM and NOx emissions from heavy-duty engines means improving combustion characteristics inside the engine and introducing systems to cut exhaust out emissions. In the near-term a number of new configurations of aftertreatment systems are being investigated. These include the use of passive NOx absorbers, selective catalytic reduction on filter (SCRF), dual diesel exhaust fluid (DEF) dosing to handle multiple SCR systems and close coupled placement to the engine of the second SCR. Looking ahead, these much more complex aftertreatment systems will be needed to meet reduced NOx standards and the protection of the close coupled SCR will become an important focus area. In our view it will be important to balance the protection of these systems with other important lubrication requirements.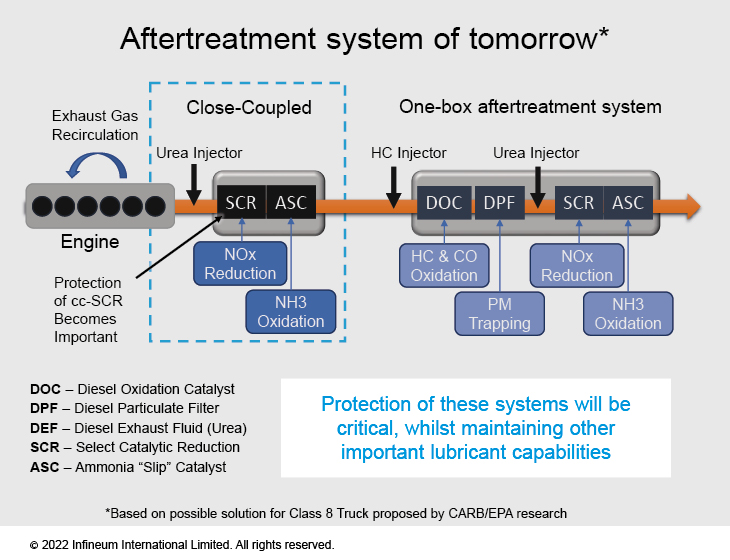 Modern heavy-duty diesel engines are an example of remarkable engineering. But to maintain power and performance expectations, while also meeting these near-zero emissions targets, further innovation is required. 
OEMs are continuing to invest in improving the efficiency of conventional internal combustion engines.
Three of the technologies that we are monitoring closely are:
Turbo compounding, a form of waste heat recovery, which converts energy from exhaust gas to mechanical energy and delivers it back to the crankshaft as torque.
Opposed piston engines, which promise greater fuel efficiency and lower emissions because of the smaller displacement but high power-to-weight ratios and two-stroke operation.
Cylinder deactivation, where a combination of cylinders are systematically disabled, which effectively reduces the engine's displacement and thus improves overall engine efficiency. By deactivating cylinders at low loads, the remaining active cylinders work harder making the aftertreatment system hotter quicker, which reduces emissions.
There is a long list of options that can be employed and OEMs are searching for the best combination of technologies to meet legislative requirements, deliver the longest uptime and offer the lowest total cost of ownership.
Viscosity grade trends
Clearly a lever for efficiency gains is the use of lighter viscosity lubricants in heavy-duty applications and here we can see the regional trends that are emerging.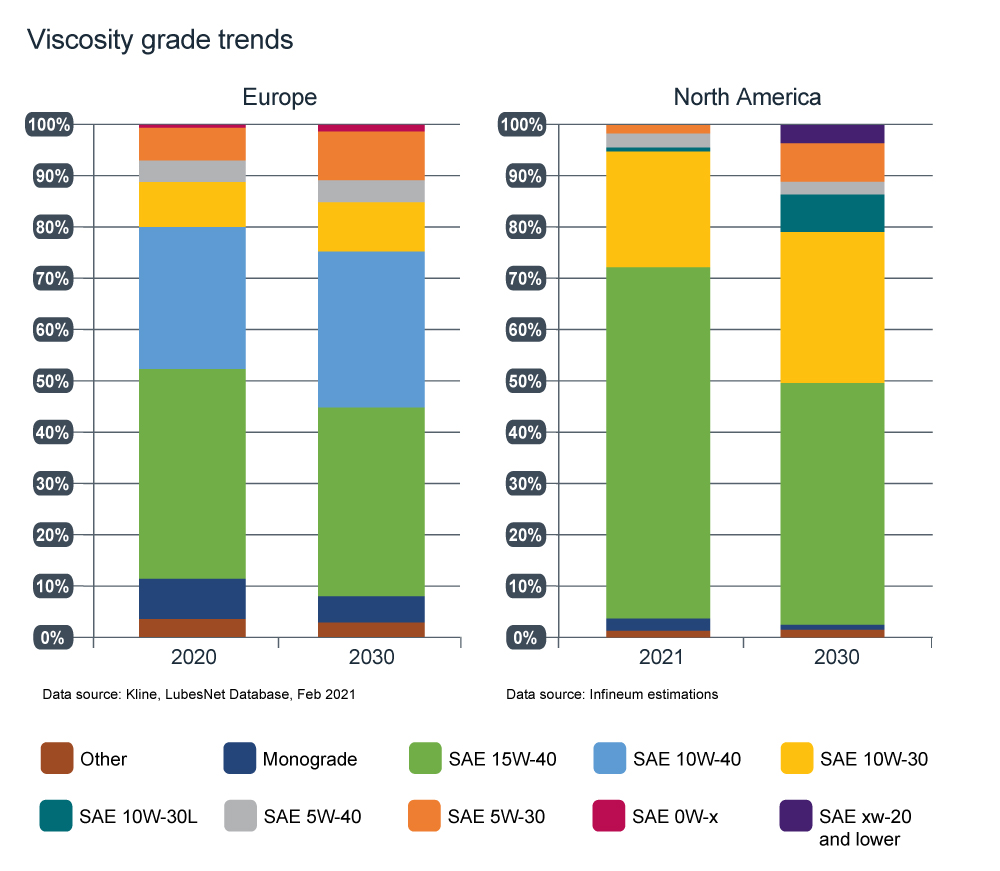 In Europe over the next 10 years, SAE 15W-40 demand is expected to fall while SAE 10W and lighter 5W grades see some growth. In North America, we are expecting a continuing shift towards lower viscosity lubricants, with a decline in SAE 15W-40 oils towards SAE 10W-30, although SAE 15W-40 will still represent nearly 50% of the market at the end of the decade. The introduction of low HTHS (API FA-4) grades will be a slow process but will grow over time, and although SAE 5W- grades do see some growth, they are unlikely to reach mainline volumes in this period.
It is essential to ensure these lower viscosity lubricants deliver the same performance and engine protection as higher viscosity alternatives.
Lubricant specifications
These hardware and lubricant trends are continuing to be one of the key drivers in the development of new lubricant specifications. In Europe, ACEA published its ACEA Heavy-duty Sequences in May 2022, which include the revised ACEA E categories. Here, the E7 and E4 ACEA categories are being maintained, while new ACEA categories E8 and E11 have been built as upgrades on E6 and E9. The main change to these upgraded performance levels is the higher expectations in resistance to oxidation and aeration performance. As part of this May 2022 release ACEA put out two files for download:
A general requirements document addressing issues common to ACEA light-duty and heavy-duty sequences.

 

The new Heavy-Duty ACEA Oil Sequences for 2022 detailing the technical requirements.

 
Click here to visit the ACEA website to download the documents.
In North America, the tough new emissions limits being proposed for 2027 and 2031 will require significant engine technology changes, which in turn will impact lubricant requirements. These changes, along with the desire to move to lower viscosity oils for fuel economy improvement, have prompted the Truck and Engine Manufacturers Association (EMA) to request a new engine oil category development from API, with a target release date of January 1 2027, ready for use in MY 2027 vehicles. Read more about the drivers for PC-12 here.
To support PC-12, maintain the current API categories and to potentially assist other global specifications, a number of replacement tests are required, which will involve considerable effort.  
As the transportation sector works towards a zero emissions future, it is increasingly important to develop advanced lubricants that can support the hardware innovation needed while also reliably extending component life and delivering improved fuel economy over longer oil drain intervals.
Get technology news, opinions, specification updates and more, direct to your inbox.
Sign up to receive monthly updates via email