25 May 2021
China acts on vehicle emissions
Latest China 6 light-duty emissions regulations will drive change to hardware and lubricants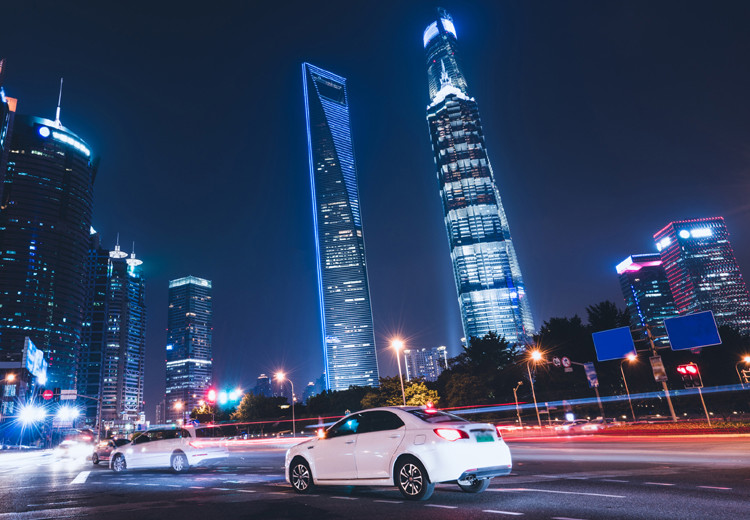 Despite a firm push on vehicle electrification in China, the huge volume of cars being sold with internal combustion engines means new China 6 regulations, that further reduce tailpipe emissions, are being introduced. The severity of the new limits is expected to drive the use of advanced vehicle hardware and the introduction of new lubricants. Insight talks to Dr Siyuan Gao, Infineum Industry Liaison Advisor, about the regulation and its potential impact on technology requirements.
Since the introduction of China 1 in 2000, regulations have been steadily tightening the limits on permissible emissions from passenger cars. The latest regulation, known as China 6, was scheduled for implementation in July 2020. However, owing to the COVID-19 pandemic, the Chinese government delayed its introduction nationwide until January 2021. The main drivers for its introduction are the desire to reduce emissions from new cars and, at the same time, China is introducing regulations to improve their fuel economy performance. Despite the impacts of the pandemic on the economy, more than 20 million cars were sold in China in 2020. And, although sales of New Energy Vehicles (NEV) saw significant growth, with whole year sales touching 1.37 million, they still represent less than 7% of total sales.
Over 90% of passenger cars sold in China today contain an internal combustion engine (ICE).
The 2020-2035 NEV Development Plan, which was approved by the China State Council in September 2020, says that by 2030, NEV sales will account for 40% of total vehicle sales that year. In terms of vehicle population, this suggests that in this timeframe some 20% of vehicles will be NEV – which means there will still be a high number of conventionally powered vehicles on the road.
In addition, the term NEV in China refers to vehicles with new-type power systems, completely or mainly driven by new energy sources, which include plug-in hybrid electric vehicles (PHEVs) that contain an ICE.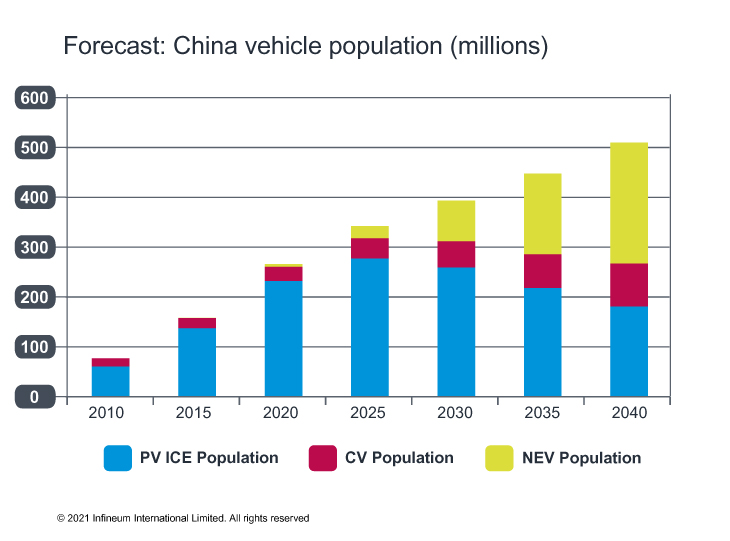 There is a strong driver for China to make sure new vehicles are as clean as they can possibly be, particularly since the average age of vehicles on China's roads now exceeds six years. These data mean that in order to improve air quality the control of tailpipe emissions is an on going requirement.
At the same time, China has made commitments to reduce its CO2 emissions. Again, combined with high ambitions for NEV sales, the desire to improve fuel economy of new ICE cars is of high importance. Current Phase IV fuel economy standards, set a fleet average consumption target of 5.0 L/100km for new vehicles sold in 2020.
What we have seen is a series of government incentives to encourage the replacement old vehicles with new China 6 models, which has helped to smooth the transition to China 6.
China 6a severity
China 6a sets new emissions limits for many parameters, with limits for certain pollutants, such as CO and NOx, now tighter than in the Euro 6, European emissions regulations for new light duty vehicles. The limits have been progressively tightened, for example the limits for NOx and total hydrocarbons have been cut by >90% from 2000 levels.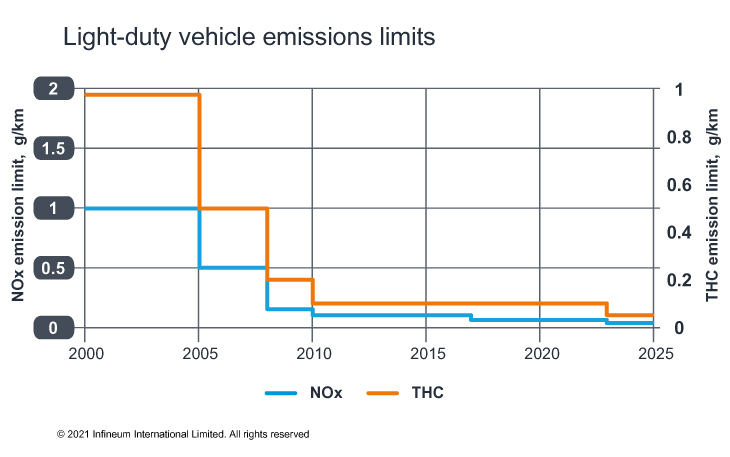 Limits for non-methane hydrocarbons and N2O have also been introduced, as have Particulate Number limits for diesel engines. China 6a is the first standard that is fuel neutral, which means the same limits now apply to diesel and gasoline vehicles.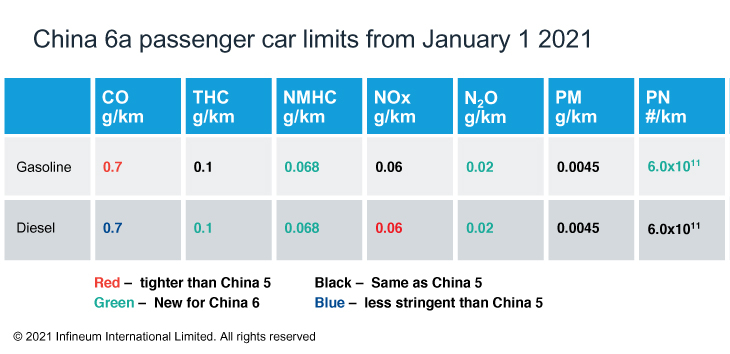 In addition to the new limits, China 6a will use the World Harmonized Light Vehicle Test Procedures (WLTP). This means more transient cycles and more realistic conditions, with vehicles spending longer periods at higher operating temperatures than was the case for the NEDC test cycles used in China 5. Real driving emissions testing RDE is also a requirement for China 6 however, before July 2023 there are only monitoring and recording requirements for NOX and PN.
These changes are driving not only OEM technology evolution but also lubricant and additive innovations.
Hardware changes are expected
We can expect to see the use of more complex technologies as a result of the new legislation.
Meeting PN and NOx targets in real world driving scenarios and increasingly electrified powertrains is driving the introduction of gasoline particulate filters (GPFs) and catalytic converters.
The broader use of higher thermal efficiency designs, which means higher injection pressures, the use of optimized lambda and Miller/Atkinson cycle high compression ratio engine concepts can be expected. In addition, OEMs will also adopt particulate filters on both diesel cars and gasoline vehicles to help meet the new PN targets.
For both local and Global OEMs we are seeing a similar approach – much higher brake thermal efficiency (BTE) engine developments and powertrain electrification.
These systems not only need to maintain vehicle performance over longer periods, but it is also important that there is no deterioration in fuel economy. In our view, the use of advanced lubricants will help to support their effective use.
Impacts of China 6 on lubricant formulations
The new emissions regulations require reduced sulphated ash, phosphorus and sulphur (SAPS) formulations to provide compatibility with aftertreatment devices.
Currently, API SL quality levels and below are common in China.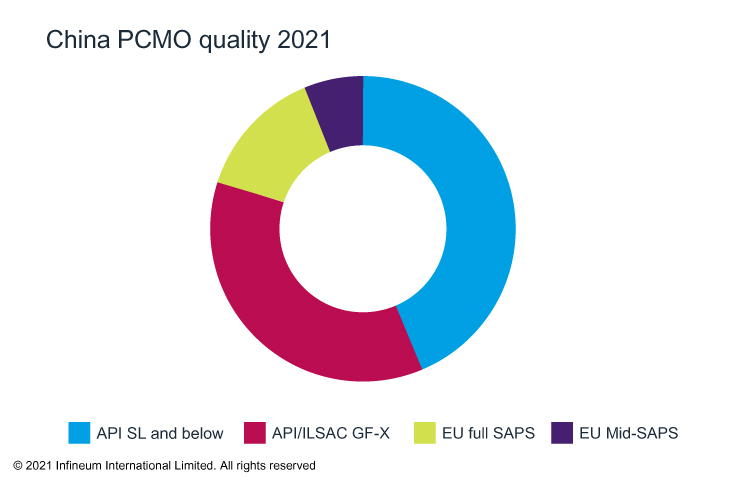 What we expect to see is continuous growth of API/ILSAC GF-X categories in the next 3-5 years, along with some demand growth for ACEA and OEM specification oils.
As more stringent corporate average fuel consumption (CAFC) regulations become effective in 2021, we can expect lubricant viscosity to continue to trend down. Currently, SAE 10W-X grades hold some 40% of the market with SAE 0W-X accounting for less than 15%. By 2029 SAE 0W-X and 5W-X grades will hold ~70% of the market and we can expect the trend to 0W-20 and lower grades to continue. While these low viscosity oils contribute to meeting OEMs' CAFC target, the challenge for lubricants is to ensure that other essential attributes are maintained.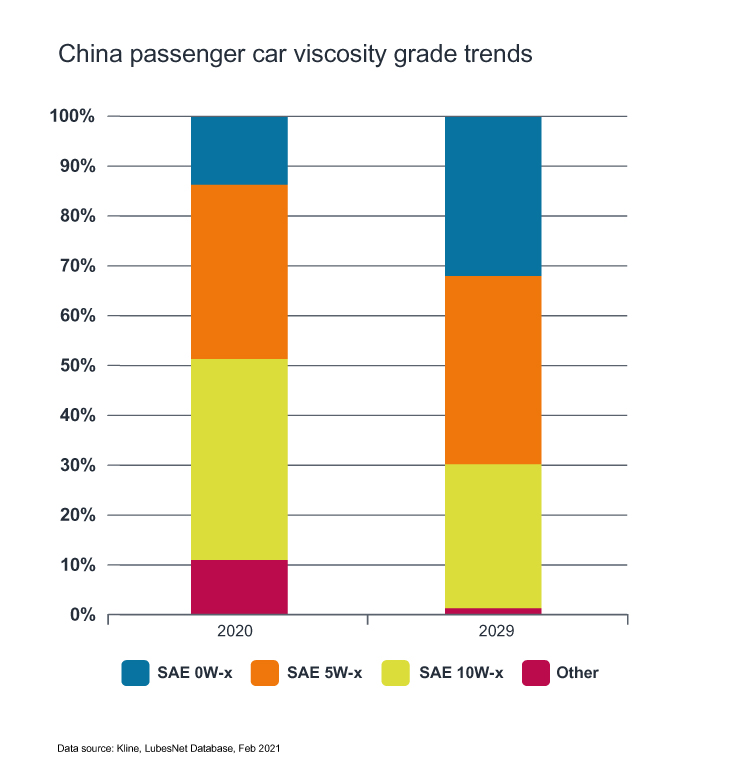 It will be increasingly important to strike the right balance of additive components to ensure sufficient engine protection and to maintain the performance of the latest aftertreatment systems while also delivering fuel economy improvements. And, as OEMs look to maintain or increase the oil drain interval the lubricant will need to continue to reliably deliver the required performance over longer periods of time.
In our view, use of WLTP makes it more important than before to focus on the entire formulation to ensure fuel economy, hardware durability and aftertreatment protection performance requirements are met.
Future emissions reduction plans
Looking further ahead, China 6b is expected on July 1 2023 nationwide. With a further tightening of many limits, China 6b sets some of the toughest emissions requirements in the world.

The emission limits for RDE tests will be enforced in July 2023, although conformity factors are still to be set. In addition, future fuel economy targets will tighten from the 5 L/100km in 2020. In 2025, including NEV, the fleet average fuel consumption per car will drop to 4.0 L/100km, reducing to 3.2 L/100km by 2030 and then to 2.0 L/100km by 2035 under the WLTC test cycle.
These trends mean further hardware change can be expected and in our view the lubricant will need to work even harder to meet all these future requirements.
Infineum technology and China 6
As one of the world's leading formulators, manufacturers and marketers of fuel and lubricant additives, Infineum has an broad range of advantaged componentry designed to meet the most challenging specifications. In addition, our experience gained from developing lubricants to meet the demanding requirements of ILSAC GF-6 and the latest ACEA Sequences is being used to develop formulations suitable for the next generation China 6 engines.
Our strong Mid-SAPS products are already used widely in factory fill and aftermarket applications. These are designed for compatibility with aftertreatment systems such as particulate filters and catalytic convertors. The portfolio also includes optimum detergent systems for acid neutralisation and detergency and friction modifier and viscosity modifier technologies to enhance fuel economy performance.
And, as the powertrain electrifies, our dedicated hybrid vehicle lubricants that deliver the specific attributes required in these applications have been validated via extensive field trials. However, while the NEV market grows, it is important that we do not lose sight of the fact that the effective lubrication of the internal combustion engine is essential in supporting the drive to improved efficiency and reduced emissions.
As the regulators implement ambitious emissions and fuel economy targets and OEMs look for effective ways to comply we can expect far reaching implications for lubricant formulations.
Advanced lubricants will be needed to deliver fuel economy improvements and uncompromised engine protection for longer. In China, we are working closely with industry partners to ensure the innovative products we develop fully meet the local market requirements.
---
View more articles in this category
---
Get technology news, opinions, specification updates and more, direct to your inbox.
Sign up to receive monthly updates via email