21 May 2019
Bharat Stage VI
Industry is preparing for significant emissions reductions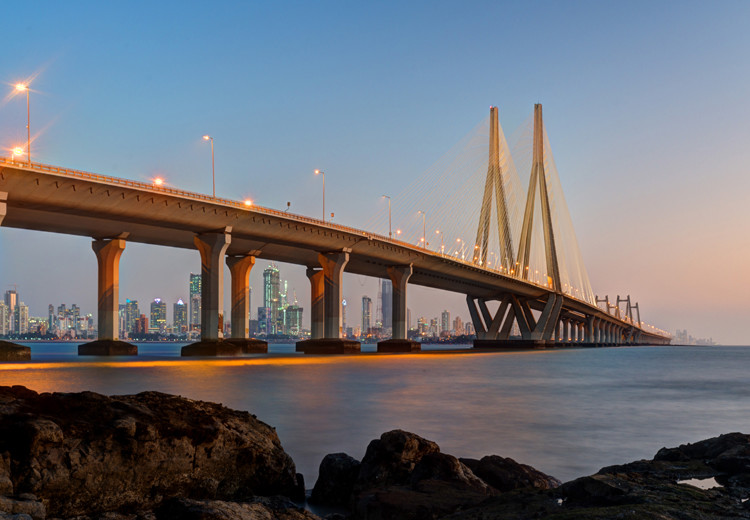 In less than one year's time, India will make the leap from Bharat Stage IV to Bharat Stage VI emissions regulations. This will drive the use of advanced vehicle hardware and the introduction of a new generation of lubricants. This Q&A session with Infineum's S. K. Raghuram, India Director, and Junhan Li, India Marketing Advisor, explores the upcoming standard and its potential impact on technology requirements.
S.K. Raghuram on the proposed new

Bharat Stage VI

emissions regulations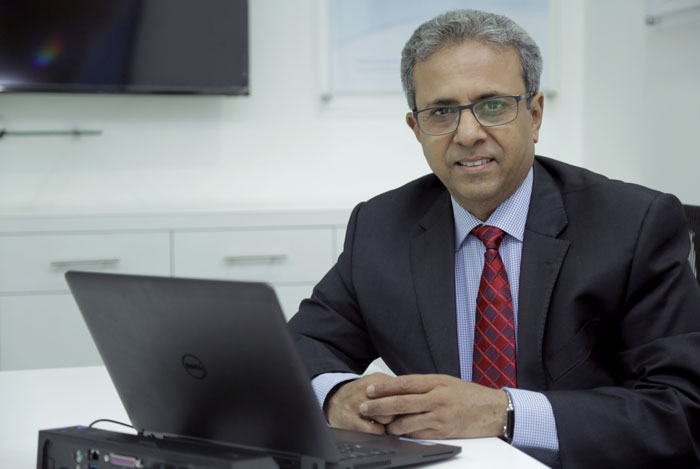 What do you see as the key drivers for the new proposed Bharat Stage VI emissions regulations?
A fast growing economy and an expanding middle class are expected to continue to drive growth in commercial, passenger car and two-wheeled vehicle sales in India. There are several factors contributing to pollution in Indian cities and, while a growing vehicle population is one of them, this can be tackled or controlled through regulations. In early 2016, the Indian Ministry of Road Transport and Highways (MoRTH) announced its decision to leapfrog from Bharat Stage IV (BS IV) to BS VI emission standards beginning 2020. The proposed BS VI standards will take effect throughout the country for all light-duty and heavy-duty vehicles as well as two- and three-wheelers manufactured on or after 1 April 2020. The proposal specifies mass emission standards, type approval requirements, and on-board diagnostic (OBD) system and durability levels for each vehicle category and sub-classes therein. This was a landmark decision for India, whereby it stated clearly its intent to regulate air quality by restricting vehicular pollution in line with Europe and other developed nations of the world.
The Government has signed Bharat Stage VI into legislation for implementation in April 2020, an action that has been ratified by the Supreme Court. This means industry has less than one year to prepare for these very significant changes.
Can you give us a picture of the vehicle landscape in India?
The makeup of the Indian vehicle parc is very different to that of Europe and North America in that more than 70% of the vehicles on our roads run on two-wheels. Almost 18 million two-wheelers were sold in 2018, some 80% in the sub-125cc engine category.
Truck sales were up in 2018, almost reaching the 1 million mark. Diesel trucks in India are different in character when compared to those in Europe, North America and China in that they operate under very high load factors and have much smaller oil sumps.
In the passenger car segment, 2018 sales reached 3.4 million units. More than 70% of sales are in the small car category, sub-1.0 litre engine, which means India has the lightest vehicle fleet, weighing in at an average of around 950 kg. Another trend in this segment is the move away from diesel in the small car category, with new cars tending to run on gasoline.
Can you outline the new emissions regulations in terms of severity, starting with passenger cars?
Different limits have been proposed for the various vehicle classes and subcategories within each class. The intention is that the adoption of the BS VI emission standards will essentially bring Indian motor vehicle regulations into alignment with the latest European Union Euro VI regulations.
For passenger cars there will be a reduction in hydrocarbons, NOx and PM limits and the introduction of a new particulate number limit. The proposal also specifies changes to vehicle type approval procedures for light-duty vehicles by including provisions for in-service conformity testing using portable emissions measurement system (PEMS).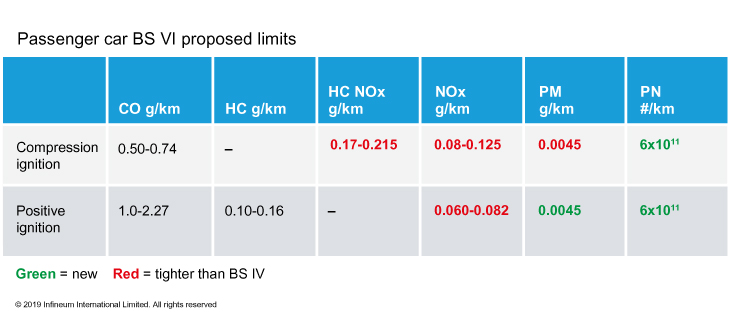 What is the severity of BS VI for commercial vehicles?
For commercial vehicles BS VI will require the application of World Harmonized Stationary Cycle (WHSC) and World Harmonized Transient Cycle (WHTC) test cycles. OBD requirements will be introduced in two stages, the first in 2020 and the second in 2023, while the durability of pollution control devices will follow Euro VI specifications.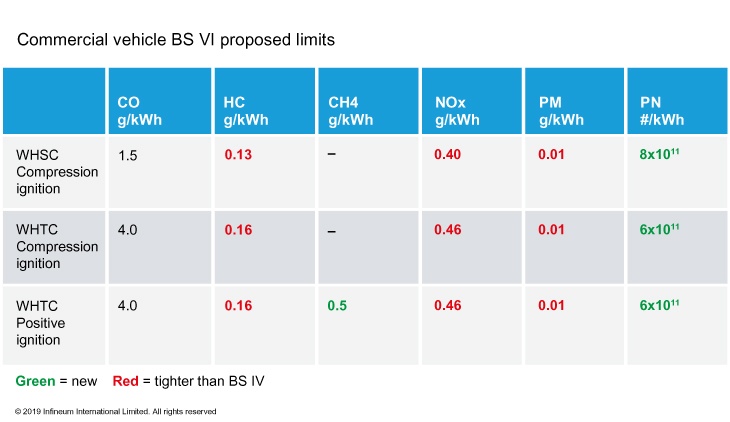 Lastly, what is the severity of BS VI for two- and three- wheelers?
BS VI for two- and three–wheeled vehicles is unique and India is the first country to adopt this type of regulation. BS VI vehicles in this segment are expected to be to be no more polluting than a BS VI gasoline passenger vehicle on a per-km-driven basis. The proposed BS VI standards additionally specify an evaporative emissions limit, OBD specifications and durability requirements for both two- and three-wheelers.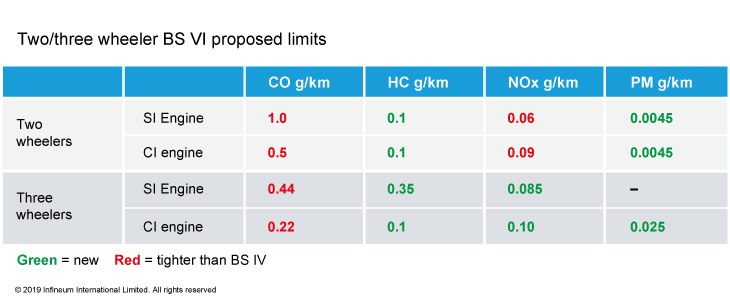 The jump, straight from BS IV to BS VI, represents a huge reduction in tailpipe emissions, which means all stakeholders in the automotive industry will have new challenges to address.
How do you think OEMs might address these new requirements?
We can expect to see broader use of more complex and expensive aftertreatment technology as a result of the new legislation.
BS VI brings about new challenges for two-wheeler OEMs as three-way catalysts, advanced combustion strategies and new fuel injection systems will be required to meet the limits.
For passenger cars, we may see an increase in the use of direct injection gasoline engines and OEMs are likely to employ multiple strategies with respect to aftertreatment systems. Particulate filters will be needed on diesel cars and may also be required on gasoline vehicles to help meet the new PM and PN targets.
In the heavy-duty segment, we can expect diesel particulate filters to be used for the first time after April 2020. Other systems that may be needed to meet the latest limits include oxidation catalysts, NOx and temperature sensors, urea and hydrocarbon injectors, selective catalytic reduction and ammonia slip catalysts.
These systems need to maintain their performance over longer periods, and their effective use will largely depend on the availability of low (10ppm) sulphur diesel fuel and the use of advanced lubricants.
Junhan Li on the implications for lubricant technology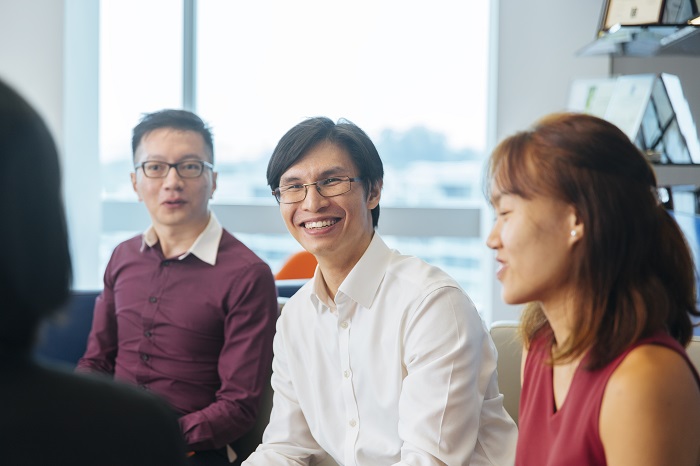 From left: Edison Chan, Junhan Li, Shi Ying Aw
What are the impacts of BS VI on lubricant formulations?
The new emissions regulations require reduced sulphated ash, phosphorus and sulphur (SAPS) formulations for all vehicle applications. Products that meet the latest North American API CK-4 specification for trucks and the European ACEA C specifications for cars are a good fit here. I also expect lubricant quality upgrades to accelerate with the introduction of BS VI.
In the passenger car motor oil segment (PCMO), which has been predominantly API SL or lower, we will see a shift to API SN/ILSAC GF-5 and ACEA C2/C5 qualities. For heavy-duty diesel oils (HDDO), API CK-4 is likely to emerge as the largest category in commercial vehicle and off-road segments. However, in some cases ACEA E6 plus OEM approvals may be preferred in this segment.
In the two-wheeler market, API SJ and SL will continue to be the major quality levels, although we can expect some growth of API SN. Here, an uptake of lower phosphorous oils to ensure three-way catalyst protection could be expected.
How are Indian driving patterns different from those in European or US markets?
In India, low speed, city driving conditions dominate the driving profile and the frequent start/stop activity has a number of impacts. First the regeneration of diesel particulate filters (DPF) aftertreatment systems may be hindered. These devices are very efficient at trapping small particles, which accumulate in the filter. This means that it is important that the particles are periodically removed to prevent increased backpressure. However, the efficiency of DPF regeneration is dependent on the exhaust gas temperature and thus on driving conditions. In the low speed, start/stop conditions that prevail in India, DPF regeneration issues may arise that could potentially compromise engine performance, increase fuel consumption and eventually lead to DPF failure or vehicle breakdown.
In addition, the potential to introduce hybrid vehicles into the Indian market may also be limited by the driving profile. Here, the low urban speeds mean vehicles are likely to almost constantly operate in the fuel mode, using the battery very rarely, which means anticipated emissions and fuel economy advantages may be lost.
How do you expect future lubricant viscosity grade trends to evolve?
India's first fuel economy norms for passenger cars, similar to CAFE regulations, became effective from April 2017. More stringent requirements will be imposed from April 2022, when the target is expected to be set at 113 gCO2/km. This means lubricant viscosity grades of SAE 0W-XX with HTHS viscosities ranging from 2.6 to 3.0 mPa-s, are expected to be more commonly used.
In the heavy-duty sector, trucks and buses with a gross vehicle weight of 12 tonnes or greater represent about 60% of total fuel use and greenhouse gas emissions from the entire HDD fleet. Regulations to reduce fuel consumption from these vehicles were introduced on 1 April 2018; these will tighten again on 1 April 2021. As a result, we can expect lubricants to trend to lower viscosity SAE 10W-30 and 10W-40 grades, with some fleet owners opting to use SAE 5W-30 oils to gain greater fuel economy benefits.
In the two-wheel segment, there may be fuel economy debits owing to engine design changes that are required to meet BS VI, which the use of lower viscosity lubricants may help to negate. This means we expect SAE 10W-XXs to be increasingly used in place of SAE 20W-40. However, due to gear pitting concerns, the shift to even lower viscosity grades, such as SAE 5W-30, will be slow for two-wheelers.
Do you see sufficient availability of high quality base stocks to meet future requirements?
Clearly, higher quality Group II and Group III base stocks are needed to formulate high performance oils to lower viscosities. India will continue to be a net importer of these high quality base stocks and it is expected that excess capacity coming from, for example, the Middle East and Asia, should be sufficient to meet this growing demand. Lubricant marketers will be able to choose the most cost effective option to meet their requirements.
What technology is available from Infineum to address BS VI and future challenges?
As one of the world's leading formulators, manufacturers and marketers of fuel and lubricant additives, Infineum has an extensive suite of advantaged componentry designed to meet the most challenging specifications across a variety of applications. In addition, our extensive experience gained from PC-11 and Euro VI has been used to develop tailored formulations for the next generation BS VI engines for all types of vehicles.
Infineum India Additive Private Limited was established in 2016 to support the anticipated growth in India. The team, located in Mumbai's Bandra Kurla Complex (BKC), is dedicated to providing market and technology support along with OEM liaison and is working to develop a pipeline of products specifically to meet the future needs of the Indian market.
---
View more articles in this category
---
Get technology news, opinions, specification updates and more, direct to your inbox.
Sign up to receive monthly updates via email