Transmission evolution
Gradual rollover to new hardware and fluids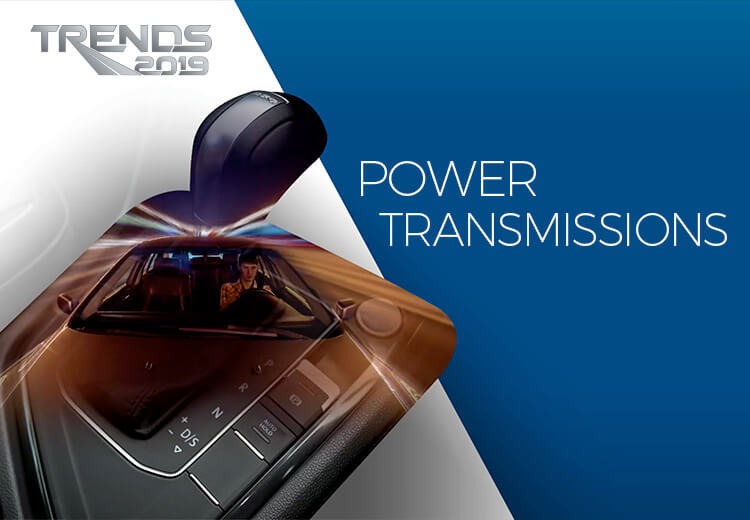 Changes to transmission hardware continue to be driven by the need to improve vehicle efficiency. While this has a knock on effect to the fluid, the roll over of the vehicle parc to new technologies will take a considerable time.
In the global light-duty vehicle parc, looking out to 2025, although conventional automatic and manual systems will slowly lose market share, they will still account for some 75% of the market. In new installations, wet dual clutch and electrically variable transmissions along with reduction gearboxes will grain ground, although conventional systems will still be installed in more than 60% of new vehicles.
As OEMs work to meet tightening fuel economy legislation, we are seeing media headlines about the rise of vehicle electrification. However, six years from now, half the vehicles globally will still be powered solely by an internal combustion engine.
In 2025, more than 90% of the vehicle parc will still use an internal combustion engine for propulsion.
Where there is electrification, it will mostly be in the form of start/stop, micro and mild hybrids. In addition to electrification, vehicle connectivity, autonomy and ride sharing are all growing trends to which OEMs need to respond.
Tatsuya Osone, Vice President and Chief Technical Officer at JATCO
For "Connected", we are thinking about big data analysis utilizing IOT.   We are hoping to use it to enable failure prediction and prevention control, as well as drivability optimization.   For "Autonomous Driving", we are considering sophistication of drivability utilizing smoothness, which is one of the advantages of CVTs, or prediction control using sensors.  
For "Sharing", we believe further improvement of durability is necessary.   "Sharing" could lead to 24 hours continuous driving when it is combined with "Autonomous Driving". Very strong durability would be required for vehicle and transmissions.   We have started discussions about how to deal with those.
For "Electrification", two types of approaches are considered.   One is the electrification by adding electric motor to current existing transmissions. The other is to develop completely new e-Axle, such as EDU, for pure electric battery EV.   These two approaches are under discussions.
Electrification architectures vary by the relative roles of the combustion engine and the electric motor in propelling the vehicle and can be defined by the position of the electric motor. Clearly, this positioning of the electric motor dictates how much contact it has with the transmission fluid and the extent to which conventional fluids may be used. In systems where there is a high level of contact between motor and fluid, specialised e-fluids may be required to carefully balance electrical properties, gear protection and materials compatibility.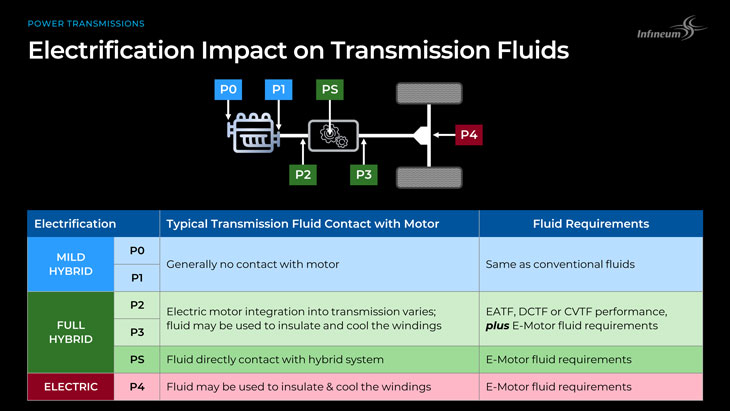 With so many transmission types, there will be a need for new oils.
Nathan Siebert, Engineering Group Manager, Fluids and Lubricants at General Motors
"There will not be any changes to ATF specifications for EVs and hybrids. There will be a shift within the market to dedicated specifications for EV and hybrid applications."
North American trends
In North America, planetary, step-gear automatics [AT] are being displaced by hybrid and battery electric vehicle transmissions. However, it is changing slowly, with AT still accounting for 75% of the vehicle parc in 2025.
Recent studies highlight that nearly half of the cars in North America are over 10 years old and 40% have more than 100,000 miles on the clock. Most of these vehicles are reaching their recommended transmission fluid drain intervals, creating an increase in demand for service fill fluids.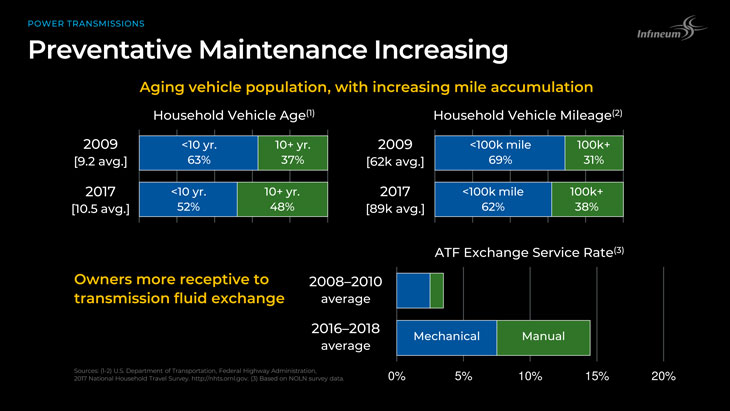 The percentage of vehicles opting for an ATF exchange has tripled since 2009.
The light-duty service fill market is continuing to evolve. Over the next few years, as older vehicles phase out, the demand for DEXRON®III/ MERCON® fluids and MERCON®5 will decline. However, the demand for import multi-vehicle fluids, along with DEXRON®VI and MERCON®LV, will grow. While continuously variable transmissions (CVT) are expected to account for only 10% of the market by 2025, their short drain intervals mean the volumes of CVT fluids will also increase.
In the heavy-duty market, a new Allison specification (TES 668TM) to deliver improved fuel economy and friction durability over extended drain intervals is expected. The specification is for use for both conventional and hybrid on-highway transmission fluids.
It's many advantages, along with being back serviceable and lower cost, could see it displace TES 295® in the service fill market. It is likely that we will see the first service fill approvals in 2020.
Get technology news, opinions, specification updates and more, direct to your inbox.
Sign up to receive monthly updates via email