Base stock complexity increasing
Demand trend drivers continue to shape the market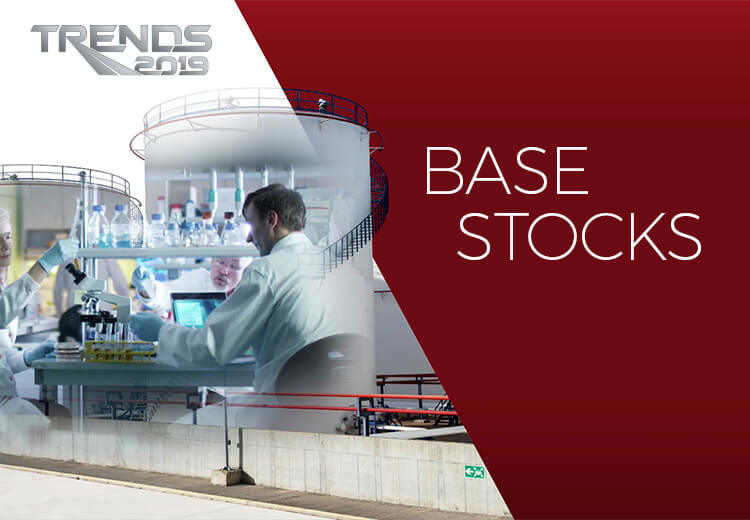 With relatively low growth in the finished lubricants market, supply levels across all base stock groups are expected to be more than adequate. However, legislation is continuing to influence the automotive lubricants market, which is driving demand for higher performance products and hence higher quality base stocks.
Growth in demand for finished lubricants is expected to remain low, reaching some 45 MT in 2019, which means new base stock supply is outpacing demand. With automotive lubricants accounting for more than half of the finished lubricant market, trends in this sector have a high impact on the wider base stock industry. Currently, to meet tightening emissions and fuel economy legislation higher performance products are needed, which is driving up demand for high quality base stocks.
The trend to lower viscosity in lubricant specifications continues, and oils must provide the optimum balance between hardware protection, extended drain interval and outstanding oxidative and deposit control performance in thinner grades.
Ten years from now, we expect SAE 0W-xx grades to account for some 30% of the passenger car lubricant market
The long list of industry requirements mean base stocks are playing a role in every aspect of the advancement of lubricants.
If we add in the electrification of the powertrain, the need for enhanced electrical properties is likely to drive the use of higher quality, less polar base stocks in transmission fluids. Meeting the evolving requirements in both passenger car and commercial vehicle formulations, may ultimately drive up the demand for high quality base stocks, such as PAO and Group III.
Selda Gunsel, Vice President, Global Commercial Technology at Shell
"The global demand for high quality base stocks has been rising steadily in recent years, as the lubricant applications focus more and more on energy efficiency and sustainability. If we look at the PCMO segment in particular, the market share of 0W grades is expected to increase significantly over the next ten years. This is because of the outstanding fuel economy & carbon footprint reduction benefits 0W delivers versus heavier grades. In general blending 0W products requires the use of Group III. To meet the even more stringent OEMs requirements for fuel economy and NOACK volatility, the oils need to be formulated with higher quality Group III base stocks, such as Shell's GTL base oils. Overall, the market is using more higher quality base stocks. Meanwhile, we'll continue to see further performance differentiation among Group III base oils."
Base stock capacity
The global capacity of Groups I, II and III base stocks topped 1 million barrels per day (b/d) in 2018. And, to meet increased demand for high quality base stocks, investments in Group II and III production have been made. While Group III suppliers are readying for further capacity increases to meet emerging demand, over the past five years the biggest capacity increases worldwide have been in Group II.  The most recent by ExxonMobil, at its Rotterdam refinery, will influence base stock choices globally.
Sylvie Houry, Global Development Manager at ExxonMobil Fuels & Lubricants
"On the supply side, today, as you know, in Europe Group II base stocks are primarily coming from North America, imported from North America, imported in a smaller extent from Asia, as well. Now of course, the fact that new production is starting as we speak in Rotterdam, will change the supply pattern. Our expectation is that Rotterdam production will, of course, replace most of the products currently imported from other regions."
Even more high quality base stock capacity is on the way, with announced additions of over 70,000 b/d expected before 2021 via new projects, expansions and upgrades.
Beth Fields, Vice President of Sales at SK Lubricants Americas Inc.
"The addition of new Group III oils is actually a good benefit for our industry. As we move forward with advanced technology, if you have a resource that's necessary to advance the technology but you don't have the supply, it inhibits how your industry will advance. So, this will enable our industry to continue to advance the performance of the lubricants."
In the low viscosity PAO market, the main players are Ineos, ExxonMobil and Chevron Phillips Chemical. As demand for PAO increases, the addition of new feed stock capacity should enable the supply of PAO to keep pace. However, as blenders look for the lowest formulations costs the future interplay of High VI Group III and PAO demand will be interesting as it evolves.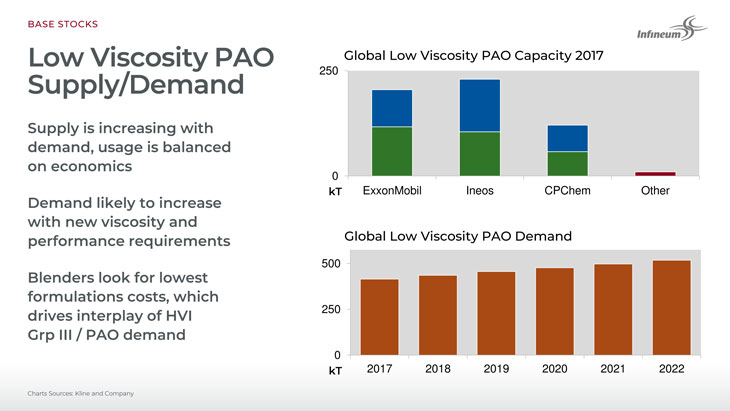 Sustainability
There is growing attention to sustainability in base stocks, with a number of organisations producing re-refined and bio-based products.
Jeff Brown, CEO at Novvi
"Sustainable non-conventional base stocks will allow your supply chain to become more sustainable and meet growing demands in that area. But the key focus today is around performance. Today the market is requiring oils that deliver better fuel economy performance as well as durability in end use performance in the engine. This is what we drive when we look at our non-conventional base oils."
The added benefits of biodegradability and strong environmental credentials, offered by bio-base stocks, means they could see some uptake, especially in Asia Pacific. In addition, with an update of the EPA's study on benefits of re-refining oils underway, it will certainly be a market to watch.
It is clear that the demand for very low viscosity oils, combined with other performance features, is increasing the demand for high quality base stocks and further capacity additions are expected. However, the proliferation of base stock types combined with other industry drivers, including sustainability, means we can expect the complexity of the market to increase.
Get technology news, opinions, specification updates and more, direct to your inbox.
Sign up to receive monthly updates via email