Accelerating change in passenger cars
Demands for emissions reduction and fuel economy drive green car technology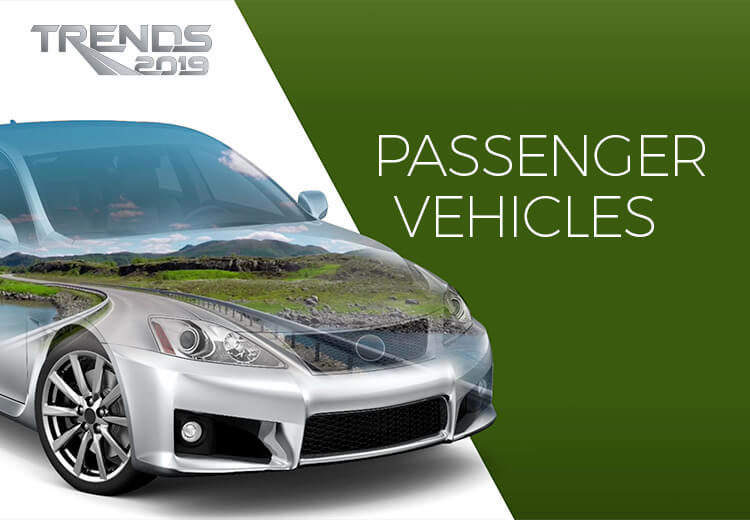 As global passenger car sales continue to grow, emissions and fuel economy mandates are tightening to improve air quality and reduce greenhouse gas emissions. Vehicle hardware innovations, being introduced to meet these tough targets, are bringing new technical challenges for the lubricant.
Global car sales reached 95.6 million in 2018, up only 0.2% on the previous year, with VW claiming the top spot for the third year in a row, capturing over 10 million sales. While growth in plug-in hybrids was up 17% on the previous year, this still represents less than 2% of total car sales. Although global car sales are slightly up, there is a really mixed picture from region to region.
In the four biggest markets, China, the US, Europe and Japan, sales were down or almost flat. The US posted 0.6% growth, with the top three models all being pickups and Ford retaining the number one position with its F-Series. Two of the world's growth markets, Brazil and Russia, saw double-digit sales growth. In India, however, sales slowed to 5% and, while it is higher than the global average, this is down on the previous year's growth figures .
There is a high degree of regional variation in the uptake of alternative energy vehicles.
In China, new energy vehicle sales flew past the million mark, with BYD out in front, making more than 247,000 sales. A first in the US market was the entry of Tesla's Model 3 into the top 20 selling models, with some 190,000 sales in 2018. In Europe, while alternative powered vehicle sales were up almost 30%, electrically chargeable vehicles account for just over 2% of the market. In Japan, the top three sellers were hybrids and, with more than 1 million sales in 2018, hybrid vehicles accounted for a quarter of vehicle sales. In Korea, green-car sales totalled just over 123,000, strong growth over 2017 and representing almost 7% of sales.
In Russia and India, there is only a very limited uptake of electric vehicles, which is mainly down to the lack of charging infrastructure. In Brazil, where flex fuel vehicles account for more than 87% of sales, Toyota is expected to launch the first Brazilian hybrid flex engine in 2019.
Looking ahead to 2025, growth in China and South Asia is likely to continue to power total passenger car vehicle sales upwards, towards 100 million units annually. Over this time frame, there is expected to be a steady decline of cars powered solely by an internal combustion engine (ICE), with stop-start and hybrids filling much of the void.
Although electric vehicle growth is expected to be strong, in 2025 only some 6% of cars will rely solely on electricity.
Drivers for change
Three very well-established drivers, air quality, climate change and urbanisation, are shaping the latest technology developments in the automotive sector.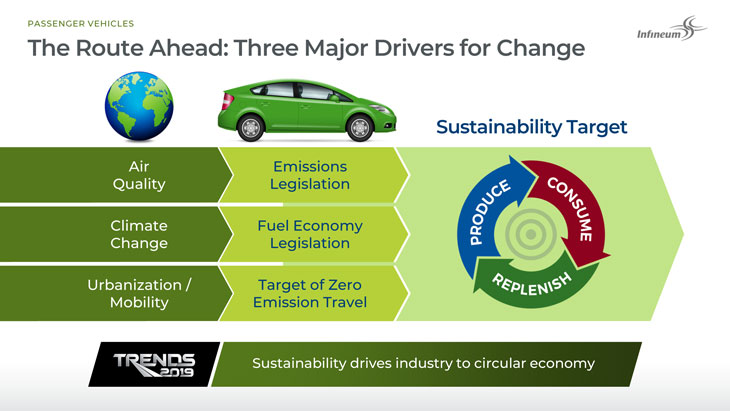 The pressure to cut emissions is driving OEMs to look across the whole vehicle for ways to comply with tightening regulations. While electrification is the focus for innovation, major improvements to ICE designs are also being made, including turbo charging, Miller-cycle operation and variable compression ratio engines, all of which impact lubricant formulation.
Josh Frederick, Lubricants Manager at Valvoline
"We certainly have the work cut out for us in the immediate term with engine oils that provide better fuel efficiency and better protection for modern engines. Looking further down the road as electrification gains more traction, certainly some of these EVs will not use engine oil. However, as a class, many of them will use driveline fluids and coolants that will be highly-engineered fluids. In other words, highly-engineered fluids are going to be a component of transportation for the ongoing future."
There are also a number of advances in the hybrid vehicle world, which introduce new operating conditions and bring another set of technical challenges for the lubricant.
Terry Alger, Director, Powertrain Engineering Division at Southwest Research Institute
"What we see is a trend towards the cheapest possible solution that gets you the regulatory impact that's desired. So, in this case we anticipate a large influx of mild hybrids, and 48 volt architecture being important to that, with a relatively small battery pack so that you can get the fuel economy benefits of having a hybrid without the tremendous cost associated with a full size battery pack and electric motors. "We anticipate that electric vehicles will have very unique fluid needs. The first is that if you have a plug-in hybrid you're going to see the engine operating much less frequently and for shorter periods of time than you would in a typical non-hybrid application. This means that the engine oil is going to be exposed to a lot more harsh operating conditions, often with much more condensed water in the oil, and also some partial products of combustion that it would not normally see. So we anticipate the oil's going to need to deal with those problems."
The lubrication needs of electric vehicles are very varied, which makes the co-development of the lubricant with the hardware increasingly essential as the market evolves.
North American lubrication trends
Significant progress has been made on the ILSAC GF-6 passenger car lubricant specification, which was driven by a combination of regulatory and/or performance improvement needs. The acceptance of the proposed limits means first allowable use on May 1 2020 seems likely.
Rob Romano, Service Lubricants Technical Expert at Ford Motor Company
"ILSAC's pretty confident that we'll get a performance improvement out of GF-6. We feel the way we've set the limits we will get some improvement in durability. We're asking for an improvement in fuel economy; that was kind of one of the main reasons for going forward with GF-6. We realize that there probably is a tradeoff between durability and fuel economy, there always has in the past, so there shouldn't be any reason it's not going to be here today. But, with some of the parameters that are part of GF-6, we haven't asked for any improvements in performance with tests like the Sequence V for sludge protection. We're keeping the same requirement basically as we've got in GF-5 because we feel that the performance is acceptable there. We do have some new tests, like the LSPI test, and the chain wear test which we know will dramatically change the formulations that are going to be made for GF-6 compared to GF-5, a little closer to the SN Plus-type formulations. And we do realize that there could be some tradeoffs in fuel economy and protection because of some of those tests."
ILSAC GF-6A will use the current starburst logo, but ILSAC GF-6B, will have a new symbol, which contains the SAE 0W-16 viscosity grade.
Kevin Ferrick, Senior Manager EOLCS/DEF/MOM, API
"API considered a number of designs for the new GF-6B symbol and eventually chose one that we thought would stand out on package labels. We certainly wanted something that looked different from the API Starburst. I do think the new symbol will help prevent misapplication of 0W-16 oils. The viscosity grade itself should also help—most vehicle owners at least know the oil viscosity recommended for their car or truck.
To support fuel economy improvement the trend to lower viscosity oils continues."
To support fuel economy improvement the trend to lower viscosity oils continues.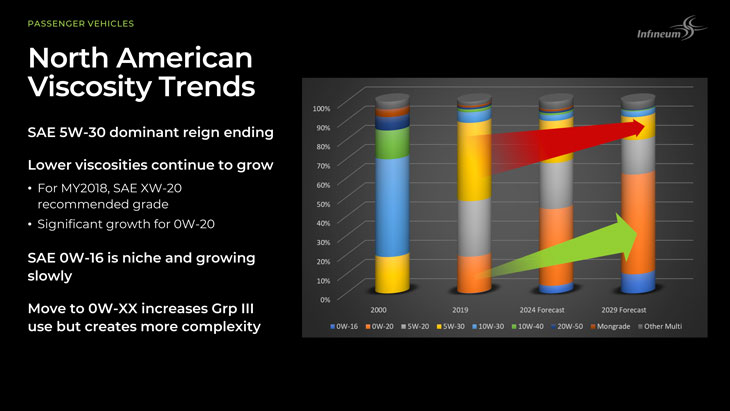 Although SAE 5W30 is still the dominant grade, things look set to change as SAE xW-20 is typically the recommended viscosity grade for MY 2018 cars across US OEMs. By the end of 2019, xW-20 will account for nearly 50% of the passenger car engine oil market. Although SAE 0W-16 remains a niche, as OEMs increasingly use it for new vehicle certifications and factory fill, demand can be expected to develop. Moves to 0W grades are increasing Group III use and, with additional base oil options now available, this also creates more qualification work and complexity.
Looking ahead
The lubricant specification landscape is becoming increasingly complex with multiple OEM specifications, huge variation in performance requirements and the use of engine tests from different regions.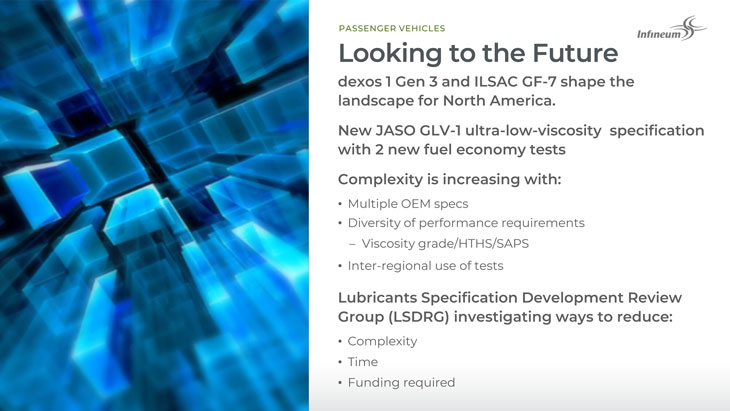 The development of new tests for industry specifications has consumed a huge amount of industry resource and stakeholders are keen for an improved oil category development process to reduce complexity, time, and funding. In North America, API is currently sponsoring the Lubricants Specification Development Review Group to investigate changes in these processes, while in Europe a different approach is being adopted.
Chris Locke, Executive Vice President, Marketing and Technology at Infineum International Ltd
"The API LSDRG group was formed as the first centralized activity to address the need for change in North America. Europe has taken a rather different approach, and is working via the CEC Management Board and the AAA committees to institute change in their processes but with similar objectives in mind. We still maintain that positive change can only come about when all the key stakeholders work together to instill change that is beneficial for all. Change is never easy, but it is vital in keeping our processes both aligned with, and supportive of, the needs of the future."
Looking at the future market, although forecasts may indicate an eventual decline in total lubricant volumes, opportunities still abound in an increasingly challenging market.
Get technology news, opinions, specification updates and more, direct to your inbox.
Sign up to receive monthly updates via email