07 December 2021
New e-fluids excel in efficiency
Ultra-low viscosity transmission e-fluids demonstrate wear protection, efficiency and durability performance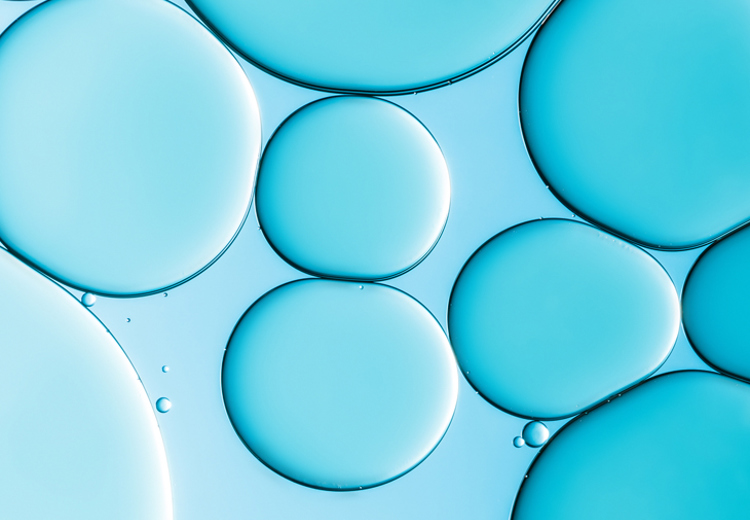 As more OEMs commit to reaching net-zero by 2050, the reduction of greenhouse gas emissions from the vehicles they produce is becoming even more of a priority. Improved fuel economy and vehicle electrification are clear routes being adopted to help meet these ambitions. However, as Insight reports, it is essential to ensure that the ultra low viscosity fluids needed to support OEMs' green objectives also deliver the level of hardware protection and e-specific properties required by hybrid vehicles.
Leaders at the COP26 meetings in Glasgow in November have said the pace at which the world is reducing greenhouse gas emissions is not in line with the Paris Agreement targets. They are aiming for bigger commitments from all industries – with the transportation sector firmly in the centre of the crosshairs. Many of the world's largest passenger car OEMs, including VW Group, Toyota Group and Ford, have already stated aims of carbon neutrality by 2050 – and more organisations can be expected do the same.
Reducing the consumption of conventional fossil-based fuels and increasing the level of electrification of the powertrain are two key carbon reduction routes being used by OEMs.
In support, transmission fluid technologists at Infineum have developed ultra-low viscosity (ULV) fluids that have demonstrated outstanding protection, cleanliness and performance while also being balanced for the specific needs of electrified transmission in hybrids and battery electric vehicles.
The advantages of new ULV e-fluids, typically with kinematic viscosity @100oC (KV100) of around 3 cSt, include their ability to deliver fuel economy or electric driving range improvement vs. a conventional fluid (KV100 ~ 5-6 cSt). In addition their improved heat transfer means they can more effectively cool the electronics and battery. However, it is important to recognise that going to such low viscosities presents challenges, such as gear and bearing durability and reduced volume resistivity.
Infineum has developed advanced specialised ULV e-fluids using next generation components to address these issues. To demonstrate their performance, a testing programme using a range of tests and conditions, including a wide range of oil sump temperatures and torques, was developed. The evaluations began in the laboratory using a variety of bench screener tests to assess various formulations. Once the best candidate oils had been selected, the testing moved to transmission hardware test beds and ultimately into vehicles driving in real-world conditions. This first article focuses on the laboratory work and initial field trials. Future articles will explore the results of our field trial programmes in the latest hybrid and electric vehicle models.
Click here to watch a video of our e-mobility additive technology
Increasing wear protection
The first area for investigation was to establish if ULV e-fluids were able to deliver sufficient gear and bearing durability. Test formulations were developed using next generation anti-wear components. These were tested in a number of different screener rigs under different procedures to mimic the range of gear and bearing contact conditions encountered in the transmission.  

These screening tests were repeated to enable Weibull analysis to estimate the reliability of the fluids. The most promising candidates identified in this way were taken forward for verification in full-scale transmission tests.
VW e-Golf electrical efficiency investigation
The next step in the process was to identify the efficiency credits that could be gained by moving to ULV e-fluids.
A VW e-Golf electric drive unit on a test bed assembly was used to identify the possible options to extend the pure electric driving range (PER). The output remained constant while input power varied depending on the level of efficiency. In this case that was defined as how much electrical energy or current ('fuel') the inverter needed to feed into the e-machine to achieve the speed required by the Worldwide Harmonised Light Vehicle Test Procedure (WLTP) drive cycle. The assembly enabled clear and repeatable differentiation between fluid options.
In the comparison of input electrical energy for different fluids, the Infineum ULV e-fluid candidate showed an improvement of 1.4% over current factory fill fluids. The average transmission oil temperature of the low viscosity candidate was also around 5oC cooler than the factory fluids, which equates to less frictional energy.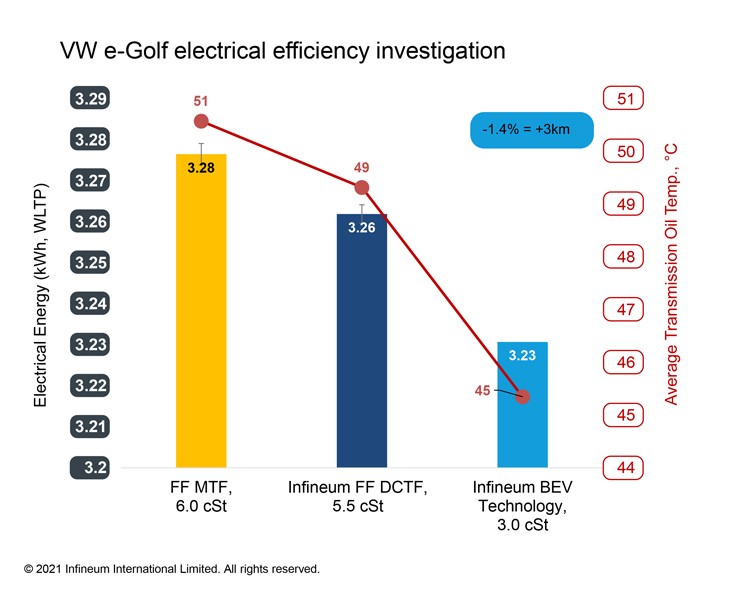 The Infineum ULV e-fluid technology provides electrical efficiency gains vs. factory fill fluids and has a lower average transmission oil temperature
High speed durability testing
The next step of the process involved conducting a high-speed gear and bearing durability study using the same VW e-Golf electric drive unit. However, to increase the severity of the test, a specially fabricated input shaft was used to enable higher speeds. In addition, input power and oil temperature were increased relative to the design limit. A typical test cycle involved increasing the input speed to 16,000 rpm sustained for several seconds before ramping down. Even under these severe operating conditions, low levels of wear were observed for Infineum e-fluid technology down to ultra-low viscosity levels.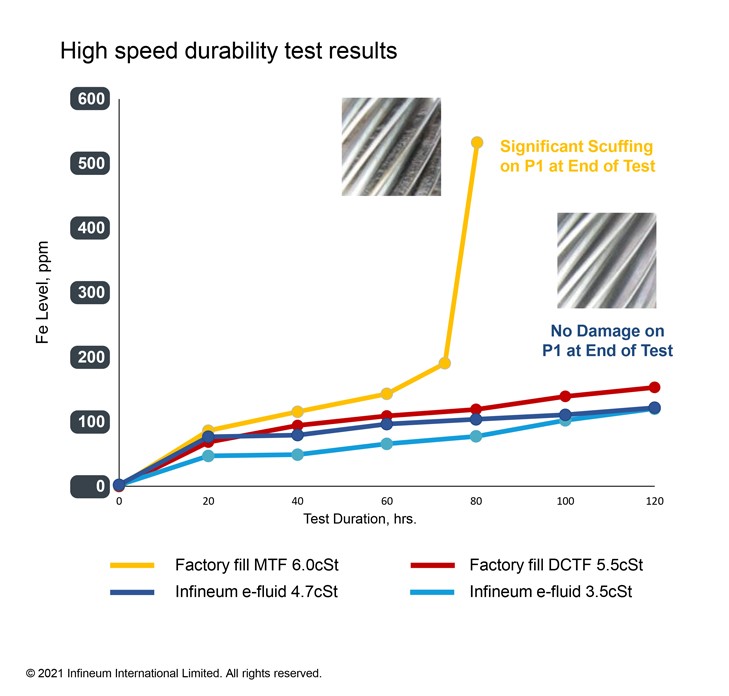 Both Infineum e-fluids provided superior high-speed gear/bearing protection vs. a factory fill manual transmission fluid
Field testing confirms performance
The next step of the testing programme was to field test two ULV e-fluids in 4th generation Toyota Prius vehicles. As shown in the chart below, vehicle speed and transmission oil temperature varied significantly throughout a typical test day. These hybrid duty cycles present a number of challenges to the fluid vs. conventional combustion engine only operation.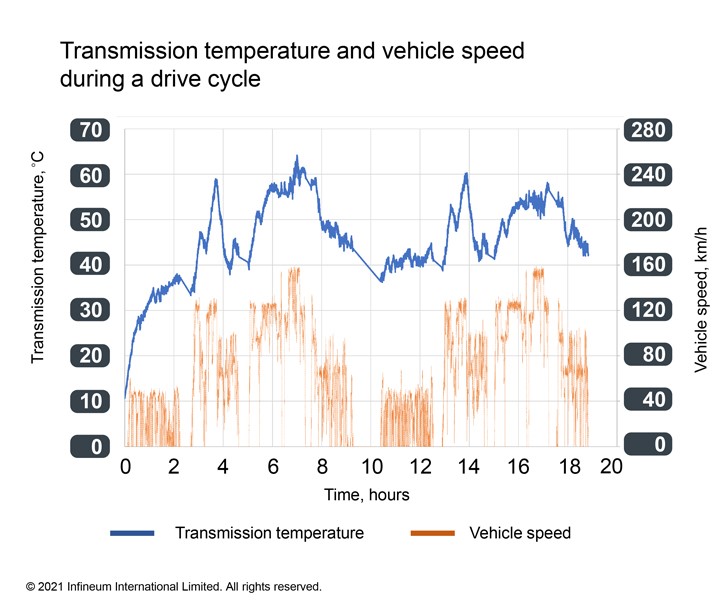 Significant fluctuations in speed and temperature occurred in a typical test day
The Infineum ULV e-fluids successfully completed the 100,000km field trial with no degradation in gear and bearing durability - giving very similar results to the higher viscosity Toyota WS reference oil. In addition, both ULV candidate fluids demonstrated excellent e-motor compatibility, comparable to the Toyota WS reference, which is seen as the industry standard performance indicator for a hybrid transmission fluid.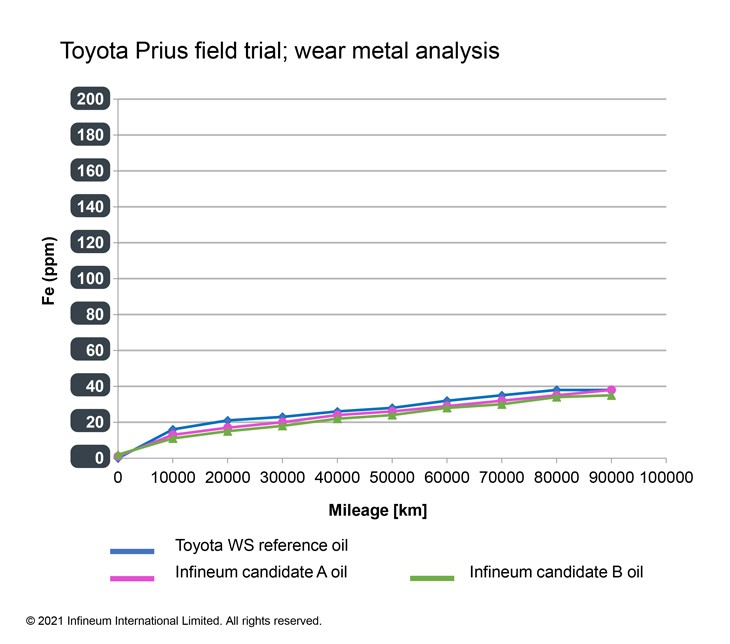 Wear metal analysis was comparable for all the fluids tested
In terms of cleanliness and corrosion, no sludge or deposit build up or damage to insulation materials was observed and all of the electrical componentry remained in excellent condition with no sign of corrosion in any of the vehicles.
Conclusion
One of the biggest drivers for ultra low viscosity transmission fluids is the need for improved fuel economy performance to help meet ever-tightening mandates and OEMs' net-zero targets.
Ultra low viscosity e-fluids have a distinct advantage over higher viscosity conventional transmission fluids in terms of efficiency.
But, going viscosities as low as 3 cSt has its own challenges – for example ensuring gear and bearing durability performance is maintained. In this testing programme, Infineum has demonstrated that carefully balanced ULV fluid formulations, developed using next generation anti-wear additive technology, not only deliver fuel economy benefits but also the required level of transmission performance and protection hybrid vehicles need.
As the electric vehicle landscape continues to change, new driving cycles can be expected to bring new challenges and opportunities for transmission fluids. In upcoming issues, Insight will report on some of the findings from some of our latest e-fluid trials.
---
View more articles in this category
---
Get technology news, opinions, specification updates and more, direct to your inbox.
Sign up to receive monthly updates via email